If you want the ultimate in quality baby gear, Peg Perego is a name you should know. This Italian brand has been producing some of the world's best strollers and car seats for more than 70 years, and that trusted reputation is a big part of their popularity today.
They're also some of the priciest car seats on the market, though. The build quality and attention to detail is worth the price, but you also want to make sure it's a good fit for your family. In this Peg Perego Primo Viaggio Convertible review, we'll look at its features and strengths so you can make an informed decision about whether it's a smart investment for you. (>>> Check on PishPoshBaby.com)
Peg Perego Primo Viaggio Convertible Review of Specifications:
| | Peg Perego Primo Viaggio Convertible |
| --- | --- |
| | |
| Maximum child height | 40" |
| Installation Type | Latch |
| Dimensions | 18.7" X 21.2" X 26" |
| Weight | 21.6lbs |
| Price | Find on Amazon |
Installation Ease
The Primo Viaggio Convertible gives parents the option of using the LATCH system or a seat belt for installation, and it's easy to install either way. The LATCH system can be used for both forward-facing and rear-facing installations. That said, it doesn't feel as stable for rear-facing positions, despite the option of dual tightening straps. It can also be tricky to install the seat rear-facing using the LATCH system in some vehicles.
On the plus side, the Primo Viaggio is just as easy to install using vehicle seat belts as with the LATCH anchors. There are separate belt paths for forward- or rear-facing setups, with stabilizing clips on the side to lock the belt in place once you've threaded it through. Many parents find belt installation is actually easier and more stable for rear-facing seats.
Pros
Easy to install with both seat belt and LATCH system
No-rethread harness and adjustable headrest
Options of forward- or rear-facing installation
Exceptional crash and side impact protection
Excellent stability with top tether hook
Higher maximum weight limit than most car seats
Cons
Rear-facing installation can be tricky
Heavier than most car seats
Safety
The Peg Perego Primo Viaggio has several unique safety features you won't find on other car seats. Simply the fact that it can face front or back is a point in its favor here. When installed forward-facing, the tether hook at the top gives the seat better stability and prevents forward movement. The EPS foam in the shell and contoured steel back plate absorb energy in the case of an accident, and its side impact and crash test performance is among the best on the market.
The harness system on the Primo Viaggio offers 10 shoulder height options, and you don't need to re-thread the harness to change the height. This is super helpful when you want to make adjustments with your baby in the seat, and makes it easy for parents to get a snug fit.
Child Age and Comfort
The fabric cover and seat padding in the Primo Viaggio Convertible are soft and smooth, fully covering the plastic shell so there's nothing hard poking or scratching your child. Along with the adjustable headrest and smooth harness height adjustment, it's a quick seat to get your baby settled down into, and gives babies and toddlers both a comfy ride. It also includes a shaped newborn cushion for smaller babies, adding an extra layer of padding and support. Ten recline positions give you lots of options for the seat angle, adding to the customization and comfort of the Primo Viaggio.
The weight limit for both seat positions is higher than most. It can fit children up to 45 pounds when rear-facing, and up to 65 pounds forward-facing. This is a plus from both a safety and comfort standpoint, letting you use the rear-facing position longer and making it usable with older or taller kids in its front-facing position.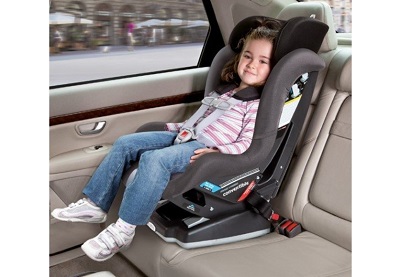 Peg Perego Primo Viaggio Convertible Review In Summary
The Peg Perego Primo Viaggio Convertible car seat is on the heavier and bulkier side, and this may be an issue for parents who live in urban areas and take public transportation frequently. Similar to the higher price point, though, there's a reason for this extra weight—it's what gives the car seat its versatility and superior safety protection. The bottom line is, if you're looking for a car seat that's durable, easy to install and use, and can grow with your child, the Peg Perego Primo Viaggio Convertible is an excellent choice. (>>> Find on Amazon)