Single strollers are great options for parents with one child. The strollers are usually lightweight, compact, and easy to maneuver. Two popular single strollers are the Bugaboo Bee 6 and the UPPAbaby Cruz V2. While the strollers share some of the same features, they also have differences that may make one a better fit.
The Bee 6 is lightweight and easily folds down to a compact size (>>> Check on Amazon). It also boasts a rotating bumper bar, unlike the UPPAbaby Cruz V2. If storage is the main concern, the Cruz V2 has a large underneath basket big enough to hold everything from groceries to a diaper bag.
If you are still not sure which stroller to bring home? Taking a closer look at each model will help with your decision.
Bugaboo Bee 6 vs UPPAbaby Cruz V2 Side by Side:
Safety
Neither stroller takes your child's safety lightly. Both models come with lightweight aluminum frames. The material isn't as strong as steel, but it is more than enough to safely support the weight of one child.
A five-point safety harness keeps active babies securely in place. Even squirmy toddlers can't wiggle out of the stroller. The strollers also come with locking wheels, so you don't have to worry about it rolling away.
Best in Safety: Bugaboo Bee 6 & UPPAbaby Cruz V2
Maneuverability
You won't have a problem pushing either stroller. They come with all-terrain wheels that can handle everything from bumpy sidewalks to uneven nature trails. Swiveling front wheels let you tackle tight corners with ease, and the slim design allows the strollers to fit down crowded aisles.
The Bee 6 is a little narrower and lighter in weight. Its lightweight construction makes it easier to push uphill and make tight corners.
Easiest to Maneuver: Bugaboo Bee 6
Comfort and Adjustability
With a larger toddler seat and deeper footwell, the Cruz V2 will grow with your toddler. It also comes with a zip-out sunshade to protect your toddler from bright light. The seat is reversible and fully reclining, like the Bee 6.
The Bee 6 may provide a little more comfort. Along with comfortable seat padding, it comes with a ventilated retractable sunshade. Add in the rotating bumper bar, and your toddler stays comfortable on long and short rides.
Best in Comfort and Adjustability: Bugaboo Bee 6
Versatility
These are single-child strollers, but both models are car seat compatible. The Bee 6 comes with adaptors to use with Bugaboo car seats. The Cruz V2 can also be used with UPPAbaby car seats, but the adaptors are an extra purchase. To use either stroller with a newborn, you need to buy a compatible bassinet.
The Bee 6 cannot transform into a complete travel system, unlike the Cruz V2. Along with attaching a car seat or bassinet, you can also add a rumble seat. Add in the extra-large underneath storage basket, and you have a versatile stroller with enough room to hold multiple diaper bags.
Best in Versatility: UPPAbaby Cruz V2
---
Bugaboo Bee 6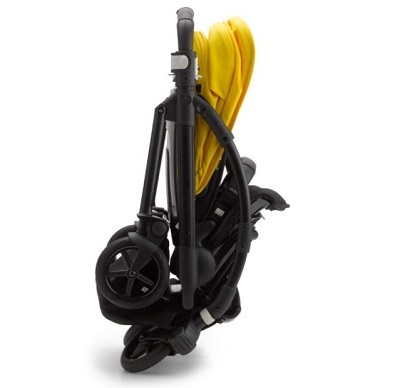 The Bugaboo Bee 6 is designed for city life. Weighing slightly over 20 lb., it's lightweight and easy to maneuver. Large 7-inch wheels and shock absorbing technology provides a smooth ride, and ensure the stroller is easy to push over any terrain. With one hand, you can collapse the stroller and its compact size allows for easy storage.
A mesh fabric seat and sun canopy provide plenty of ventilation. The large sun canopy also comes with a convenient peekaboo window. You can keep an eye on your toddler during walks. The seat is also reversible and fully reclining.
The stroller is rated for use from three months up to 50 lbs., but it is newborn-ready. It comes with car seat adaptors. You can also bundle the stroller with a bassinet. The adaptors work with both.

Pros
Lightweight construction
Breathable fabric
Reversible, reclining seat
Rotating bumper bar
Car seat adaptors included
Cons
The underneath storage basket is smaller than some other similar stroller models
---
UPPAbaby Cruz V2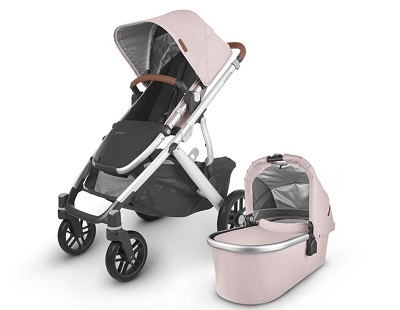 The UPPAbaby Cruz V2 is a lightweight stroller with a streamlined design. Its large rear wheels and swiveling front ones make it easy to turn corners and tackle bumpy sidewalks. The all-wheel shock-absorbing suspension keeps your toddler comfy, along with the cushioned toddler seat. The seat is larger than other models, giving your growing toddler plenty of room.
You can easily reverse the toddler seat, and it boasts a one-hand multi-position reclining feature. With the press of a button, the seat reclines or sits back up. It's ideal for napping and sightseeing.
Even though the Cruz V2 is designed for one child, you can transform it into a complete travel system. Add a bassinet or compatible car seat for an infant and then switch to the toddler seat. You can also add a rumble bar and a piggyback seat for transporting multiple children. It also comes with plenty of storage space. It's something nice to have whether you are using the stroller with one or two children. For our more in-depth review of this stroller, click here.
Pros
Lightweight Design
All-wheel suspension
Zip-out sun canopy
Reclining, reversible seat
Expands into a travel system
Cons
The maximum weight recommendation is around 20 lb. and may not support multiple children
---
Conclusion
Choosing between the Bugaboo Bee 6 and the UPPAbaby Cruz V2 comes down to what you need in a stroller. You won't have a problem using either stroller in the city or suburbs, and both are designed for easy maneuverability.
If you want a stroller with the ability to expand into a stroller for two, the Cruz V2 is the better option. You also get more storage with its extra-large basket. The Bee 6 offers a little more comfort, and it's also newborn-ready (>>> Find on Amazon).
Related Comparisons: