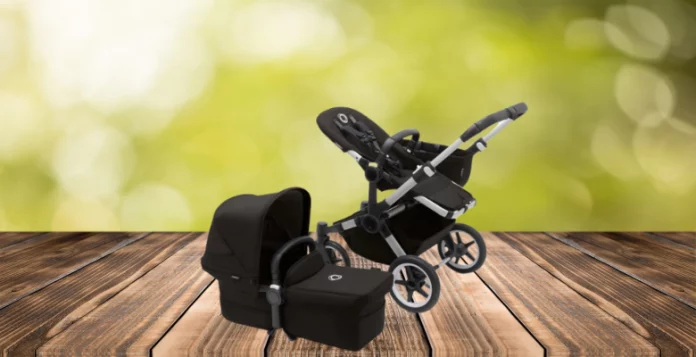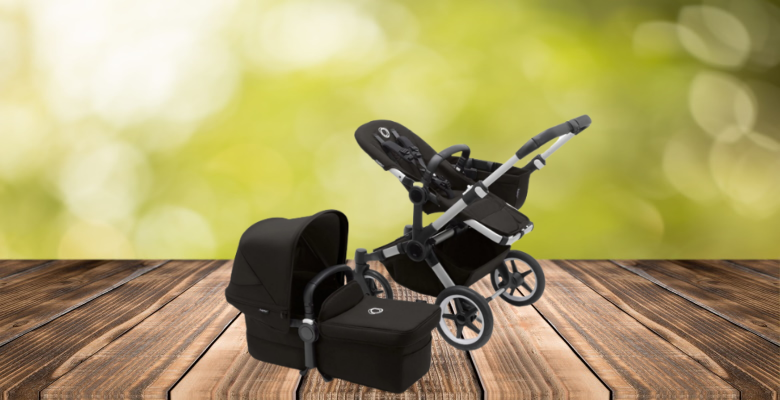 The Donkey 5 is designed to function as a full travel system. With the option of one seat or two side-by-side, and an infant bassinet included along with the toddler seat, its design is ideal for growing families. Let's check out its full details in this Bugaboo Donkey 5 review (>>> Check on Pishposhbaby).
Bugaboo Donkey 5 Review of Specifications:
Bugaboo Donkey 5
Maximum child weight
48.5lbs
Age range
Birth to toddler
Unfolded dimensions
33.5"L X 23.6"W X 43.7"H
Folded dimensions
20.4"L X 23.6"W X 35.4"H
Weight
26.9lbs (33lbs in Duo mode)
Price

BabyCubby.com





Pishposhbaby.com





Find on Amazon
Included Seats
There are two seats included with the Bugaboo Donkey 5. The infant bassinet is made with a soft transparent mesh that provides exceptional ventilation while still feeling plush and comfy. This also allows your child to see the world, especially since the canopy has a similar peekaboo window.
The toddler seat of the Donkey 5 is equally well-crafted. It uses a quick-click 5-point harness with soft shoulder pads, along with a comfort mattress made of high-performance 3D mesh. The easy-to-open apron lets parents quickly get their kids strapped in and settled. The toddler seat also includes an extendable canopy, with a similar mesh peekaboo window and excellent sun protection.
Out of the box, you have the choice of using either the bassinet or the toddler seat. Once you buy the extension kit, however, you can use both of them at once, and it's a simple 3-click process to extend the stroller. Both seats are positioned higher than on many strollers, letting parents load and check on kids without stooping, and have a one-hand recline adjustment so you can find the ideal angle. Both seats can also be reversed to face the world or the parent, giving you lots of customization options to meet your family's needs as it grows.
Car Seat Compatibility
The Bugaboo Turtle One is the easiest car seat to use with the Bugaboo Donkey 5, which is designed to function as a full travel system with other Bugaboo gear. You aren't limited to this car seat option, either. With an adapter, you can use the Donkey 5 with car seats from Chicco, Maxi-Cosa, Cybex, Nuna, and other top brands, in either the Mono or Duo configuration.
Pros
Includes bassinet and toddler seat
Comfortable aerated seats provide excellent ventilation and comfort
Large puncture-proof wheels
Converts from a single to a side-by-side double stroller
Still fits through doorways in Duo mode
Improved fold with friction lock
Extendable under-seat storage
Cons
High cost
Requires extension kit to use as Duo stroller
Steering and Maneuverability
All four wheels of the Bugaboo Donkey 5 are large with all-terrain tread and a puncture-proof design. This gives the stroller a smooth ride over a variety of terrains. In city environments, it can easily get over curbs or sidewalk cracks, and it can even handle grass, gravel, snow, and a host of other surfaces. For parents, the adjustable-height pushbar makes it easy to maintain control and steer the stroller, in both Mono and Duo modes.
In Mono mode, the Donkey 5 is a reasonable 23.5" across, slim enough to navigate through crowded or tight spaces. It's wider in Duo mode, obviously, but still relatively compact given its two-seat capability, at 29". That's still narrow enough to fit through standard doorways, and it's not too hard to push and maneuver when both seats are in use.
Folding
Bugaboo has improved the folding of the Donkey 5 compared to its predecessor. Its ergonomic fold buttons let you collapse the stroller down to a self-standing, one-piece unit in seconds, while the friction lock makes it easy to unfold it when you're ready to use it, no buttons required.
While you can fold it without removing the seat, it's even more compact if you use the two-piece fold with the seat removed. The memory buttons let you remove the bassinet or seat with one hand, so it's not too much extra effort to get it down to this extra-small version when you need to.
On-Stroller Storage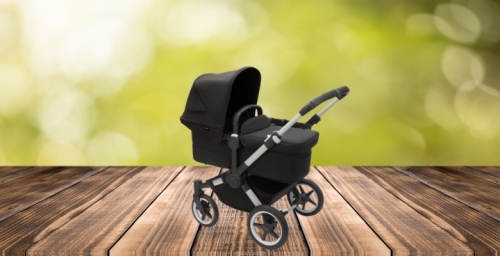 In single mode, the Bugaboo Donkey 5 has a roomy under seat storage area that can hold up to 22 pounds, plenty for all your family's gear, or even to carry shopping bags while you're out and about. Along with this, the removable side luggage area lets you keep a purse or diaper bag close at hand for easy access on the go.
While the side storage basket goes away in Duo mode, this doesn't mean you have to sacrifice storage space. The under-seat basket expands as part of the extension kit that turns it into a double stroller, doubling its weight capacity to a total of 44 pounds. That means it can carry more than just about any other stroller on the market.
In Summary: Bugaboo Donkey 5 Review
The cost of the Bugaboo Donkey 5 is on the higher side, but it's not unreasonable considering the material quality and overall versatility. With its dual-seat capability, extensive storage, and easy folding and steering, it could be the perfect stroller for your family (>>> Find on Babycubby).
REFERENCES: