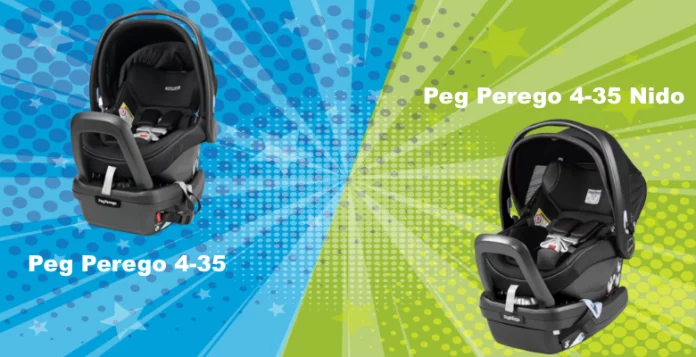 Comparing the Peg Perego Primo Viaggio 4-35 vs the Nido highlights their similarities and differences. Both car seats have the same maximum height and weight limits and come with adjustable side impact protection. Thanks to the Latch system, you won't have a problem installing either car seat in your vehicle.
The Nido does come with extra safety features and may keep your little one a little more comfortable (>>> Check on PishPoshBaby.com). The Primo Viaggio 4-35 is lighter in weight and comes at a lower price point.
Want to learn more about these two car seats? Keep reading to find out what each model has to offer.
Peg Perego Primo Viaggio 4-35 vs Nido Side by Side:
Peg Perego Primo
Viaggio 4-35
Peg Perego Primo
Viaggio 4-35 Nido
Maximum child weight
35lbs
35lbs
Installation Type
Latch
Latch
Dimensions (WxLxH)
28.9" x 17" x 25.3"
26.5" x 17.25" x 28.5"
Weight
21 Pounds
10 Pounds
Country of origin
Italy
Italy
Price

Pishposhbaby.com





Find on Amazon

Pishposhbaby.com





Find on Amazon
Safety Features
Both Peg Perego car seats use a five-point safety harness. You don't have to worry about active toddlers wiggling out of the car seat. Side impact protection is also standard. Parents can take advantage of the six adjustable positions to ensure the car seat is flush against the vehicle's back seat.
The Nido takes safety a step further with the adjustable load leg. It absorbs energy from collisions while also providing added stability for the car seat base. With ten adjustable positions, you won't have a problem with vehicle compatibility. You can also store the load leg bar in the convenient compartment underneath the car seat. It also comes with a larger anti-rebound bar than the Primo Viaggio 4-35.
Best Safety Features: Peg Perego Nido
Comfort
Your baby will be comfortable in either model from 4lbs up to 35lbs. The models use two-stage cushioning systems. Use the removable insert for infants for added back, neck, and head support. When your infant is old enough, remove the insert and use the seat cushion. The cushion is a little higher than the inserts giving your baby support where it's needed.
Where the Nido comes out ahead is with the extended canopy. It's larger than the one on the Primo Viaggio 4-35. Your baby gets a little more protection from bright sunlight.
Best in Comfort: Peg Perego Nido
Ease of Installation
The last thing you want is a car seat that's hard to install in your vehicle. You won't have an issue with either Peg Perego model. You can use the vehicle's seat belt or the Latch anchoring system. The car seats also offer multiple reclining positions and a level indicator so you can easily adjust the base according to the vehicle's design. The bubble dial makes adjusting either model a breeze, and both are just as easy to install on a stroller.
The Primo Viaggio 4-35 is about a half a pound lighter. It may not seem like enough to make a difference, but it can make the car seat a little easier to install.
Easiest to Install: Peg Perego Primo Viaggio 4-35
---
Peg Perego Primo Viaggio 4-35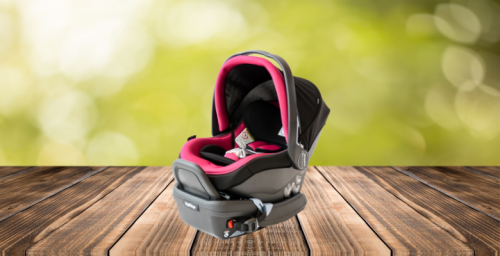 The Primo Viaggio 4-35 comes with plenty of innovative comfort and safety features. The shell is designed to minimize impact energy while also keeping your baby comfortable. You get six adjustable positions with the side impact protection feature ensuring your infant's comfort and safety. The shell is also lined and perforated for additional protection and to maximize airflow.
Its lightweight construction makes it easy to transfer the car seat from the vehicle to a compatible stroller. It comes with a convenient handle for easy carrying, and you don't need to purchase adaptors if you have a Pet Perego stroller.
The Right Tight System on the car seat base makes it a breeze to secure it in place. You can use the vehicle's seatbelt or the Latch strap on the base. Both will secure the car seat in place, and with multiple seat positions, you can use the car seat in almost any type of vehicle.
Pros
Multiple seat positions
Side impact protection
Compatible with most Peg Perego strollers
Easy installation
Lightweight construction
Cons
The retractable canopy can deteriorate after multiple washings
---
Peg Perego Primo Viaggio 4-35 Nido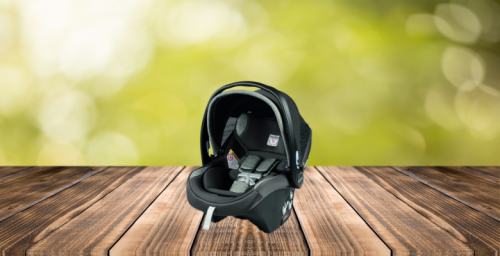 The Nido comes with plenty of safety features to keep your baby safe in the event of an accident. Along with the lined and ventilated energy-absorbing shell, the car seat also comes with side impact protection and a large adjustable load leg. You can adjust the load leg bar into one of ten positions. When you don't need the extra support, the bar stows easily away underneath the car seat.
A large retractable hood keeps sunlight out of your baby's eyes. The Nido also comes with a two-stage cushion that grows with your child. You can also remove all of the inserts and only use the seat cushion, depending on what is most comfortable for your baby.
Installing the car seat in any vehicle is a breeze. The shell is designed for vehicles of all types, and it also uses a European belt path when you're not using the base.
Pros
Easy to install
Two-stage removable inserts
Large load leg bar
Extended retractable canopy
Side impact protection
Latch belting system
Cons
The car seat can be difficult to secure buckle into the back seat, even using the Latch indicators
---
Conclusion
Comparing the Peg Perego Primo Viaggio vs the Nido isn't easy. Both models boast many of the same innovative features that make the car seats popular with parents. You get a safe car seat that's also comfortable for your baby. You also won't have problems getting either model in and out of your car.
The Nido does offer more in terms of comfort and safety, but the Primo Viaggio 4-35 weighs a little less. You may have an easier time installing it over the Peg Perego Nido (>>> Find on Amazon).
It comes down to what you want to pay for a car seat, and which factors matter the most to you when you are deciding between the two models.
REFERENCES AND FURTHER READING: