A car seat is one of the most important items that parents will need to buy in order to take their little one home, so it's no surprise that picking out the right one can be a challenging decision. The Peg Perego Primo Viaggio 4/35 as well as the Chicco KeyFit 30 are both solid choices. However, when comparing Peg Perego Primo Viaggio 4/35 vs Chicco KeyFit 30, the KeyFit 30 comes out as the superior choice (>>> Check on PishPoshBaby.com). The fact that it is much less expensive for most of the same features as the Primo Viaggio 4/35 makes it even more appealing on the baby registry. Read on to explore the differences between these two car seats.
Peg Perego Primo Viaggio 4/35 vs Chicco KeyFit 30 Side by Side:
Safety
Obviously the most important feature parents will want to consider in a car seat is safety. Luckily, both the KeyFit 30 and the Primo Viaggio 4/35 rank very high, so there is no particularly wrong choice here. They both employ a secure, five-point harness with one-pull tightening. Both have an energy absorbing EPS lined shell. They also both include removable new-born head and body supports for optimal safety and comfort at all ages. There is little doubt that your baby will be well-protected in either system.
Safety: Peg Perego Primo Viaggio 4/35 & KeyFit 30
Comfort
Your child's comfort is, naturally, a huge factor to consider as well. Both these car seats are roomy and comfortable, with adjustable straps. Both use comfortable, easy to clean materials. If there is one complaint users have shared about either seat's materials, it is that there are a few leather parts on the Primo Viaggio 4/35 that may get hot in warmer climates.
When it comes to canopy coverage, this is where the KeyFit 30 beats out the Primo Viaggio 4/35. The KeyFit 30 canopy is removable, easily adjustable, and provides more coverage for greater baby protection and comfort in the sun. When it comes to parent comfort, the KeyFit 30 comes out ahead here as well. On the Primo Viaggio 4/35, the space between the canopy and the handle is very narrow, making it difficult to hold and carry when the canopy is up. In contrast, the KeyFit 30 has much more space for your hand between the canopy and handle, making it easy to carry.
Most Comfortable for Child and Parent: KeyFit 30
Ease of Install
Installing a car seat for the first time is usually a frustrating hassle for parents. However, both Primo Viaggio 4/35 and the KeyFit 30 seats are fairly easy to install, especially compared to many other seats on the market. They both include bubble level-indicators to verify base angle and are easily adjustable. Both these seat's bases are simple to use and provide a nice, tight fit. The seats can also be used without the base if necessary, making them useful for travel.
Ease of install: Peg Perego Primo Viaggio 4/35 & KeyFit 30
The Style
While style is in the eye of the beholder and hardly the most important feature of a car seat, it is worth mentioning that these are both exceptionally stylish car seats. While the Primo Viaggio 4/35 is more compact, it is not significantly so, and both seats can fit easily in compact cars. If there was one thing that edged it over the other, the KeyFit 30 offers a larger variety of colors and styles (such as polka dots), letting parents choose how best to match their car and preference. Users have also mentioned superior quality in the KeyFit 30 canopy material.
Most Style Options: KeyFit 30
---
Primo Viaggio 4/35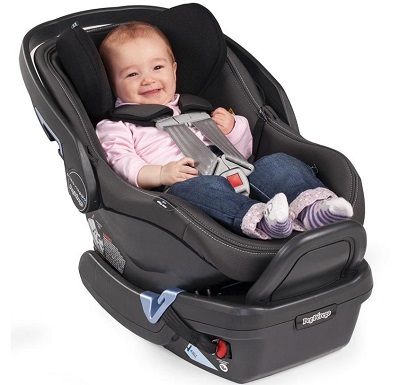 The Primo Viaggo 4/35 is a sleek, safe, and trusted system. Its dual stage cushion system can support an infant as small as 4 pounds, which can be removed so that this seat can be used until your baby is 35 pounds. The side impact protection is adjustable to six different positions with no re-threading required.
The included base of the car seat is easy to install, and has a stable, secure latch system. The seat and handlebar have color coded belt paths as well, to help belt routing when you are not using the base. The handle is short and compact which, as mentioned above, can make carrying the car seat with the canopy extended much more difficult. However, the design of this car seat also causes the handle to act as a natural anti-rebound bar, which can limit rotation in an accident, so that's definitely a plus.
The Primo Viaggo 4/35 attaches easily to any Peg Perego stroller without adapters. That this seat is made by Peg Perego is a large draw towards this car seat for many people, as Peg Perego is a well-established Italian company with a great worldwide reputation. However, this is what likely contributes to the higher price, since part of what you are paying for is the name brand.
Pros
Higher height and weight limits
No rethread harness
Slightly more compact
Integrated anti-rebound bar
Cons
High in price
Short handle
---
Chicco KeyFit 30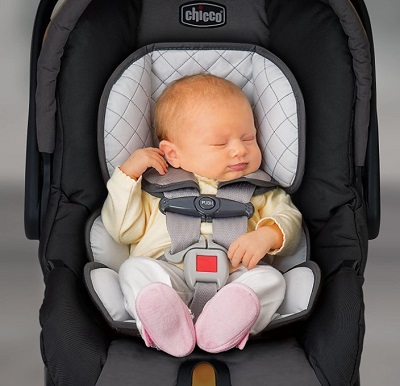 Chicco KeyFit 30 infant car seat is a stylish, safe, and affordable system designed for infants from 4-30 pounds. It is easy to install, adjust, and remove quickly, which can make all the difference when moving around your infant. A leveling foot on the base makes it exceptionally simple to get a perfect angle, and the very secure latch system holds the base tight. The clicks for the straps are very quiet, which is definitely ideal for your sleeping infant.
This car seat is a parent's dream, weighing in at only 17 pounds. Any parent that's on the go can tell you how convenient lightweight baby equipment can be. The seat is plenty roomy, and can be re-thread for a growing child. Everything is washable and easy to clean, and it is comfortable to carry.
This car seat is compatible with Chicco strollers, which are also competitively priced in the market. The large, adjustable, and removable canopy is one of parent's favorite parts. With all the wonderful features the KeyFit 30 has to offer, it's a wonderful deal at an affordable price.
Pros
Affordable
Large removable canopy
Comfortable to carry
Lightweight
Cons
Lower height/weight capacity
---
Conclusion
Both these car seats are excellent in terms of safety and exceptionally easy to install. Therefore, the fact that the KeyFit 30 is nearly half the price for most of the same features makes it the best choice for many parents. The large canopy and the fact that it's so lightweight make up for the five-pound additional carrying capacity and the name recognition of the Primo Viaggo 4/35. While you likely wouldn't regret your choice either way, the Chico KeyFit 30 is a wonderful car seat choice for your infant (>>> Find on Amazon).
REFERENCES AND FURTHER READING: