Finding the right stroller for your growing family can be difficult, especially when there are so many options out there; it takes a lot of research to find the perfect fit. Luckily, the hard work has been done for you. This Maxi-Cosi Adorra review has everything in it that you will need to know about this stroller, so you can decide if it is the right fit for you and your baby. (>>> Check on PishPoshBaby.com)
Maxi-Cosi Adorra Review of Specifications:
| | Maxi-Cosi Adorra Review |
| --- | --- |
| | |
| Maximum child weight | 50lbs |
| Age range | Newborn to preschool-age children |
| Collapsed dimensions | 19.75" X 23.2" X 32.4" |
| Unfolded dimensions | 19.75" X 31.5" X 38.5" |
| Weight | 35lbs |
| Price | Find on Amazon |
Folding
One thing parents love about the maxi-cosi adorra is that it can be folded with one hand relatively easily. As a bonus, the stroller can even close with the seat still inside! To fold the stroller yourself, begin by making sure the canopy is closed. Then, squeeze the buttons at the top of the seat. Once you do this, you can push the seat forward. Next, slide the release mechanism under the seat. All the while, make sure you are squeezing up on the frame release button. Pull upwards; this will activate the fold lock. That's all there is to it!
Seating
Possibly the best feature to go over in this maxi-cosi adorra review is the seat itself. Firstly, the seat is totally (and easily) removable. This is perfect for moving your baby from the stroller to elsewhere. Parents can also rotate the seat so that it is either rear or forward-facing There is also a lovely sun umbrella attached.
The seat itself can also change as your child grows. The padding near the headspace of the seat was designed in such a way as to protect your newborn's head as well as possible. This protective feature works both when the baby is sitting up or laying down. The rest of the seat is also padded, so older infants and toddlers can continue to have a comfortable ride. The top straps and the pelvic buckles are also padded for comfort.
Pros
Easy to fold
Large age and weight range for carrying
Large storage space
Comfortable seat
Moveable seat
Adjustable handle height
Cons
Some parents might think it is heavy
Bad to use on rough terrain
Straps can be difficult to take on/off
Maneuverability
The maxi-cosi adorra is about an average weight of a stroller for this size. It is fairly easy to push the stroller along paved roads or sidewalks. However, some parents might find it difficult to push the stroller along dirt or rock paths or uphill in any terrain. The wheels on the stroller are not conducive to traveling on bumpy terrain. Try to avoid this when possible. It will not damage the wheels much to do this, but it will be difficult to move the stroller. For this reason, this stroller is better-suited for casual walks than hikes or jogging.
Storage Space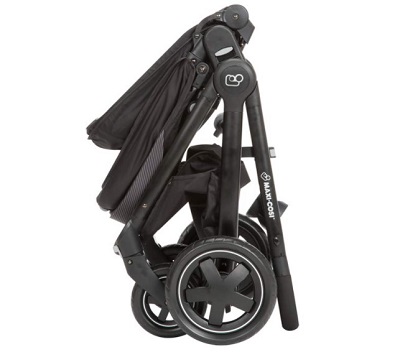 There is plenty of storage space on this stroller. This storage space is mostly contained under the stroller, in the large basket. The basket is large enough to fit most diaper bags and even a blanket! There is also a slot to fit items for the parents, including a pouch to store small objects such as a phone or keys. Of course, no stroller would be complete without a cupholder! All in all, this stroller should be able to carry everything a parent and baby need for their walk– with room to spare.
Maxi-Cosi Adorra Review Bottom Line
All in all, the maxi-cosi adorra stroller looks pretty average, but it functions above average. On Amazon, the stroller has a 4.6/5 star review! It's plain to see that parents love just about everything about this stroller. As a bonus, it is moderately priced. Is this a great stroller? It is easy to say yes. If this stroller fits in your family's budget, it will make a great first stroller that can change as your baby grows, fitting your baby's needs for years to come. (>>> Find on Amazon)
REFERENCES AND FURTHER READING: