Strollers have come a long way from the bulky models of old. Today's high-end strollers come with features like all-wheel suspension, a one-step fold, and modular seat configurations that fit the needs of modern families.
Comparing the UPPAbaby Vista V2 vs. Bugaboo Fox, neither one comes out as the definitive winner. It more comes down to a question of versatility versus convenience. Let's look at the main differences so you can see what we mean (and which one is right for you).
UPPAbaby Vista V2 vs Bugaboo Fox Side by Side:
Maneuverability
The UPPAbaby Vista V2 is an excellent choice for urban settings. It's easy to push and gives your kids a very smooth ride on paved paths and other flat surfaces, with large wheels that can handle curbs, steps, and other potential city hazards without a problem. It also does a decent job moving over uneven, softer surfaces like grass, dirt, and snow, though it's not as smooth in these conditions as it is on smooth paths.
The Bugaboo Fox has extra-large swiveling wheels and an advanced all-wheel suspension system. The tires are puncture-proof and maintenance-free, able to handle whatever terrain you throw at them. This gives it a smoother ride on surfaces like gravel, and makes it a better option if you'll be using the stroller on a wider variety of surfaces than just sidewalks and streets.
More maneuverable: Bugaboo Fox
Versatility
The Bugaboo Fox comes with both a toddler seat and an infant bassinet, and it's a quick process to switch between the two. The seat has 3 recline levels and can be reversed to face you or the world, and comes with rain and sun protection so you can use it in all weather. This gives it a good amount of versatility for a family with one young child, letting most use it from when they're born until they're ready to walk on their own.
The UPPAbaby Vista V2 goes even further, offering multiple configurations to fit up to 3 kids at once. For one child, you have a choice of the infant bassinet or full-sized toddler seat, which is reversible with 6 recline levels. Larger families can add the RumbleSeat for a second child from 3 months up to 35 pounds, or the PiggyBack board that lets toddlers ride along when they don't feel like walking.
More versatile stroller: UPPAbaby Vista V2
Child Comfort
The toddler seat on the Bugaboo Fox is roomy, about 14" wide and 10" deep, which will be a comfortable fit for most kids up to its 48-pound weight limit. The attention to detail is strong here, too, from the extendable canopy to the padded, adjustable safety harness.
The improved safety harness on the Vista V2 is the main reason we'd call it the winner in this category. It uses a no-thread sliding shoulder design so it can be adjusted quickly and precisely, keeping riders safe and comfy at the same time. Its toddler seat also has more adjustment levels and is taller, with a deeper footrest. All-told, this makes it a more comfortable ride for larger kids, especially when you add in the PiggyBack ride-along board.
More comfortable: UPPAbaby Vista V2
Car Seat Compatibility
The UPPAbaby Vista V2 is compatible with the MESA infant car seat with no need for adapters. Unfortunately, it can't be used reliably with other third-party car seats.
The Bugaboo Fox also has a car seat that fits with no adapters, the Bugaboo Turtle Infant Car Seat. It's more versatile, however, also working with seats from a range of top brands. While you will need to buy adapters for these, this expands your options when it comes to adding a car seat.
Wider car seat compatibility: Bugaboo Fox
---
UPPAbaby Vista V2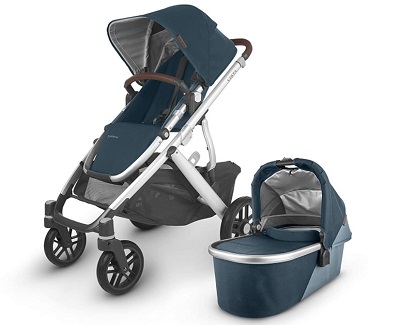 The multiple configuration options of the UPPAbaby Vista V2 are its main strength. It's fully-customizable as a one-child stroller, with a reversible toddler seat that has 6 recline levels and a bassinet for infants. While the RumbleSeat attachment has a lower weight capacity (35lbs) it has the same adjustment options and advanced sliding shoulder harness system, letting two kids ride comfortably.
You'll also get a high build quality from all pieces of the UPPAbaby Vista system. It's rugged without being too bulky, and has a spring-action suspension system and large wheels that make it easy to push, even when it's fully-loaded. While it's not the smoothest ride on surfaces like grass and gravel, it can handle uneven surfaces when you need it to.
For storage, the Vista V2 has a large, easy-to-access compartment under the seat. Each seat also comes with a zip-out canopy that extends to provide better sun protection and has mesh panels for better air flow (and so you can peek in on your kid). The one-step fold is another convenient feature, and you don't need to remove the seat or wheels to get it small enough to fit in a closet or car trunk.
Pros
Fits up to 3 kids at once with RumbleSeat and ride-along board
Roomy, reversible seat
Precise one-motion harness adjustment
Extendable canopy with peek-a-boo mesh window
Smooth ride in city and suburban settings
Self-standing, compact fold with seat attached
Cons
Ride isn't as smooth on uneven surfaces
Only works with MESA car seat
---
Bugaboo Fox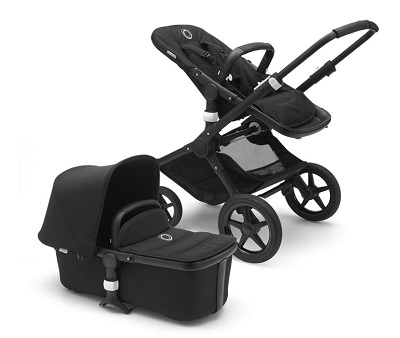 A lot of the strengths of the Vista V2 also apply to the Bugaboo Fox. It also fits a wide age range, from infants to toddlers up to about 50 pounds, and has an extendable sun canopy with good ventilation and UPF protection Along with this, its one-step fold collapses the Fox quickly down to a slim, self-standing unit. Combined with the lightweight frame, this makes it a convenient choice for parents on the go.
The main advantage of the Bugaboo Fox is its steering and wheel system. It has one of the most advanced suspension systems you'll find on a stroller, letting it glide effortlessly over flat surfaces and navigate terrain like grass or snow without making the ride too bumpy.
The Bugaboo Fox gives parents some control over the stroller's configuration, and it can be used with most car seats along with the built-in choice of bassinet or toddler seat. You can't use both at once, though, and there's no option for adding a second seat. The toddler seat is also a bit smaller and doesn't have as many recline levels (3, as opposed to the 6 on the Vista V2).
Pros
Comes with an infant bassinet
3-position reversible toddler seat
Compatible with a range of car seats
Incudes rain cover and UPF 50+ sun canopy
Easy to push over a variety of terrains
Self-standing one-piece fold
Large under-seat storage basket
Cons
No option to add a second seat
Not as comfortable for larger kids
---
The Verdict
Both the UPPAbaby Vista V2 and Bugaboo Fox are high-quality strollers. Choosing between them comes down to whether you want the multi-child capacity of the Vista V2 or the smoother ride of the Fox (>>> Check on Amazon). We hope this side-by-side comparison has helped you pick the best stroller for your family!