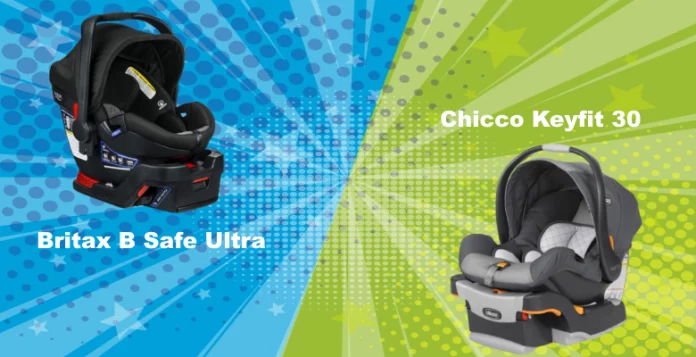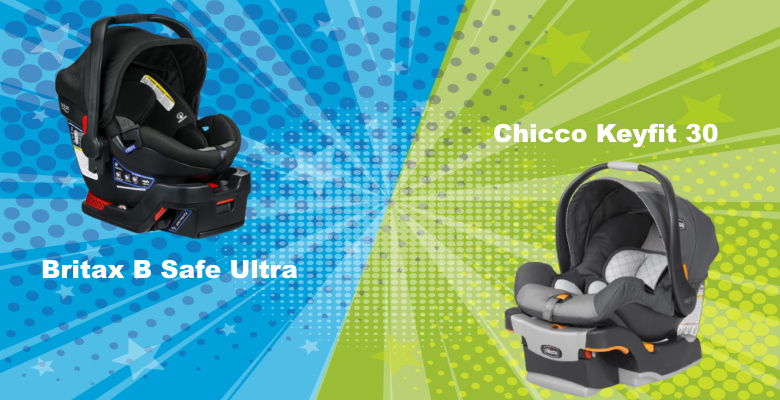 There are a few items parents of infants and small children can't go without, and one is a car seat. If you want to put your child in a vehicle, a car seat is a legal necessity. While all models on the market meet current safety regulations, parents expect more from a car seat. They want a car seat that is easy and convenient to use, and comfortable for their baby.
Comparing the Britax B Safe Ultra vs the Chicco Keyfit 30, it's easy to spot a few key differences. The B Safe Ultra comes with extra safety features, and you can use it longer than the Keyfit 30 (>>> Check on PishPoshBaby.com). Where the Keyfit 30 comes out ahead is with its easy maintenance. The seat covers are machine washable, unlike the B-Safe Ultra.
Still not sure which car seat is best for your growing family, sometimes it helps to take a closer look at what each model has to offer.
Britax B Safe Ultra vs Chicco Keyfit 30 Side by Side:
Safety Features
Your baby's safety is important, and both car seats provide plenty of protection. They come with 5-point harnesses designed to keep your baby securely in the seat. While the Keyfit 30 has EPS energy-absorbing foam, the B Safe Ultra uses safe cell technology. It boasts two layers of side impact protection foam around the head, neck, and torso.
The Britax car seat also has a steel frame designed to withstand impact force. It won't crumple or bend if the vehicle is in a collision.
Best Safety Features: Britax B Safe
Ease of Use
You can buckle both car seats in a vehicle with or without the base. You will notice the B Safe Ultra is a little heavier, thanks to its steel frame. It's only a couple of pounds, but it can make a difference after a long day.
Both models use straps to attach to a vehicle's seat belt system. You won't have a problem securing either car seat in place. Where the Keyfit comes out ahead is with its single locking strap. The B Safe Ultra uses two straps, making it a little more complicated to secure to your vehicle's safety belt or on a stroller.
Easiest to Use: Chicco Keyfit 30
Best Value
It's a given. You will have to upgrade to a toddler's car or booster seat, but you don't want to spend the money until it is necessary. Both car seats will accommodate infants at 4lbs. They come with padded inserts to support your infant's neck and head.
You can use the B Safe Ultra a little longer than the Keyfit 30. It supports weight up to 35lbs and height up to 32 inches. It's only a few pounds more than the Chicco model, but it does give you extra time before you have to upgrade to a larger car seat.
Best Value: Britax B Safe Ultra
---
Britax B Safe Ultra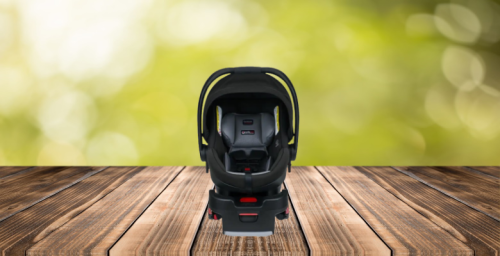 With two layers of foam protection around your baby, combined with the strong steel frame, your infant will stay safe even if there is a car accident. The frame's crumple zone helps ensure your baby stays injury-free.
It may seem like a downside. The seat material is handwash only, but it doesn't mean it's a hassle to clean. The fabric uses nanotex technology. It is resistant to stains and odors. It also makes it easy to wipe off any stains, crumbs, and moisture.
Your baby's comfort is almost as important as safety. No one wants to be in a car with a cranky infant. Along with the retractable sunshade, the seat provides plenty of comfortable cushioning. The breathable fabric helps to keep your baby cool, and the seat is adjustable. Along with helping to ensure your baby's comfort, it also makes it easier to install in all types of vehicles.
The two-strap system is a breeze to use, whether you are buckling the car seat into your vehicle or attaching it to a stroller.
Pros
Steel frame
Side impact protection
Adjustable seat
Retractable sun canopy
Stain-resistant
Cons
Even with stain-resistant technology, the seat covers are still a hassle to wash by hand
---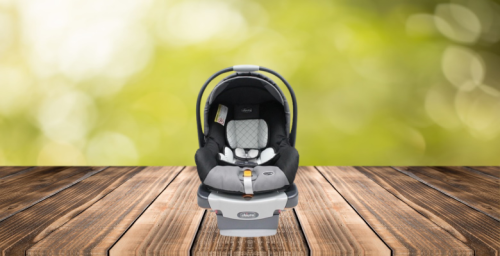 The Keyfit 30 is a lightweight and compact car seat that's a breeze to use. The one-strap locking system easily secures the car seat to your vehicle's safety belt or a stroller. It is also part of the Chicco travel system, making it easy to find a compatible stroller.
A five-point safety harness keeps your baby securely seated, and the EPS energy-absorbing foam provides side-impact protection. Use the newborn inserts for your infant. They are easy to remove when your baby outgrows them.
New parents will appreciate the convenient bubble indicators that let them know the base is in the proper position in the vehicle.
Pros
Lightweight
Easy to install
Removable newborn inserts
One-strap locking system
Machine washable seat covers
Cons
The car seat is intended for use with Chicco strollers and may not be compatible with other models
---
Conclusion
Comparing the Britax B Safe Ultra vs the Chicco Keyfit 30 highlights the differences between the two car seats.
The B Safe Ultra offers more in safety (>>> Find on Amazon), but the Keyfit 30 is easier and more convenient to use. It comes down to what you want in a car seat when you are choosing between the two models.