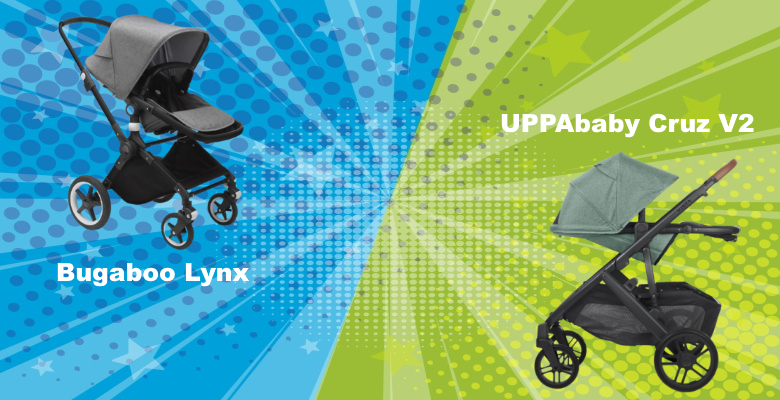 Are you looking for a stylish stroller that's easy to steer no matter where you go? In this review, we'll look at two strollers that can satisfy these requirements, the Bugaboo Lynx and the Cruz V2 from UPPAbaby.
Looking at the Bugaboo Lynx vs UPPAbaby Cruz V2 side by side, the Cruz V2 is the better performer by a hair, with a smoother suspension and better seat design (>>> Find on Pishposhbaby). On the other hand, though, the compact Bugaboo Lynx is easier to maneuver in tight spaces and can be a better choice for city-dwellers. Read on to see how they compare and the main differences between these two strollers.
Bugaboo Lynx vs UPPAbaby Cruz V2 Side by Side:
Size and Weight
The UPPAbaby Cruz V2 is a reasonable weight for a full-sized stroller at just over 25 pounds, which is still light enough for most parents to lift easily. It's on the long side, however, 30.9 inches from front to back, so while it's narrow enough to fit through doorways it can be cumbersome to navigate in crowds.
The footprint of the Bugaboo Lynx is one of the smallest you'll find from a full-sized stroller. It weighs about 5 pounds less, too, one of the reasons it's so easy to push and maneuver. Not only is it smaller overall but it's also more compact when it's folded, with two options for folding depending on your needs and space constraints.
Smaller stroller: Bugaboo Lynx
Steering and Suspension
You don't need to wrestle with the Bugaboo Lynx to get it moving. It's absolutely effortless to steer on paved surfaces, and the large wheels can handle uneven surfaces, even tricky ones like snow, with a two-wheel suspension that keeps the ride relatively smooth.
While the Lynx is a strong performer in this category, the UPPAbaby Cruz V2 edges it out with a more advanced all-wheel suspension system. This makes it easier to control and gives a smoother ride over a wider range of terrains.
Easier to steer: UPPAbaby Cruz V2
Child Age Range
The Lynx comes with two seat options: an infant bassinet and a toddler seat. While you can add an infant option to the Cruz V2, out of the box it can only be used with babies who are around 3 months or older.
While the Bugaboo Lynx is a better option for smaller children, the UPPAbaby Cruz V2 can be used for longer. Its larger seat and improved harness design mean you can keep using it a few months after your kids would age out of the Lynx, and it's easier to adjust as your child grows.
Better for infants: Bugaboo Lynx
Longer usable lifespan: UPPAbaby Cruz V2
---
Bugaboo Lynx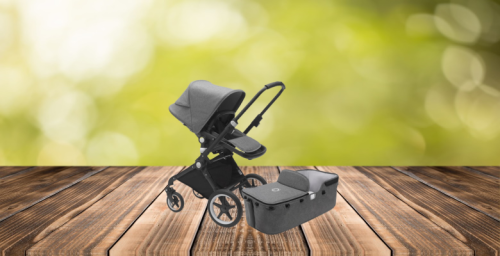 The Bugaboo Lynx is remarkably lightweight for a full-sized stroller, weighing just over 20 pounds. It doesn't sacrifice strength for size, either, with a roomy and well-padded toddler seat that can fit kids up to 50 pounds. The under-seat storage area is high-capacity as well, durable enough to carry up to 22 pounds and with a large opening that makes it easy to find your things when you need them.
Along with this lightweight design, the Lynx has a relatively small footprint and is very maneuverable in tight spaces like store aisles, with effortless one-handed steering on smooth surfaces. It can also handle a range of terrains thanks to its front-wheel suspension and large rear wheels. The two-wheel position is a nice touch, letting it glide over soft surfaces like snow and sand. When you need to transport it, there are two folding options, a quick one-piece fold or a more compact two-piece version.
The toddler seat that comes with the Bugaboo Lynx is reversible and includes a large sun canopy with a mesh window for ventilation and quick check-ins on the go. It also comes with an infant bassinet so it can be used from birth right out of the box. If you want to expand its capabilities, it's compatible with Bugaboo accessories like the Turtle infant car seat or Comfort Wheeled Board with no need for adapters.
Pros
Lightweight with small footprint
Easy to steer and control
Good handling on rough terrain
One-piece self-standing fold
Large-capacity under-seat basket
Cons
Fewer options for adjusting the seat angle
Ride not as smooth over uneven surfaces
---
UPPAbaby Cruz V2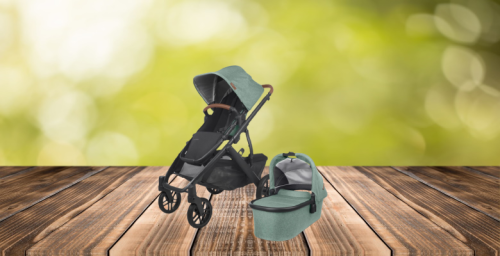 For smooth steering on any surface, the UPPAbaby Cruz V2 is one of the best options you'll find. Its innovative dual-action suspension system and large heavy-duty tires can handle everything from grass and gravel to sidewalk cracks and curbs. The front wheel locks add another level of control on hilly terrain, and it's easy to see at a glance when they're active.
Not only will your baby get a smooth ride with the Cruz V2, but they'll also be comfortable in the toddler seat. The design is upgraded over the previous model, with a deeper footrest and higher back that accommodate larger children and a no-rethread harness you can adjust easily as they grow. The seat is reversible and has 5 recline adjustment levels, with an extendable sun canopy that provides good coverage of the seat. Combined with the high-quality materials and durable frame, this gives it excellent long-term longevity and value.
Now, out of the box, the Cruz V2 can only be used starting at around 3 months, once your baby is old enough to ride sitting up. While it doesn't come with a newborn option, it is compatible with the MESA infant car seat and other accessories in the UPPAbaby travel system so you can add from-birth capability easily. Click here for our more in-depth Uppababy Cruz V2 Review.
Pros
Easy to push and steer on any terrain
Roomy and comfortable seat
No rethread harness and easy seat adjustment
Compact one-piece fold
Extra-large under-seat storage with 30-pound capacity
Good array of available accessories
Cons
Not suitable for newborns out of the box
Larger footprint
---
The Verdict: Bugaboo Lynx vs UPPAbaby Cruz V2
Ultimately, both of these strollers have their strengths. With the UPPAbaby Cruz V2, you get a stroller that can go anywhere and keep your kid safe and comfy until they're ready to walk around on their own (>>> Check on Amazon). On the other hand, the small footprint and easy steering of the Bugaboo Lynx make it a great choice for parents who live in the city, with a super-compact fold that's great for traveling.