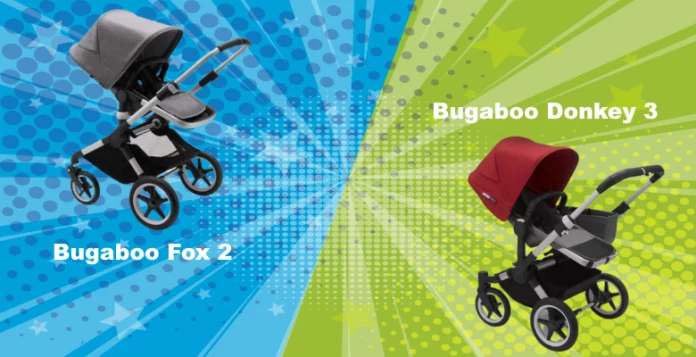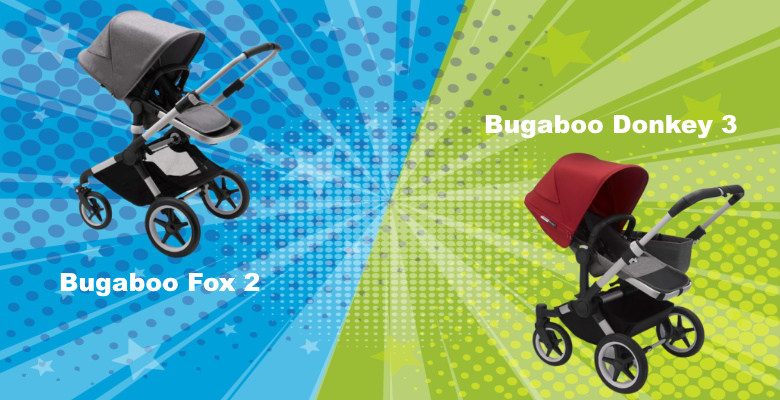 With their stylish design and rugged build, Bugaboo strollers are a great way to keep your child safe while you're on the go—and look good while you're doing it. Looking at the Bugaboo Fox 2 vs. Donkey 3, there's a lot to love about both models. The right one for you depends a lot on the size of your family. The Fox 2 will be more convenient for most one-child families (>>> Find on PishPoshBaby.com), while the Donkey 3 is more versatile for those with multiple kids. Let's take a closer look at the differences so you can see what we mean.
Bugaboo Fox 2 vs Donkey 3 Side by Side:
Bugaboo Fox 2
Bugaboo Donkey 3
Maximum child weight
50lbs
50lbs
Age range
Birth to toddler
Infant to toddler
Collapsed dimensions
33.9" X 20.5" X 13.4"
20.4" X 23.6" X 36.6"
Unfolded dimensions
34.6" X 23.6" X 15.7"
29.5" X 23.6" X 35"
Weight
21.8lbs
27.6lbs
Price

Pishposhbaby.com





Find on Amazon

Pishposhbaby.com





Find on Amazon
Built-in Storage
The under-seat storage on the Fox 2 and Donkey 3 is very similar. On both models, this compartment is roomy, easy to access, and can hold more than 20 pounds. Both are well-built, too, and won't get damaged easily by stray pebbles and other roadway hazards.
Where the Donkey 3 comes out ahead is its additional side storage compartment, which holds just as much weight as the one under the seat. Not only does this double the storage capacity, it lets you keep your most-used items close at hand where you can grab them quickly without taking your eyes off your kids.
Better built-in storage: Bugaboo Donkey 3
Versatility
The included bassinet and adjustable seat on the Fox 2 give it excellent versatility when it comes to age range, safe to use with every age from newborns to 50-pound toddlers.
Out of the box, the configuration options of the Donkey 3 are similar, with an included bassinet and reversible seat. As your family grows, you can expand on this with the Duo Extension Set (or, for twins, the Twin Extension Set), turning it effortlessly into a two-seat stroller.
More versatile: Bugaboo Donkey 3
Steering
Both the Fox 2 and the Donkey 3 get high marks for their maneuverability. Their large, puncture-proof wheels can handle uneven terrain like gravel and grass, and your kid might even sleep right through it thanks to the shock absorption system that keeps the ride smooth.
Here, it's the Fox 2 that takes the slight edge. It's slimmer and lighter, for one thing, which makes it easier to maneuver through tight spaces. Its steering system is also more advanced, designed to be steerable with one hand when you're on sidewalks and paved paths, and easy to control even when you go off-road.
Easier to steer: Bugaboo Fox 2
Size when Folded
The Donkey 3 technically has the same one-step fold system as other Bugaboo strollers. The problem is, that side storage spot can't be condensed, and this thing is a beast even when it's folded. To get it down to a size most people would call "compact", you have to take off the seat and wheels—not too difficult, but more work than most want to do on a daily basis.
The Fox 2, on the other hand, collapses down to a self-standing unit about a foot across, without the need to remove any pieces. This means it can go from folded in the closet to ready for a walk in a matter of seconds, and it's just as fast to fold it up again once you're done.
Better folding mechanism: Bugaboo Fox 2
---
Bugaboo Fox 2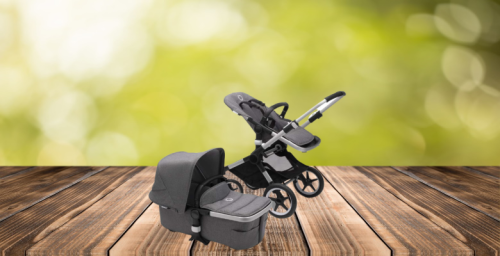 The Bugaboo Fox 2 is designed to keep your child safe and comfortable no matter where you go. The seat is roomy and reversible, with 3 recline positions and easy-to-adjust restraints. It also comes with an extendable canopy with a peekaboo mesh window for ventilation and UPF 50+ protection against the sun. From newborns through toddlers, the Fox 2 is designed for kid comfort.
The Fox 2 is also a convenient stroller to transport and store. Its aluminum frame is both durable and light, and the entire stroller weighs just over 20 pounds. When you're not using it, it can be folded down to a slim, self-standing unit, small enough to tuck in a closet or under a couch. Its one-piece fold means you don't have to take any pieces off to collapse it, and makes it just as quick a process to set it back up.
Once you're out and about, the Fox 2 is a breeze to push. On smooth surfaces, it can be steered with just one hand without losing control or straining your wrist. You'll probably want the second hand for rougher terrain, though the wheels and suspension keep the ride pretty smooth even on gravel and dirt paths.
Pros
Easy to push and maneuver
Roomy, reversible seat
One-piece fold
Self-standing and compact when collapsed
Included bassinet for infants
Extendable canopy with peekaboo window
Cons
No second seat option
Car seat adapters aren't included
---
Bugaboo Donkey 3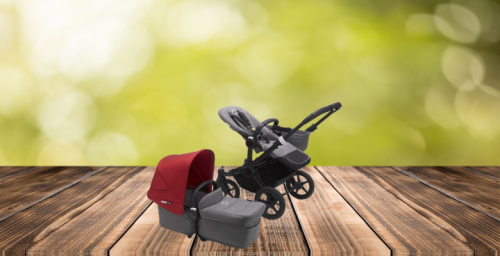 The expandable potential of the Bugaboo Donkey 3 is its most appealing feature for growing families. It's easy to add the Duo or Twin expansion as you need to, and it will work with a variety of car seats with the car seat adapters. The seat itself has similar strengths to the Fox 2. While they're a bit narrower, they're still reversible and adjustable, with padded and secure restraints and an extendable sun canopy.
The Donkey 3 uses foam-filled EVA wheels that are puncture-proof and glide easily over a variety of terrains, and its anti-shock suspension system is effective. It takes a bit more effort to push than the Fox 2, but it's still a very smooth and easy ride on most surfaces.
The only major issue with the Donkey 3 is that it takes up a lot of space, even when you're not using it. The one-step fold doesn't shrink it down as much as other Bugaboo strollers. If you have a small home, or often need to collapse the stroller to travel, the Fox 2 is likely the better option for you. Click here for our more in-depth review of the Bugaboo Donkey 3.
Pros
Double the storage of most strollers
Can be expanded to fit multiple kids
Reversible seat with 3 recline positions
Extendable canopy provides excellent sun protection
Wide usable age range
Smooth ride, even on rough terrain
Cons
Additional seat has to be purchased separately
Not as compact when folded
---
Bugaboo Fox 2 vs Donkey 3: The Verdict
Choosing between the Bugaboo Fox 2 and Donkey 3 really comes down to what you need out of your stroller. The Fox 2 is perfect for active parents who want a stroller that can handle mulch at the park or snow in the winter (>>> Check on Amazon). It's also a great option for travelers, folding down to a compact cube you can easily throw in the trunk of your car, or pack away in your luggage.
While the Donkey 3 is larger, it uses this space well. Out of the box, it has double the storage of the Fox 2. If you'd rather, you can replace this extra storage with an extra seat, turning it into a remarkably agile two-seat stroller. Whichever one you buy, these rugged and low maintenance strollers are worth the investment.