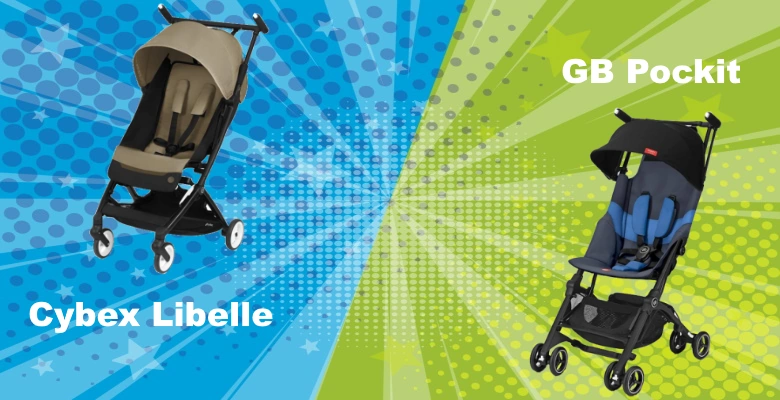 Do you need a compact stroller you can take with you while you're traveling? Both GB and Cybex make affordable, lightweight models that are as convenient as they are comfortable for your baby, and a perfect fit for on-the-go families. Between the Cybex Libelle vs. GB Pockit, we'd recommend the Cybex Libelle for most families (>>> Check on Amazon), though the ultra-lightweight and super-maneuverable design of the GB Pockit could be a better choice for some. Check out the full details of both below to decide which one is right for you.
Cybex Libelle vs GB Pockit Side by Side:
| | Cybex Libelle | GB Pockit |
| --- | --- | --- |
| | | |
| Maximum child weight | 55lbs | 55lbs |
| Age range | 6 months to toddler | 6 months to toddler |
| Unfolded dimensions | 20" W X 29" D X 41" H | 19.1" W X 28" D X 39.8" H |
| Folded dimensions | 12.6" W X 7.9" D X 18.9" H | 7.9" W X 13.4" D X 16.5" H |
| Weight | 13.7lbs | 10.6lbs |
| Price | Find on Amazon | Find on Amazon |
Folding
The GB Pockit is the more compact stroller of the two, and weighs a few pounds less than the Libelle, so it's easier to lift and carry. However, while the two-step folding process isn't especially complicated, it does take more time and effort to collapse. The one-handed fold of the Cybex Libelle is faster and easier, and it's still plenty compact and light for traveling.
Easier fold: Cybex Libelle
Wheels and Steering
The wheels on the Cybex Libelle are designed for use on paved paths. It has a front-wheel suspension to keep the ride smooth through slight jolts but isn't made to handle rough terrain or uneven surfaces.
While the wheels on the GB Pockit have a similar diameter to those on the Libelle it has twice as many, with double wheels on each of the four corners. This enhances its stability and gives it a wider tread for navigating different terrains. The front wheels also swivel to give it a tighter turning radius, so it's easier to push and steer in a variety of settings.
Better wheels: GB Pockit
Child Comfort
The seat area of the GB Pockit is roomy and has a decent amount of padding. It also offers stepless recline, giving parents full control over the seat angle. However, it's not as sturdy as the seat of the Cybex Libelle, and while that flexibility will be a plus for some, it can also make it difficult for other kids to find a comfortable position.
The seat of the Cybex Libelle is firmer and offers kids more support. You can also adjust both the recline of the seat back and the angle of the leg rest. Add in the large sun canopy and it gives a very comfortable ride to a wider range of kids, especially for older toddlers.
More comfortable seat: Cybex Libelle
---
Cybex Libelle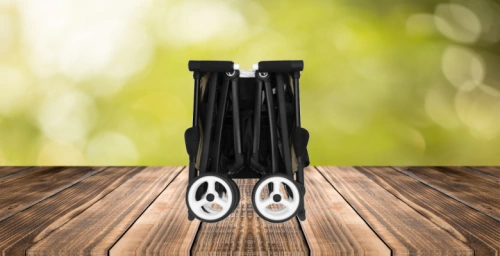 The Cybex Libelle is the ideal stroller for travelers, with a lightweight and compact design that lets it go anywhere. When in use, it has a smaller footprint than most strollers, perfect for navigating tight or crowded spaces. It's also easy to collapse down into a self-standing form sized to fit easily in airplane overhead bins.
The front-wheel suspension on the Cybex Libelle keeps the right smooth when you're traveling on paved paths and other smooth surfaces. However, its wheels are fairly small and less durable than the ones you'll find on some strollers. This means it can struggle on rough and uneven terrain.
As long as you stick to fairly flat surfaces, the Cybex Libelle is easy to push and steer and gives kids a comfortable ride. The seat reclines to nearly flat for napping babies, with a large canopy that provides UPF50+ protection from the elements. Adjusting the seat recline or leg rest position is as simple as folding and unfolding the stroller, and all of the above can be accomplished with one hand.
Out of the box, the Cybex Libelle can be used with babies as young as about 6 months, up until they weigh 55 pounds. It's also compatible with Cybex brand car seats, expanding its use to infants younger than 6 months and turning it into a complete travel system. Find our review of the newer generation stroller –  Cybex Libelle 2.
Pros
Easy one-hand fold for travel and storage
Compact and lightweight
Adjustable recline and leg rest position
Large UPF 50+ sun canopy
Front-wheel suspension
Compatible with Cybex infant car seats
Cons
Wheels may struggle on uneven surfaces
Small and flimsy under seat storage
---
GB Pockit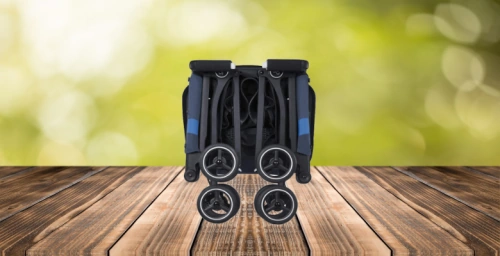 If you're looking for the lightest stroller on the market, the GB Pockit is a strong contender. It weighs just over 10 pounds while still supporting kids up to 55 pounds. The Pockit also folds down even smaller than the Libelle and will easily fit into overhead bins or under seat storage areas. The only caveat here is that it's a two-step process to collapse it, so not quite as quick and easy to fold up as the Cybex Libelle.
The GB Pockit also gets high marks for its wheel design. While the wheels are still fairly small and may struggle on difficult terrain like snow or sand, they're more stable and give a smoother ride on surfaces like grass or dirt paths. The front wheels also swivel, making the stroller more agile around tight turns.
We also appreciate the flexibility of the GB Pockit. The seat has a stepless recline, letting you adjust it from fully flat to fully upright or anywhere in between. The seat is fairly roomy, as well, with a full UPF50+ sun canopy and well-padded 3-point harness that keeps your baby safe without overly restricting their movements or making them uncomfortable.
The GB Pockit is also a convenient choice for parents. Its under-seat storage is roomier and more secure than the one on the Libelle, for one thing. The ergonomic handle design also makes it easy to steer and control the stroller, and can also be used to carry it when it's in its collapsed form.
Pros
Roomy, comfortable seat with stepless recline
Sturdy double wheels perform better on rough surfaces
From birth capability with use of Cybex car seat
Good-sized under seat storage area
Fits in airline overhead bins when folded
Cons
Trickier to fold and expand
Less support in the seat than other strollers
---
So Which Stroller Is Better?
The answer to this question depends on your family's needs. The GB Pockit is lighter with better wheels and smoother steering. Conversely, the Cybex Libelle is more comfortable for most kids (>>> Find on Amazon), as well as faster and easier to fold and adjust for parents. We hope this review has helped you decide which one is the best fit for you!
FAQs
Are Cybex and GB the same?
Yes and no. GB stands for Goodbaby International, the company that acquired Cybex in 2014. Since Cybex is owned by GB, the strollers from both brands are made in the same factory and use similar materials and manufacturing processes.
What is the age range of the Cybex Libelle and GB Pockit?
Out of the box, both strollers are suitable for use with babies as young as 6 months and have an upper weight limit of 55 pounds. You can also add from birth capability to both strollers by pairing them with a Cybex infant car seat.
What are the folded dimensions of the Cybex Libelle and GB Pockit?
The folded dimensions of the Cybex Libelle are 12.6" X 7.9" X 18.9", while the GB Pockit's folded dimensions are 7.9" X 13.4" X 16.5".