The maneuverable and rugged Donkey 3 has the versatility, expansive storage, and go-anywhere capability that modern families need. As impressive as it is, though, its high cost and larger size may not fit into every home and budget. We'll break down all the details in this Bugaboo Donkey 3 review to help you decide if it's the best choice for your kids. (>>> Check on PishPoshBaby.com)
Bugaboo Donkey 3 Review of Specifications:
Bugaboo Donkey 3
Maximum child weight
50lbs
Age range
Infant to Toddler
One-piece folded dimensions
35.8" X 23.6" X 36.6"
Fully folded dimensions
35.8" X 23.6" X 9.4"
Unfolded dimensions
35.8" X 23.6" X 36.6"
Weight
27.6lbs
Price

Pishposhbaby.com





Find on Amazon




Overall Design
The build quality of the Bugaboo Donkey 3 is high. Its aluminum frame strikes a great balance between low weight and durability. You'll get the same longevity from its other components, with puncture-proof EVA foam-filled wheels and easy-to-wash polyester for the seats and canopy.
A closer look at the sun canopy shows Bugaboo's attention to detail. It's extendable with a rear-facing mesh window to improve ventilation and let you easily look in on your baby as you go. Once extended, it provides UPF 50+ protection from the sun. You can even get it in a range of colors, adding to the aesthetic appeal of this stylish but functional stroller.
Dimensions and Folding
There's no denying it: the Donkey 3 is a sizeable stroller. It's narrow enough to fit through doorways, so it's not so large that it limits where you go, but it's decidedly larger than most single-child strollers. Having said that, the aluminum frame keeps the weight under 30 pounds, so while it is on the bigger side most don't find it to be cumbersome.
Technically, the Donkey 3 offers a one-piece fold. While this is true, using this option doesn't make the stroller much smaller than when it's set up to use, and it may still be too large to fit easily in your car trunk or shove out of the way in a smaller home. If you need to get it smaller, you'll have to take off components like the wheels and seat—not steps most want to go through on a regular basis.
Pros
Rugged and low-maintenance design
Easy to steer on a variety of terrains
Includes bassinet and reversible child seat
Double the storage of most strollers
Can be converted into a dual stroller
Cons
High price point (especially with accessories)
Large even when folded
Full-sized seat is narrower than most
Steering Ease
The Donkey 3 has large all-terrain wheels that can handle pretty much any surface you'll come across, including uneven terrain like dirt and gravel paths. The front wheels lock independently from the rear, helpful if you're going across snow or sand. Its suspension system keeps the ride fairly smooth no matter what kind of surface you're rolling over.
Adjustable height on the steering bar helps here, too. It can accommodate a wide range of heights, going low enough your other kids can comfortably help push and high enough for 6-foot tall adults to push without stooping.
Despite its size, the Donkey 3 is overall a breeze to push and maneuver, and can handle any terrain you're likely to encounter in cities and suburbs.
Built-in Storage
There are two storage areas on the Bugaboo Donkey 3: a compartment under the seat and a side luggage basket next to it. Each of these can hold up to 22 pounds, effectively doubling the storage capability compared to most strollers. This dual system also makes it easier to organize your things, keeping necessities close at hand.
Seats and Accessories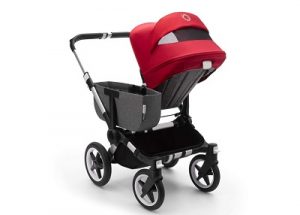 Out of the box, the Donkey 3 can accommodate a single child from birth until they reach the 48-pound seat weight limit. It comes with both an infant bassinet and a full-sized toddler seat and it's easy to switch between them. Both seats can be parent-facing or world-facing, with 3 recline levels and a padded, fully-adjustable harness on the full-sized seat.
One thing to note on the full-sized seat is that it's on the narrow side at 11 inches. Its footrest is also relatively shallow and it's not as tall as other stroller seats. Depending on the toddler, this might mean your kid outgrows the seat before they reach that 48-pound weight limit.
The Donkey 3 can be expanded into a two-child or twin stroller by adding the Duo or Twin extension set, which replaces the side storage with a second seat or bassinet. You can also get an adapter to use it with a range of car seats. All of these are extra purchases, though—out of the box, it's a single-child model.
The Bottom Line: Bugaboo Donkey 3 Review
The Bugaboo Donkey 3 is a high-end stroller that can grow with your family, and its build quality and versatility are its main strengths. While it's not the easiest model to transport and store, its smooth maneuverability and all-terrain wheels make it a great choice for active families. (>>> Find on Amazon)
REFERENCES AND FURTHER READING: