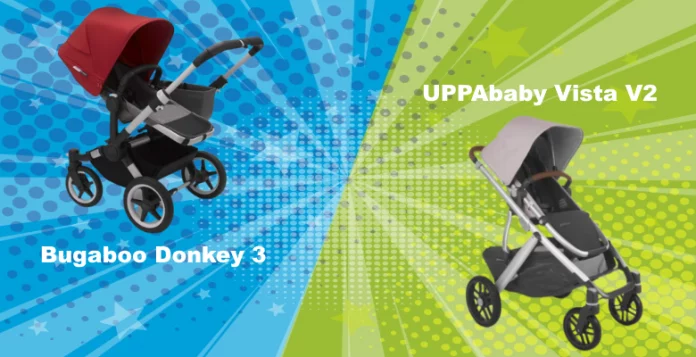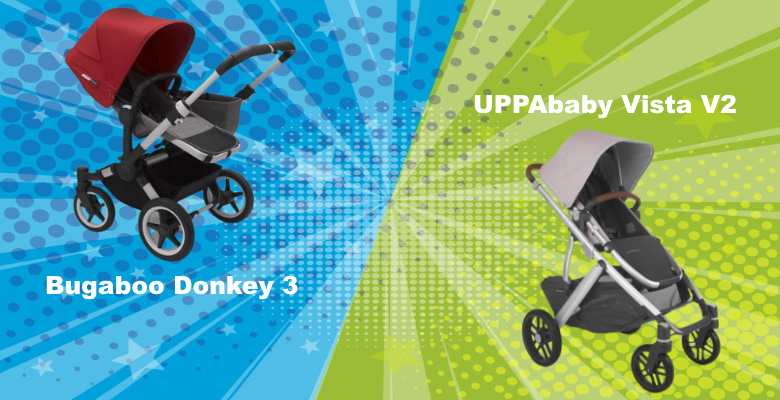 Are you looking for a stroller that can keep up with your growing family? A stroller with a modular design can be configured to fit multiple kids, from their first day at home until they're ready to walk on their own.
Looking at the Bugaboo Donkey 3 vs. UPPAbaby Vista V2, both are sturdy, stylish, and versatile strollers that are safe and comfortable for both infants and toddlers. While the Donkey 3 has a smoother ride, the Vista V2 wins when it comes to versatility and convenience (>>> Check on PishPoshBaby.com). We've compared them on the key differences so you can see what we mean.
Bugaboo Donkey 3 vs UPPAbaby Vista V2 Side by Side:
Folding
Bugaboo has improved their folding mechanisms over those used in previous models with the Donkey 3. You can leave the seats on and fold it into a self-standing package, but it's still pretty big if you only break it down this far. Getting to its most compact form means taking off the seats and wheels, and that can get tedious pretty fast if you need to do it multiple times a day.
The one-step fold of the UPPAbaby Vista V2 works whether or not you have the toddler seat attached. Even if you're using the bassinet, it's easy to take off and collapse. You can quickly and easily get the Vista down to a compact, self-standing unit that you can push into a closet or tuck unobtrusively in the corner.
Easier to fold: UPPAbaby Vista V2
Smooth Movement
The UPPAbaby Vista V2 effortlessly slides over sidewalks, with large wheels that can handle curbs and debris. Its suspension system and all-terrain wheels also give it good performance on grass and snow, though it's not the smoothest ride if you're on uneven terrain like gravel.
The EVA wheels on the Bugaboo Donkey 3 are its main advantage here. They use a unique foam-filled design that makes them lighter and more maneuverable. Its suspension is also more advanced, absorbing shocks better so the stroller moves smoothly over any type of surface.
Smoother ride: Bugaboo Donkey 3
Built-in Storage
Dual storage areas give the Bugaboo Donkey 3 an impressive amount of space for your diaper bag, toys, and anything else you'll need while you're out. The side storage bag zips shut and has a front compartment for small necessities like your keys and wallet. This not only gives you more storage space than the under-seat compartment on the UPPAbaby Vista V2, it also makes it easier to organize your things so you can find what you need quickly.
Better built-in storage: Bugaboo Donkey 3
Out-of-box Versatility
The Bugaboo Donkey 3 can be converted to a twin stroller or a side-by-side double stroller for a toddler and an infant. You'll need to buy those components first, though. Out of the box, it's a one-seat stroller, and the included infant bassinet can only be used in place of the larger seat.
The UPPAbaby Vista V2 is an all-in-one transportation system for up to 3 kids, from infants all the way through toddlers who just need the occasional ride-along. It also works with other accessories like the MESA Infant Car seat, so you can add more pieces if you want to, but you won't need to buy any extras to use it for multiple kids.
More versatile: UPPAbaby Vista V2
---
Bugaboo Donkey 3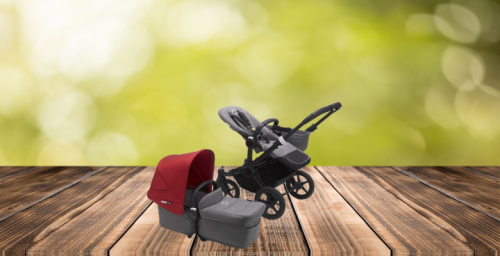 You can tell the Bugaboo Donkey 3 is a sturdy stroller the first time you push it. It's not too heavy or bulky but its aluminum frame is solid, and its polyester canopy and liner hold up well to wear and are easy to clean. The foam-filled wheels are puncture-proof and never need to be refilled with air, so it's low-maintenance as well as long-lasting.
The Bugaboo Donkey 3 can go almost anywhere, and that's it's main strength. The variety of storage options are great for shopping trips and outdoor excursions, with each holding up to 22 pounds. The side storage is especially helpful, keeping necessities close at hand and secure.
The seat in the Donkey 3 is adjustable, with 3 reclining levels and the option of turning it to face ahead or face you. The pivoting carry handle is a nice addition over previous models, making it much easier to load and unload your kids. While it can hold as much weight as the seats on the Vista V2, the seat is a bit narrower and shorter and will be a tight fit for many 3-4 year-olds even if they're below the weight limit.
If you want to add a second seat, the Donkey 3's 3-step conversion system makes it easy to do. Considering it's already on the pricey end for a stroller, though, getting even more accessories could push it out of many people's budget range. Click here for our more in-depth Bugaboo Donkey 3 review.
Pros
Reversible seat with 3 recline positions
Has both side and under-seat storage
Foam-filled wheels improve maneuverability
Includes a bassinet for use with infants
Easy to convert into a double stroller
Ventilated canopy with peekaboo windows
Cons
Doesn't include the extra seat or car seat
Seats are relatively narrow
---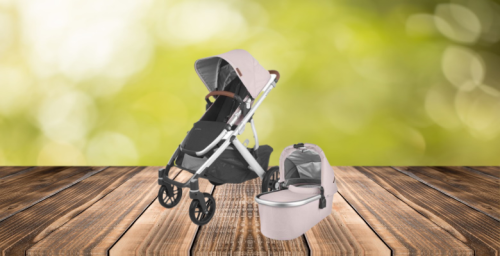 The UPPAbaby Vista V2 was designed for ultimate comfort—both yours and your kids'. The spacious, reversible seat has 6 reclining levels, along with a high back and deep foot rest. It's covered by an extendable canopy with mesh panels that improve airflow (and let you peek in) that provides UPF 50+ protection on sunny days. Sliding shoulder adjustment on the harness systems makes it easy to get a precise fit and keep your kid safe, no matter their age.
In addition to the main seat, the Vista V2 comes with a RumbleSeat attachment that can be use for kids up to 35lbs or 36". It also comes with a bassinet for infants, along with a PiggyBack board so older toddlers can ride along. These pieces can be combined into an impressive number of combinations, and are easy to add and remove as needed.
The Vista V2 stands on its own when it's folded and doesn't take up much space when it's not in use. Fully collapsed, it's small enough to slide into a closet, or throw in the trunk for a drive to the store, and you can set it up quickly when you get where you're going. There is a car seat attachment for on the go use, too, though this does need to be bought separately.
Pros
Wide usable age range
Accommodates up to 3 kids at once
Pivoting seat with 6 recline positions
Adjustable telescoping handlebar
Zip-out canopy with UPF 50+ protection
One-step fold even with toddler seat attachment
Cons
Not as smooth on gravel and rough roads
---
The Bottom Line
The Bugaboo Donkey 3 and UPPAbaby Vista V2 are evenly matched when it comes to build quality. While both are an investment, the included accessories of the Vista V2 make it a better value, and it's easier to store and transport (>>> Find on Amazon). On the other hand, the improved wheels of the Donkey 3 have better all-terrain performance and its expanded storage is a convenient feature. Ultimately, it comes down to your budget and your family.
REFERENCES AND FURTHER READING: