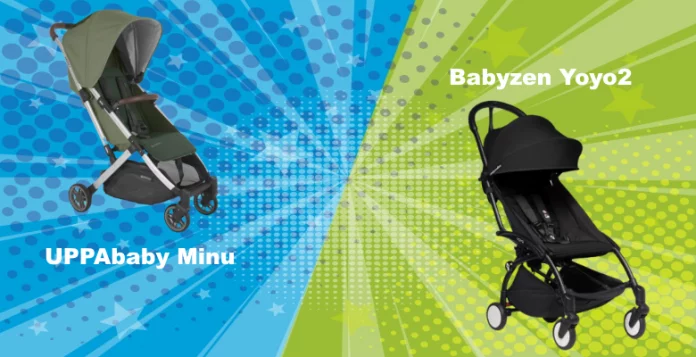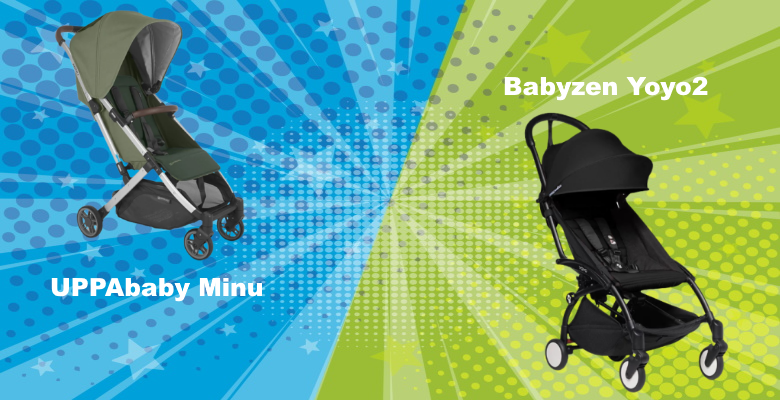 Parents expect a lot from their strollers. They want easy maneuverability with a lightweight and durable design. Unfortunately, lightweight often means the stroller isn't designed to last.  It's not easy finding a stroller that can handle city streets and traveling. But two models stand out from the competition.
The UPPAbaby Minu and the Babyzen Yoyo2 are both lightweight, full-size strollers that grow with your baby. The Yoyo2 is a little narrower than the Minu folded down. It also comes at a slightly higher price. The Minu supports more weight, you can use the stroller longer (>>> Check on PishPoshBaby.com). It's also easier to fold down for travel or storage.
Want to learn more about these strollers? Here's a closer look at their specifications.
UPPAbaby Minu vs Babyzen Yoyo2 Side by Side:
Maneuverability
Whether you're on vacation or navigating an urban area, you want a stroller that's a breeze to steer. Both models are easy to maneuver on almost all types of terrain, thanks to the all-wheel suspension. You can tackle bumpy paths and sidewalks with ease.
The Yoyo2 also boasts one-handed steering. It's that easy to push and maneuver down aisles and around sharp corners. The Minu isn't hard to push or control, but the Yoyo2 is a little easier.
Easiest to Maneuver: Babyzen Yoyo2
Safety Features
You get the same outstanding safety features with both strollers. A five-point safety harness keeps squirmy infants and toddlers securely in the seat. The strollers also come with locking rear wheels.
The harness straps are a little sturdier on the Minu. It's also easier to adjust the straps to accommodate larger toddlers or thick winter coats.
Best Safety Features: UPPAbaby Minu
Compatibility
You can attach a compatible car seat to either stroller, both come with adaptors. You will need to purchase another adaptor if you aren't using the Mesa car seat with the Minu.
The Minu's seat is a little longer, so you can use the stroller longer. It supports up to 50lbs, while the Yoyo2 can handle a maximum of 40lbs. You can also use the Minu with infants starting at three months, thanks to the fully reclining seat. The Yoyo2 recommends parents wait until their baby is at least 6 months of age.
Best in Compatibility: UPPAbaby Minu
Travel Convenience
Both are lightweight strollers and fold easily down to a compact size. The YoYo2 is a little smaller. It's something to consider if you plan on stowing the stroller in an overhead bin during air travel.
Both strollers fold down with the press of a button, but it's a little easier with the Minu. It's only a one-step process compared to two steps with the YoYo2.
Most Convenient: UPPAbaby Minu & Babyzen Yoyo2
---
UPPAbaby Minu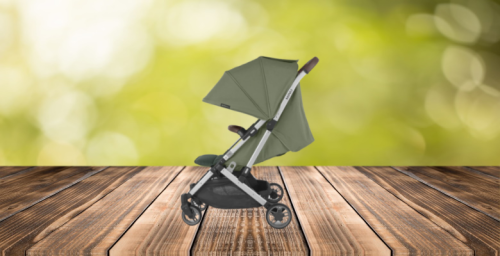 The UPPAbaby Minu is a stroller designed for parents constantly on the move. It works with children from three months up to 50lbs. With the addition of a bassinet or compatible car seat, you can also use the Minu with newborns.
Weighing under 15lbs, it's a lightweight and durable stroller. All-wheel suspension with spring-action technology gives you and your baby a smooth and comfortable ride. The leather-wrapped handle is adjustable to accommodate your height.
The stroller seat has plenty of room for your growing baby. It's also a multi-position and fully reclines. Lay the seat back for naptime or position it so your child can enjoy the view. An expandable cover keeps the sun out of your baby's eyes. You can also keep an eye on your child through the convenient peek-a-boo window.
The roomy storage basket is ideal for holding diaper and shopping bags. The Minu also comes with a storage pocket for your keys, phone, and other small items. When it's time to store the stroller, one push of a button folds it down to a compact size. It even comes with a built-in carrying strap and handle for easy portability.
Pros
Lightweight and durable
Adjustable handle
Easy to fold down
All-wheel suspension
Large storage basket
Cons
The stroller may not easily fit in some airplane overhead luggage bins
---
Babyzen Yoyo2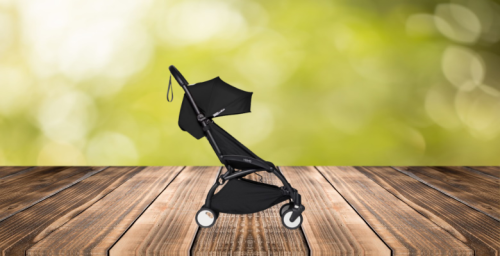 Babyzen Yoyo2You can take the Babyzen Yoyo2 stroller almost anywhere. It's ideal for urban settings and travels with its lightweight and compact design. It folds easily down for storage, and the stroller also fits in airplane overhead bins. You can even carry the stroller over your shoulder without straining your muscles.
Steering the stroller is a breeze, it's designed for a one-hand push. The durable Hytrel elastomer wheels handle rugged terrain with ease. Add in the four-wheel suspension, and you and your baby get an incredibly comfortable ride. The seat is not fully reclining, but it is adjustable.
The Yoyo2 supports weights up to 40lbs and will grow with your baby, from six months up. With the additional purchase of a bassinet or compatible car seat, the stroller can accommodate newborns. Click here for our more in-depth Babyzen Yoyo2 review.
An underneath storage basket helps keep your hands free. It does have two supporting bars that can limit access, but you can still store a diaper bag underneath the stroller seat. A zippered back pocket lets you keep small items close.
Pros
Multi-position seat
Retractable, three-position sunshade
Lightweight design
Fits in airplane overhead bins
All-wheel suspension
Cons
The underneath storage basket isn't as roomy as some other models
---
Conclusion
Comparing the UPPAbaby Minu vs the Babyzen Yoyo2 shows you the strollers' similarities and differences. Both are designed for easy travel in town or on vacation. They are lightweight, durable, and fold down for easy storage.
The Yoyo2 is easier to maneuver. It also provides a slightly more comfortable ride with its Hytrel elastomer wheels. The Minu comes at a lower price and can support more weight (>>> Find on PishPoshBaby). It also comes with a fully reclining seat, something the Yoyo2 is missing.
Whichever stroller you bring home, you get a lightweight, foldable stroller that will grow with your baby.
REFERENCES AND FURTHER READING: