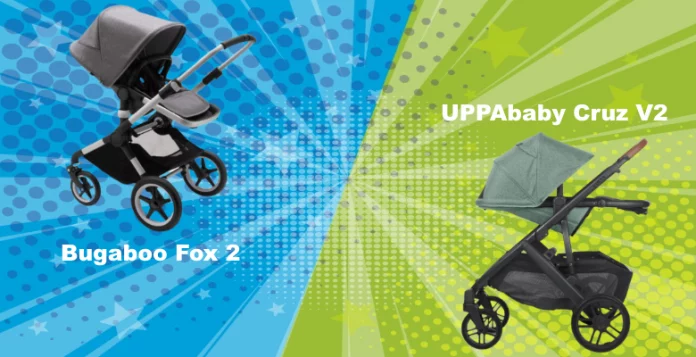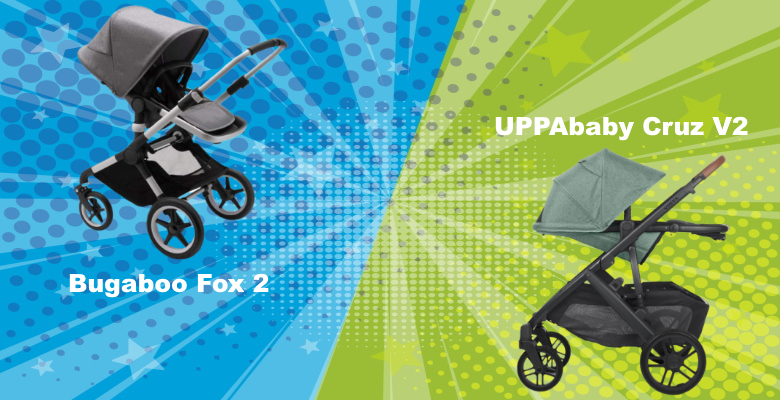 Two brands stand out when you are looking for baby strollers, Bugaboo and UPPAbaby. Both manufacturers are known for their durable strollers, and they recently released updated versions of popular models.
Comparing the Bugaboo Fox2 vs the UPPAbaby Cruz V2, the price difference is one of the first things you notice. The Cruz V2 is priced lower, has a larger capacity storage basket, and comes with mosquito netting.
The Bugaboo Fox2 is designed to grow with your baby from infancy to toddler, unlike the Cruz V2 (>>> Check on Amazon.com). It also comes with power steering for easy maneuverability around tight corners.
Not sure which stroller is right for you, it helps to take a closer look at what each model has to offer.
Bugaboo Fox 2 vs UPPAbaby Cruz V2 Side by Side:
Maneuverability
You see four wheels on the stroller and think everything is fine. You won't have a problem pushing or steering it, even when the storage basket is packed.
There's more to a stroller's maneuverability than its wheels, and both of these models come with a few innovative features.
The Fox2 comes with all-terrain wheels and an advanced suspension system. The Cruz V2 also boasts large front and rear wheels. It has a rear-action suspension for a smooth ride, but the Fox2 is easier to maneuver thanks to its power steering. You can easily make tight corners without bumping into anything.
Easiest to Maneuver: Bugaboo Fox2
Versatility
The Fox2 is more versatile than the Cruz V2. Both strollers support toddlers up to 33lbs, but the Cruz V2 does not come with a bassinet. It is an additional purchase that brings the stroller's price closer to the Fox2.
With the Fox2, you get a combination of a pram and stroller. The bassinet easily attaches to the stroller. When your baby is ready for the toddler seat, remove the bassinet. You are set for all stages of your baby's life with the Bugaboo stroller.
Most Versatile: Bugaboo Fox2
Storage Capacity
You need a stroller with plenty of storage. Both models have storage baskets underneath the toddler seat. You won't have a problem fitting a diaper bag and other items in either one.
The UPPAbaby Cruz V2 offers more storage. It can hold up to 30lbs without any problems. It also has a larger opening for easier access.
Best Storage Capacity: UPPAbaby Cruz V2
---
Bugaboo Fox 2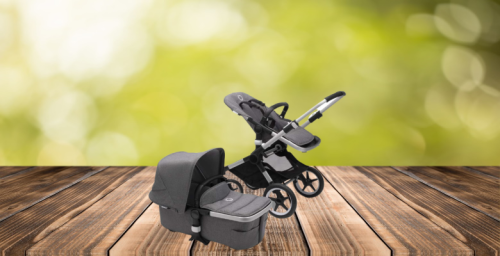 The Fox2 comes with updated features that include increased weight capacity. The stroller will safely support toddlers up to 50lbs. Larger wheels improve its performance on rough terrain, you can easily push the stroller on nature walks or over bumpy sidewalks.
The advanced suspension system benefits you and your child. It makes the stroller easier to push while providing your baby with a smooth ride. It also comes with a power-steering system. You can easily control the stroller with one hand.
A larger storage basket is another improvement. You can fit a diaper bag, purse, and even groceries underneath the toddler seat.
You also won't have a problem storing the stroller. The new push-button design folds the stroller down to a compact size. It is a self-standing stroller when folded down, but you can also store it on its side.
Pros
Combination pram and stroller
Included sun and rain canopy
All-wheel suspension
Power-steering
Lightweight design
Cons
The storage basket may not be as large as some parents would like or need
---
UPPAbaby Cruz V2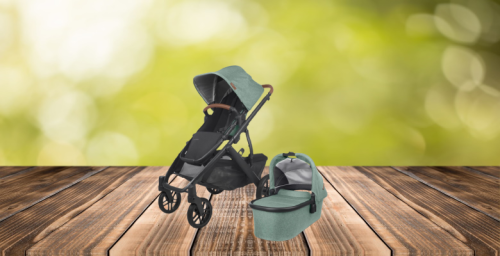 The UPPAbaby Cruz V2 comes with some innovative improvements designed for safety and comfort. Reflective strips on the side ensure the stroller is visible on twilight or early morning walks. The size of the back and foot rest has also increased, helping keep toddlers comfortable.
Another great addition is the mosquito netting. Along with the sun and rain canopy, the netting keeps your child comfortable no matter the weather.
The reversible facing toddler seat is a breeze to recline 180 ° with the touch of a button. It is just as easy to fold the stroller down for storage.
When it comes to maneuvering the stroller around town, you won't have a problem. It comes with large front and rear wheels, along with UPPAbaby's patent-pending varying spring suspension. You and your baby get a smooth ride regardless of the terrain.
Pros
Rear-wheel suspension
Extra-large capacity storage basket
Mosquito netting
Compact storage
Large toddler seat
Cons
The bassinet is extra if you want to use the stroller for an infant
---
Conclusion
When you are comparing the Bugaboo Fox2 vs the UPPAbaby Cruz V2, you'll notice similarities and differences.
Overall, the Bugaboo Fox2 is the better value for parents looking for a stroller their child can use from infancy up to toddler stage (>>> Find on Amazon). Everything you need is included with your purchase.
If storage is key the UPPAbaby Cruz V2 holds up to 30lbs. It is also priced lower but doesn't come with a bassinet. It is an additional purchase if you want to use the stroller for an infant.
The best model for you depends on what you need from a baby stroller.
FURTHER READING: