Bugaboo and UPPAbaby are two brand names you probably know already if you've been shopping for baby equipment. They're leaders in the baby gear world for a reason, with a reputation for consistently high quality and convenient design features. Comparing the Bugaboo Lynx vs UPPAbaby Vista, you'll see they share a lot of strengths, and either one can function as a full travel system and grow with your child. While the UPPAbaby Vista performs slightly better when it comes to steering, seat comfort, and customizability, the lightweight Lynx is still an excellent option (>>> Check on Pishposhbaby). Let's take a closer look at the main differences.
Bugaboo Lynx vs UPPAbaby Vista Side by Side:
Versatility
The Bugaboo Lynx comes with an infant bassinet so it can be used from birth, as well as a full-sized seat that can fit toddlers up to around 50 pounds. You can also use it with the Bugaboo Turtle car seat with no adapter, or with car seats from a range of other popular brands if you do use an adapter. Along with the adjustment options on the seat itself, this gives parents a lot of ways to customize the Lynx to their needs.
As strong as the Lynx is on this point, the UPPAbaby Vista goes even further. It adds the option of a Piggyback ride-along board or RumbleSeat to the toddler seat and bassinet that come included, and like the Lynx it works with a variety of car seats. The seat itself is also easier to adjust, with a no-rethread harness and height adjustment on the canopy.
More versatile: UPPAbaby Vista
Folding and Transportation
The folding mechanism of the Bugaboo Lynx and UPPAbaby Vista are similar. Each gives users the option of a one-piece fold with the seat or a more compact fold if you remove it, and both stand on the own after they're folded. The biggest difference here comes down to weight. At just over 20 pounds, the Lynx is much lighter and easier for most parents to lift and move around, making it the better option for parents who do a lot of traveling.
Easier to transport: Bugaboo Lynx
Wheels and Steering
The lightweight design of the Bugaboo Lynx is an advantage when you're steering as well as for transporting it, and most parents find they can push and control the stroller one-handed. The large wheels help with this, with a two-wheel suspension to smooth out the ride on dirt, gravel, or other uneven surfaces. There's also a two-wheel mode for navigating soft surfaces like snow and sand.
This is another category where the Lynx is good but the Vista is even better. The all-wheel suspension system gives it an overall smoother ride, and its large wheels can handle curbs and other obstacles with ease.
Better wheels: Bugaboo Lynx
---
Bugaboo Lynx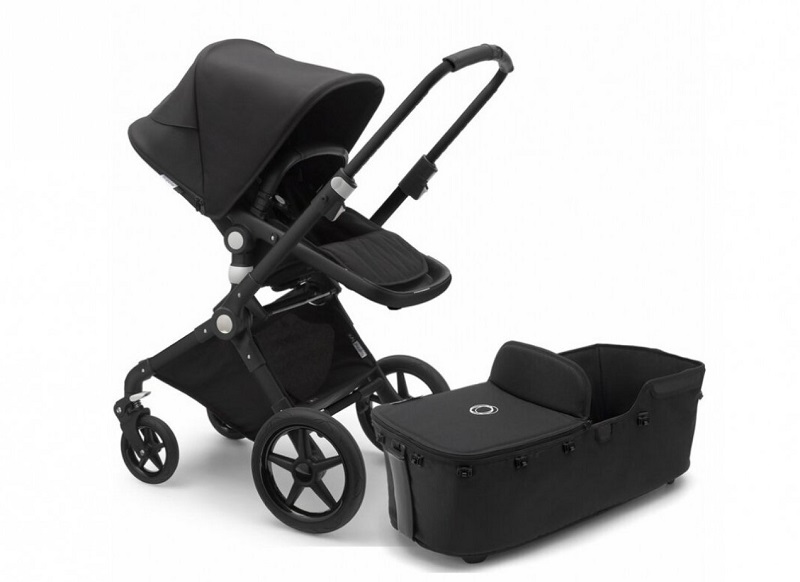 The lynx is one of the lightest full-sized strollers out there, weighing just over 20 pounds. It doesn't sacrifice strength to achieve this, either. It has the same 50-pound weight capacity in the seating area, with a large under-seat storage basket that can carry up to 22 pounds. The Lynx also has large 11" rear wheels and a front-wheel suspension system that make it easy to push and steer, even when it's fully-loaded.
The infant bassinet that comes with the Bugaboo Lynx can be used from birth. Once your baby is sitting upright, you can switch to the toddler seat, or swap it out for the Bugaboo Turtle car seat, without needing an adapter. Both the bassinet and toddler seat use plush, soft padding, with an extendable canopy that offers UPF 50+ sun protection. The seat is also reversible with 3 recline levels and an easy to adjust harness.
No matter what configuration you're using, the Lynx has a one-piece and self-standing fold, with a quick and easy process to collapse or set up the stroller. It folds up even smaller if you do remove the seat, making this a top choice for parents who travel frequently, live in a tiny home, or need to conserve space for whatever reason. For our more in-depth Bugaboo Lynx review, click here.
Pros
Comfortable seat with extra-large sun canopy
Smooth ride on a variety of surfaces
Easy to steer and control
Compact, self-standing fold
2-wheel position for snow or sand
Compatible with Turtle car seat with no adapter
Cons
Fewer configuration options
---
UPPAbaby Vista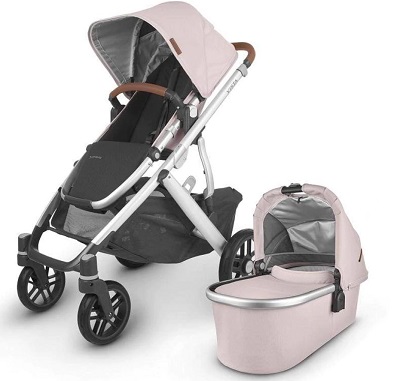 UPPAbaby designed their Vista stroller to function as a flexible travel system, and its multiple configuration options make it one of the most versatile strollers on the market. Like the Lynx, it comes with both a full-sized seat and an infant bassinet. It's also compatible out of the box with accessories like the toddler riding board, RumbleSeat, or MESA car seat. The seat itself is reversible with multiple recline levels and is topped by a height-adjustable and extendable canopy, and the push bar height can be adjusted, too.
The all-wheel suspension and large, soft wheels of the UPPAbaby Vista give it an overall smooth ride even on uneven surfaces. It's also easy to control and steer, and has front wheel locks that include visual indicators that they're activated, a helpful safety feature for parents on the go.
Something else we love about the UPPAbaby Vista is how easy it is to use. The seat uses a 5-point no-rethread harness so you can quickly find the ideal fit for your child as they grow. When you need to transport or store the stroller, it has a convenient one-step fold, even with the seat attached. The only potential issue here is that it is only the heavier side, at almost 30 pounds.
Pros
Includes toddler seat and infant bassinet
All-wheel suspension for a smooth ride on any surface
One-step self-standing fold
Compatible with UPPAbaby ride-along board and MESA car seat
Adjustable canopy with UPF 50+ protection
Extra-large storage basket
Cons
---
Should You Buy the Bugaboo Lynx or the UPPAbaby Vista?
For most parents, the UPPAbaby Vista will be the better choice, and it performs slightly better than the Lynx when it comes to the steering, comfort, and overall functionality. Having said that, though, the Bugaboo Lynx is impressively light for its capability, and is a top choice for travelers and other parents who need a stroller that's easy to lift and move. We hope this review has helped you decide which one is right for your family! (>>> Find on BabyCubby)