Luxury strollers are popular with busy parents, and for a good reason. These strollers are durable, capable of handling all types of terrain, and their versatility makes them worth the price. The Bugaboo Fox 3 and UPPAbaby Vista V2 are two of the latest luxury strollers available, and there are similarities and differences between the models.
The Vista V2 allows for multiple configurations, unlike the Fox 3. The Vista V2 also has a larger storage basket and is easier to maneuver (>>> Check on PishPoshBaby.com). While the Vista V2 only works with UPPAbaby brand car seats, the Fox 3 gives you more options. It is compatible with multiple brands.
If you need more information before deciding on a stroller, keep reading to learn more about each one.
Bugaboo Fox 3 vs UPPAbaby Vista V2 Side by Side:
Safety Features
Both strollers meet and exceed safety requirements. They come with a lightweight and sturdy frame capable of supporting up to 50 lbs. Lockable front wheels keep the strollers in place even on inclines.
A five-point safety harness keeps babies and active toddlers securely in the seat. You can also adjust the harness to accommodate shorter and taller children on the Vista V2.
Best Safety Features: UPPAbaby Vista V2
Maneuverability
You can easily push either stroller with your finger. Both are designed to roll smoothly and easily over all types of terrain. The strollers are also amazingly quiet going over bumpy sidewalks, so you don't have to worry about waking sleeping children. The swiveling front wheels let you handle tight corners with ease.
The Vista V2 is significantly lighter than the Fox 3. It's something you'll appreciate when you're pushing the stroller up hills.
Easiest to Maneuver: UPPAbaby Vista V2
Compatibility
The Fox 3 is compatible with Bugaboo car seats and most other brands with the purchase of inexpensive adaptors. The adaptors allow you to securely attach the car seat to the stroller. With Bugaboo car seats, you don't need to spend money on adaptors.
You can connect UPPAbaby car seats to the Vista V2, but your options are limited to the brand. Regardless of which stroller you bring home, you will need to purchase the car seat separately.
Best in Compatibility: Bugaboo Fox 3 & UPPAbaby Vista V2
Comfort and Adjustability
These strollers are designed for comfort. They have height-adjustable handles, so you stay in a comfortable position pushing the stroller. Soft-touch fabric, plenty of cushioning, and a multi-position reclining seat keep your baby comfy during naps and awake time.
Your baby will stay comfortable in either stroller, but the Fox 3 comes with a footmuff. It's perfect for keeping your baby's feet warm on chilly walks.
Best in Comfort: Bugaboo Fox 3
Versatility
These strollers grow with your baby from six months to 50 lbs. While the seats are designed to support newborns, you can still use the strollers. The Fox 3 converts into a bassinet or toddler seat. It also comes with a running board when you're child wants to stand up.
The Vista V2 takes it a few steps further. The Fox 3 is designed for one child, while the Vista V2 can carry up to three. The rumble seat is an extra purchase, but the stroller does come with a ride along board.
Most Versatile: UPPAbaby Vista V2
---
Bugaboo Fox 3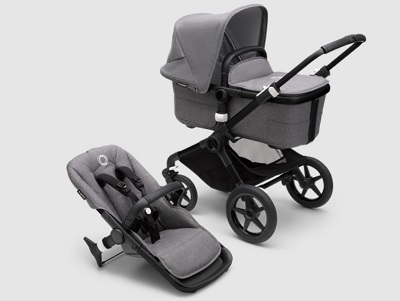 The Bugaboo Fox 3 gives parents and babies a smooth ride over almost any type of terrain. The full-size stroller features all-terrain wheels and advanced suspension. The front wheels swivel, so you maneuver around corners and aisles with ease.
A large storage basket lets you carry up to 22 lbs. It's ideal for shopping and storing a diaper bag. The handle easily adjusts to your height, and the fingertip push functionality ensures you never struggle with the stroller.
Babies stay cool and comfortable in the bassinet, thanks to the combination of soft-touch fabrics and a breathable panel. A large retractable sun canopy keeps bright lights out of sensitive eyes, and there's even a peekaboo panel so baby can stay entertained watching the scenery go by.
Easy push buttons fold the stroller down to one piece. It's still bulky, but it is self-standing. It makes storage easier, especially during travel. Click here for our more in-depth Bugaboo Fox 3 review.
Pros
Four-wheel suspension
Swiveling front wheels
Multi-position reclining and reversible seat
Large basket
Five-point safety harness
Cons
The stroller can only be configured for one child
---
UPPAbaby Vista V2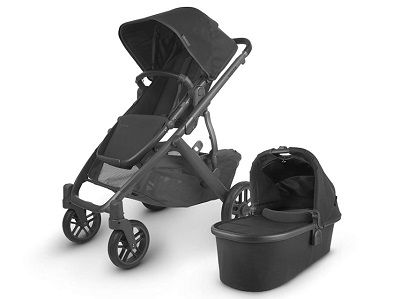 The UPPAbaby Vista V2 is a full-size, lightweight stroller weighing under 30 lbs. Swivel wheels designed to go over most terrain make the stroller easy to maneuver. The handle is also adjustable for your comfort.
An included bassinet turns the stroller into a buggy and detaches with the click of a button. A convenient handle makes it easy to carry the bassinet. When your baby is ready, you can start using the full-size reclining toddler seat. A zip-out canopy blocks bright sunlight.
While the Vista V2 is a great stroller for parents of one child, its ability to expand makes it the ideal option for multiple kids. Along with the bassinet, the stroller comes with a piggyback ride along board. It's perfect for toddlers under 50 lbs. Add the rumble seat accessory, and you have a second seat. Click here for our more in-depth UPPAbaby Vista V2 review.
Pros
Multiple configurations
Lightweight design
Swivel front wheels
Adjustable handle
Five-point safety harness
Cons
---
Conclusion
Comparing the Bugaboo Fox 3 vs the UPPAbaby Vista V2 highlights their differences. While both are full-size strollers and offer plenty of extras, they are not designed the same.
The Fox 3 is ideal for one child. It will grow with your baby from infancy to around 44 lbs. It's easy to push, and has a large storage basket, and a comfortable design. Its price is also a little higher than the Vista V2.
With the Vista V2, parents have a stroller that accommodates multiple kids (>>> Find on Amazon). It's also surprisingly lightweight and can easily handle tight corners. Its storage basket is also a little larger than the Fox 3.