Strollers are a useful tool for parents, but they're inherently single-purpose: they exist only to transport babies and small toddlers. A collapsible wagon like those made by Wonderfold offers much more versatility for transporting sports equipment, camping gear, or anything else your family needs—as well as giving your kids a safe, comfortable way to ride.
Comparing the Wonderfold X4 vs. W4, the W4 will be the better choice for most, with a higher weight capacity and more comfortable seats for most kids (>>> Check on PishPoshBaby.com). That's not to say the Wonderfold X4 is a bad choice, though, and it could well be the right model for some families. Let's look at the main differences between them so you can see how they measure up.
Wonderfold X4 vs W4 Side by Side:
| | Wonderfold X4 | Wonderfold W4 |
| --- | --- | --- |
| | | |
| Maximum child weight | 180lbs | 300lbs |
| Age range | Birth to toddler | Birth to toddler |
| Collapsed dimensions | - | - |
| Unfolded dimensions | 43" X 42.5" X 30" | 52.5" X 33" X 29" |
| Weight | 41lbs | 50lbs |
| Price | Find on Amazon | Find on Amazon |
Capacity
The Wonderfold X4 has seats for up to 4 kids, and can carry a total weight of around 180 pounds. Its carrying area is nice and spacious, too, with plenty of room for passengers, cargo, or a combination of the two.
The Wonderfold W4 has a shape that's taller and narrower, but has the same 4 seat options as the X4. Its overall weight capacity is higher, carrying up to 300 pounds. This will mostly come into play if you plan to use the wagon to haul equipment and toys as much as you do for child transportation.
Higher capacity: Wonderful W4
Child Comfort
The configuration of the 4 seats is the main difference here between the X4 and W4. In the Wonderfold X4, the seats sit flat against the ground, and each has a width of about 13". This means a good amount of space for 4 small kids to share, though they will have to sit with their legs crossed or folded.
The Wonderfold W4 uses raised seats that allow kids' legs to hang so they can sit more comfortably. There's not a ton of space between the seats, though, and each seat is only about 10.5" wide, so trying to use all 4 seats will probably make it feel too cramped for comfort.
More comfortable for 1-2 riders: Wonderfold W4
More comfortable for 3-4 riders: Wonderfold X4
Child Safety
These stroller wagons both use an advanced 5-point safety harness on all 4 seats, so they're an even match from that standpoint. They're also both equipped with one-step foot brakes on the rear wheels and use a rugged steel frame.
The height of the sides on the X4 are an advantage from a safety standpoint, with less chance curious kids will reach out of the wagon. It also has a zip-closed door on the front so kids won't have to climb to get in on their own (and sparing parents the need to lift toddlers into the wagon).
Safer stroller wagon: Wonderfold X4
Steering and Maneuverability
The heavy-duty wheels on the Wonderfold X4 use a bearing suspension system that gives them a fairly smooth ride over various terrains. It also has a high 10.5" clearance for the carriage, making it easier to navigate cubs and other impediments, and the height of the push-bar is adjustable.
Where the Wonderfold W4 takes a slight edge is mostly that it has both a push-bar and a pull handle, with robust adjustment options on either end. The wheel and suspension system is also superior, with larger 10.5" rear wheels. While the clearance is a bit lower, at 9 inches, that's still plenty high enough to clear most obstacles.
Easier to steer: Wonderfold X4
Folding and Storage
The one-step folding mechanism on both these stroller wagons is easy and fast to use—just press the button on the hinges, lift up, and it'll collapse down to a compact, self-standing unit. The main difference here is that the Wonderfold X4 is about 10 pounds lighter and a few inches smaller when it's collapsed. It's not a huge difference, but it could be a factor for those who don't have a ton of storage space, or plan to take the wagon on road trips.
Easier to fold and store: Wonderfold X4
---
Wonderfold X4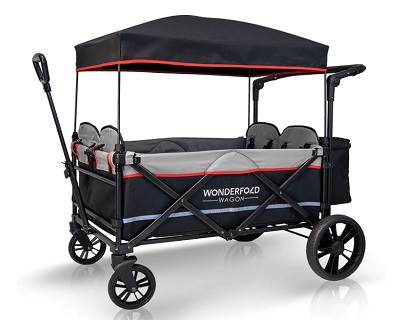 The versatility of the Wonderfold X4 is really its main strength. With the seats in, it's a fun and comfy way for kids to get around, and the removable rear basket still gives you storage space for your stuff when it's at full passenger capacity. Remove the seats and its low sides, high weight capacity, and pull-bar make it a convenient way to transport gear at parks, camping sites, and other outdoor areas.
Along with an alloy steel frame, the X4 uses 600D polyester for its soft components so it's washable, durable, and has excellent longevity. This build quality extends to the canopy, which provides full coverage from sun or rain for passengers or gear in the wagon.
The X4 is easy to push or pull and provides a comfy ride for up to 4 kids. Our only minor quibble is that it's more difficult than the W4 to load and unload since there's no zip-open door. This means most kids will need help getting safely in and out and that you'll have to lift up any gear you're carrying to get it in and out.
Pros
Removable seats, canopy, and rear storage basket
5-point harness system
Smooth ride with large all-terrain tires
Durable steel alloy frame
Adjustable push and pull handles
One step fold and unfold
Cons
More effort to load/unload small children
Not as comfortable for taller toddlers
---
Wonderfold W4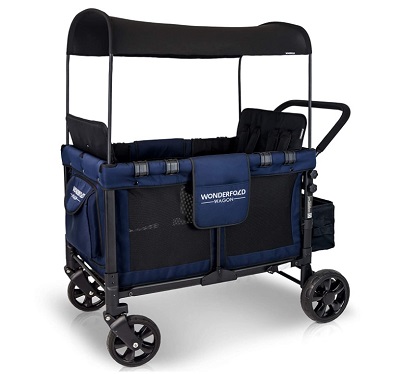 The bench-style seats in the Wonderfold W4 make it a true stroller/wagon hybrid and makes it a more comfortable ride for taller toddlers. As we said above, though, its narrower interior and the limited space between the seats really makes this a better 1-2 child ride—you can fit 4 comfortably if they're small, but for most toddlers that would be pretty cramped.
The canopy of the W4 is slidable and removable, and provides adequate protection against sun or rain from above. It's open at the ends, though, so it doesn't block sun from every angle like the canopy of the X4.
The zip-open door of the Wonderfold W4 is its best feature from a convenience standpoint, letting kids get in and out on their own and requiring less lifting from parents, whether you're transporting passengers or stuff. Along with that, it has the same one-step fold and similarly rugged, long-lasting build to the model above, so it's a versatile long-term investment for active families.
Pros
Zip-closed door for easy kid access
Raised seats are more comfortable for kids
Deep carriage area with 5-point safety harness
One-step foot brake on rear wheels
Easily folds into super-compact form
Removable seats and canopy
Cons
Canopy doesn't provide as much protection
Narrower seats may not fit 4 kids comfortably
---
Wonderfold X4 vs. W4: What's the Verdict?
The design differences between the Wonderfold X4 and W4 are subtle, but they can make a big difference for some. Overall, the X4 is better for transporting more passengers (>>> Find on Amazon), though the W4 has a higher weight capacity and is a more comfortable ride for 1-2 kids. Both have robust safety features and are easy to push on any terrain, so it really comes down to what you need as a family.