Chicco car seats are popular for a reason. They're affordably priced, easy to install and use, and can be combined with Chicco strollers to make a full travel system. Comparing the Chicco Fit2 vs. KeyFit 30, the Fit2 offers the best overall value, and for most families will be the better option (>>> Check on PishPoshBaby.com). The KeyFit 30 definitely has its strengths too, though. Let's take a closer look at where these two car seats differ.
Chicco Fit2 vs KeyFit 30 Side by Side:
Impact Protection
The Chicco Fit2 gives kids above-average protection from accidents and impacts. The harness is secure and easy to tighten, and the anti-rebound bar built into the base helps to deflect crash energy away from your child.
While the Fit2 is a safe car seat, the KeyFit 30 provides exceptional impact protection, and is one of the top performers in crash tests. The energy-absorbing foam in the shell gives it G-force reduction that exceeds federal standards by a large margin, providing the ultimate protection for your child in the case of an accident.
Better impact protection: Chicco KeyFit 30
Child Comfort
The fabric used inside the KeyFit 30 is durable, but it's not especially soft. The rougher feel of the interior material could be an issue for babies with sensitive skin. The interior of the Fit2 is softer and better-padded throughout. It also has a better sun canopy that provides more coverage and has a window for ventilation, making it overall a more comfortable ride.
More comfortable: Chicco Fit2
Age Range
Both the Fit2 and KeyFit 30 come with a removable newborn insert, letting them be used safely for babies as small as 4 pounds. While they're both great options for infants, kids will outgrow the KeyFit 30 sooner. It can fit babies up to about 30" tall, which for most will be around 12-15 months.
The Chicco Fit2 has a 2-stage base, with a fully-reclined position for infants and a more upright seated posture for older babies. The headrest can be adjusted, as well, and it has more legroom in its second stage. All together, this means most kids can sit comfortably in the Fit2 through their first 2 years.
Wider age range: Chicco Fit2
Carrier Weight
The Chicco Fit2 is one of the heavier car seats on the market, with the carrier alone weighing 11 pounds. The KeyFit 30 is lighter at 9.5 pounds without sacrificing any durability or stability, making it a more comfortable car seat to carry around.
Lighter car seat: Chicco KeyFit 30
---
Chicco Fit2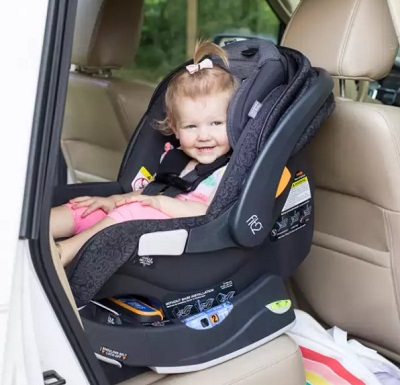 The Chicco Fit2 has a range of adjustment options that give it a longer usable life than many car seats. A removable support allows it to give a snug fit to newborns as small as 4 pounds. The 2-stage base can be adjusted into a more upright position, with an adjustable headrest and extra legroom to fit kids as tall as 35 inches.
The Fit2 base uses the LATCH installation system, with push-button anchors and an easy to tighten strap that makes it easy to secure correctly and a leveling bubble to help parents find the right angle. It can also be installed relatively quickly using the vehicle's seat belts, with a color-coded path that has a belt lock-off for extra security.
One strength the Fit2 has over other Chicco car seats is its usability without the base. The easy-to-thread belt path helps here, and it feels nicely secure installed without the base. This can make it a good option for users of public transportation. Though its high weight could be an issue for on-the-go parents, it also works with any Chicco-brand stroller that has car seat compatibility, clicking right in without the need for an adapter, so you won't necessarily need to carry it far. Click here for our more in-depth Chicco Fit2 review.
Pros
Adjustable 7-position headrest
No-rethread harness easy to secure and adjust
Anti-rebound bar gives it good impact protection
One-hand handle and seat adjustment
Breathable, comfortable fabric
Extendable sun canopy with ventilation window
Easy to install with or without base
Cons
Heavier than other car seats
---
Chicco KeyFit 30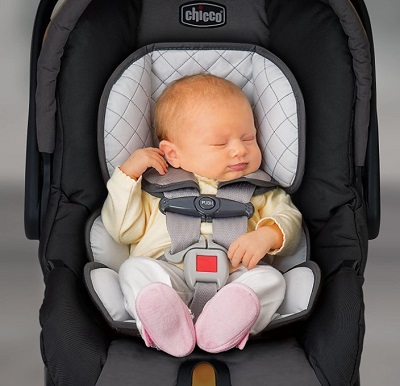 Like the Key2, the Chicco KeyFit 30 uses a LATCH installation system for the base and is easy to install correctly with this system. Along with an adjustable foot, the base has bubble level indicators on both sides, letting parents install it from any angle. It's also easy to use overall, with a two-position handle and a one-hand base release. There's an audible click when you attach the carrier to the base so parents know it's secure. If you want to combine the car seat with a stroller, you'll have a lot of options. Along with Chicco-brand strollers, the KeyFit 30 is compatible with popular models like the UPPAbaby Vista and BOB Revolution Flex.
You'll definitely want to use the LATCH system to install the KeyFit 30. It's difficult to secure in place with a seat belt, especially if you're trying to do so without the base. The harness system can also be a bit tricky to adjust and changing the height requires re-threading. Tightening the harness is simpler, though, and it's well-designed to be clear of padding with a smooth buckle mechanism.
From a safety standpoint, the KeyFit 30 is a strong contender. The shell uses an EPS foam to absorb energy from impacts, lowering the G-forces in the case of an accident. While the interior fabric is a bit rough, it's well-padded, durable, and easy to clean, and it comes with a removable canopy to protect your baby from the sun.
Pros
Removable support for newborns as small as 4 pounds
Excellent performance in crash tests
Easy LATCH installation
EPS foam in shell improves impact protection
Wide stroller compatibility
Removable shade canopy
Cons
Lower child weight and height limit
Shoulder harness can be tricky to adjust
---
The Verdict
The Chicco KeyFit 30 and Chicco Fit2 both have their strengths. While the KeyFit 30 is lighter and compatible with more strollers, the Fit2 has a longer usable life, making it a better long-term value, and offers a more comfortable interior and high safety ratings for babies from newborns to 2 year-olds (>>> Find on Amazon). We hope this comparison has helped you decide which one is the best fit for your family!