A car seat is one of the many necessities new parents need to buy when they're starting a family. In this Britax B-Safe 35 review, we'll look at the strengths and shortcomings of this popular car seat. With strong performance in crash tests and a durable build, it's a great choice for families that use a single main vehicle, though it may not be the best choice for every parent. Let's dig into the details so you can see if it's a good fit for your lifestyle. (>>> Check on PishPoshBaby.com)
Britax B-Safe 35 Review of Specifications:
Installation with Base
The base of the Britax B-Safe 35 installs using a LATCH system, with push-button anchors that click into the vehicle seat. It's easier to tighten and loosen than other similar car seat base systems, with a reclining foot on the base and a level indicator so you can quickly find the perfect angle for the seat.
You can also install the B-Safe 35 base using the vehicle's seat belt. The belt path can be a bit tricky to thread since it's not color-coded, and it doesn't feel as stable installing it this way, so most parents will want to use the LATCH system if that's an option.
Use Without Base
The B-Safe 35 is much lighter without the base, but it's still a hefty car seat—10 pounds with just the seat, not including the weight of your child. It's also a difficult to secure in a seat without the base since that necessitates using the cumbersome belt threading system. Because of these two factors, it's not the best choice for parents who use ride shares or public transportation frequently.
Pros
Durable and easy to clean materials
Good impact protection
Removable infant pillow for babies under 11 pounds
Easy to install using the LATCH system
Large, extendable sun canopy
Works with any Britax single stroller with no adapter
Compatible with multiple strollers using an adapter
Cons
Hard to use without the base
Heavier than other car seats
Baby Comfort
The interior of the B-Safe 35 uses thin, flexible padding, with the added option of the removable infant pillow. The material is high-quality and easy to clean, though it's not as soft and plush as other car seats. For babies with sensitive skin, you may want to add a blanket or other pad between them and the seat fabric.
The canopy of the B-Safe 35 is large and offers good protection from the sun. It can be pushed down flat when you don't need it an extended easily when you do.
Safety
In crash tests, the Britax B-Safe 35 exceeds the minimum Federal guidelines for impact protection and G-force reduction. The SafeCell foam used in the protective shell effectively absorbs energy in a crash, protecting your baby from injury. This is reinforced by a high-strength steel frame and a removable infant pillow that provides extra padding and a snug fit for babies 11 pounds or smaller.
The B-Safe 35 also has a nice harness system that's easy to position and buckle. Adjusting the height of the harness does require rethreading, so it's a bit tricky to do on the fly with your infant in the seat. On the plus side, it has a good range of positions, with two options for the lower strap as well as the adjustable shoulder height.
One note on safety: Britax has given a recall for the carrying handle of the B-Safe 35, which has been known to fracture during transportation. You can reach out to the company for a repair kit to shore it up, something you'll want to do before using the seat for your child.
Stroller Compatibility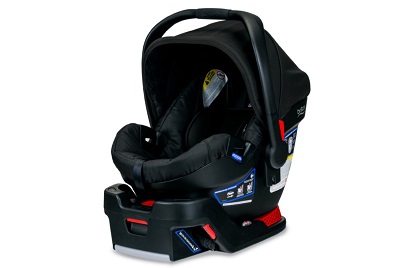 The B-Safe 35 can be used with any Britax single stroller without needing adapters. This is convenient if you want a whole travel system, letting you transition from car to sidewalk without the need to wake your baby.
With an adapter, the Britax B-Safe 35 works with a wide range of strollers from different companies, including Baby Jogger, Caboose S, Maxi-Cosi, and some models from Bugaboo.
The Bottom Line: Britax B-Safe 35 Review
For parents who use a single main vehicle and can take advantage of the LATCH base, the Britax B-Safe 35 is easy to install and secure. The wide compatibility with a variety of strollers means you can mix and match your favorite styles, giving parents a good amount of flexibility. While it's not the best car seat for users of public transportation, its safety rating and baby comfort are marks in its favor for many families. (>>> Find on Amazon)
REFERENCES AND FURTHER READING: