A stroller is a must-have piece of baby gear for most families—but which one is right for your family? Comparing the Mockingbird vs Nuna Mixx Next, you'll see both have a stylish, modern design, with adjustment options that give them a lot of versatility. For most, the Nuna Mixx Next will be the better option (>>> Check on Pishposhbaby), with more comfortable seats and more maneuverable steering. That said, the double-seat capability of the Mockingbird is an appealing option for multi-child families. Let's see how they stack up side by side!
Mockingbird vs Nuna Mixx Next Side by Side:
Mockingbird Single to Double Stroller
Nuna Mixx Next
Maximum child weight
90 lbs (45 lbs per seat)
50 lbs
Age range
6 months up to 50 lbs
Birth to 50 lbs
Unfolded dimensions
25.5" x 40" x 33"
32.7" x 23.6" x 45.3"
Folded dimensions
34" x 25.5" x 18"
19" x 27.5" x 23.6"
Weight
26.5 lbs (35 lbs with two seats)
28.3
Price

Hellomockingbird.com

Pishposhbaby.com





BabyCubby.com
Steering Ease
As a single stroller, the Mockingbird is relatively easy to push. Its wheels are puncture-proof and treaded to handle grass and other uneven surfaces, and parents will find it easy to steer and maintain control on grades or winding paths. Once you add the second seat, however, it becomes much more difficult to turn, and it's a workout to keep it in motion.
The Nuna Mixx Next, on the other hand, is a breeze to push no matter where you are. Its wheels are better at handling rough terrain, and it gives babies a smooth ride even when you're on a rougher surface thanks to the Flex Free rear-wheel suspension and progressive front-wheel suspension.
Easier to steer: Nuna Mixx Next
Customizability
There are some customization options for the Nuna Mixx Next. You can swap out the toddler seat for a bassinet or Nuna-brand car seat, expanding its use to newborns. The seats can also be reversed and reclined, and the interior padding is removable for all-weather use.
The Mockingbird Single to Double Stroller takes this customizability to the next level. It uses a modular design, with a frame that can accommodate one or two seats. Those seats can be reclined and reversed, just like the Nuna, or replaced with a bassinet or car seat. You can use a variety of car seats with the Mockingbird stroller, too, not just models made by the brand.
More customizable: Mockingbird Single to Double Stroller
On-Stroller Storage
The storage area of the Mockingbird Single to Double Stroller is massive. You can fit a large diaper bag and still have room for your purse, your kid's toys, or even shopping bags from a day out on the town. It's also easy to access, though it is completely open, with no pockets or areas to organize the things you're carrying.
The under-seat storage on the Nuna Mixx Next matches the Mockingbird's for size, but adds the option of two compartments, making it easier to keep your things in order. Along with that, the zip-shut pocket lets you keep important things like your wallet or keys secure. There's also a cell phone pocket on the back of the seat so you can keep small items close at hand while you're on the go.
Better on-stroller storage: Nuna Mixx Next
---
Mockingbird Single to Double Stroller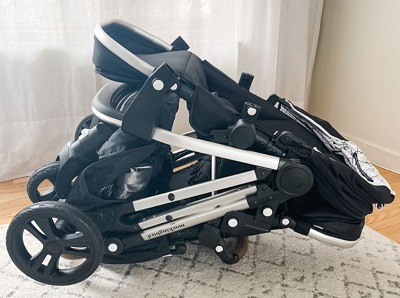 The Mockingbird Single to Double Stroller offers a lot of versatility for growing families. As a single stroller, it can work with the included toddler seat, Mockingbird's infant seat, or a car seat from any of a host of popular brands. The seats are also reversible and reclinable, expanding the set-up options.
This Mockingbird stroller is also convenient for parents. The rotating and adjustable handle can be matched to your perfect comfortable height. When you need to store or transport the stroller, it folds down quickly into a relatively compact and self-standing unit, even with the seat still attached. The large under-seat storage area is spacious enough for all your gear, easy to access, and durable enough it won't get damaged when you're out and about.
Where the Mockingbird lets us down somewhat is its steering. The wheels are durable and flat-proof, with good tread for navigating uneven surfaces and a front-wheel suspension system. While it's smooth to push as a single stroller, though, it can be tough to steer when you're using both seats. Click here for our more in-depth Mockingbird Single to Double Stroller review.
Pros
Options of single or double stroller
Compatible with most major car seat brands
Extendable UPF 50+ canopy
Rotating and adjustable handle bar
Seats recline and rotate, even in double-stroller mode
Cons
Difficult to steer with both seats
Seats are a bit short for older toddlers
---
Nuna Mixx Next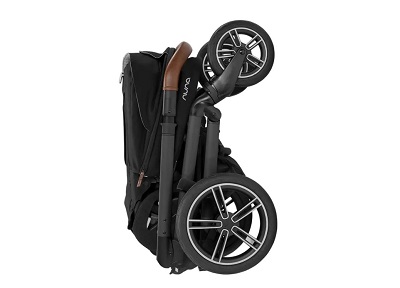 For smooth steering, you can't do much better than the Nuna Mixx Next. Its rubber foam-filled tires have the tread and durability to handle any terrain, even difficult surfaces like sand or snow. Combined with the height-adjustable push bar, this makes it a comfortable stroller for parents to push, and a breeze to steer and maneuver. When it's time to store it, the fold-away axle lets you collapse it down to a very compact and easy to lift unit.
The seat design of the Nuna Mixx Next is equally impressive. Its inner padding can be removed for cleaning, or to make the seat cooler for your baby during the summer. There are 5 recline positions, from fully upright to completely flat, and it's reversible to face the parent or out at the world. The adjustable calf support and integrated footrest are great options for taller toddlers, and the quick-release harness has a no-rethread adjustment, letting you quickly and easily find a secure, comfortable position.
There are some customization options for the Nuna Mixx Next. The included ring adapter lets you switch out the toddler seat to an infant bassinet or car seat, though it's only designed to work with other Nuna products, like the PIPA car seat line. You can also only use one seat at a time on the Mixx Next, which can limit its use for families with multiple young children.
Pros
Smooth steering on all surfaces
All-wheel suspension
No-rethread 5-point harness
Roomy and comfortable all-weather seat
Very compact when folded
Water-repellant UPF 50+ canopy
Two-compartment under-seat storage with zippered pocket
Cons
No multi-child capability
Heavy for a single stroller
---
The Verdict: Mockingbird vs Nuna Mixx Next
One thing we haven't talked about yet is price. The Mockingbird Single to Double Stroller is an exceptional value. Even with the purchase of the second seat, it costs less than the single Nuna Mixx Next stroller. This makes it a great choice for budget-conscious parents, whether you're buying it as a single stroller or using the double-seat option.
Of course, to a certain extent, you get what you pay for. While the Nuna Mixx Next costs more, it's much easier to steer and can handle a wider range of terrains (>>> Check on Pishposhbaby). The seats are also more sophisticated, with a roomier interior, removable padding, and better leg support for babies, as well as a water-resistant canopy that gives it all-weather capability. Because of that, most parents will prefer it overall to the Mockingbird stroller.
REFERENCES AND FURTHER READING: