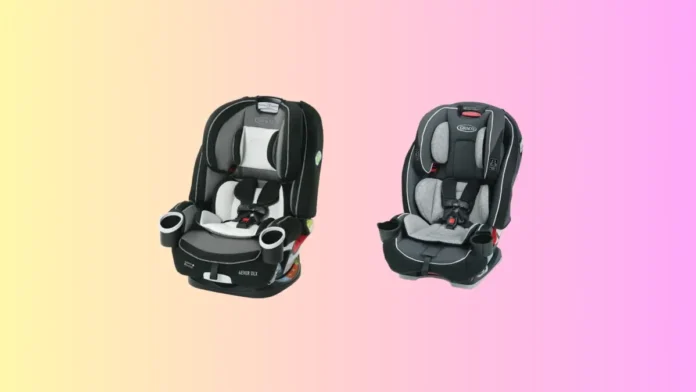 The world of car seats is vast, with numerous manufacturers providing an extensive line of products. As part of our mission to bring you in-depth reviews, we're currently undertaking tests on various models. Today, we have a head-to-head comparison between two popular models: the Graco 4Ever DLX and the SlimFit. Both models come with their own set of features, and while they vary in price, we aim to uncover any additional differences that might set them apart.
While both options have their merits, we found the Graco 4Ever DLX to offer a compelling balance of safety, convenience, and longevity. (Get the Best Deal on Amazon Today!) Nevertheless, we'll provide a comprehensive rundown of our findings to assist you in making an informed decision.
Here's what we discovered during our hands-on comparison of the two car seats.
Graco 4Ever DLX vs. SlimFit Side-by-Side:
| | Graco 4Ever DLX | Graco SlimFit |
| --- | --- | --- |
| | | |
| Child weight | 4-120 lb | 5-100lb |
| Max child height | 57" | 57" |
| Dimensions | 21.5"W X 24"H X 20"D | 19.9"W X 25.5"H X 21.5"D |
| Weight | 23lbs | 19.5lbs |
| Price | Find on Amazon | Find on Amazon |
Safety
Safety is always paramount. Parents want to know if a car seat will effectively protect their child in case of an accident. It's not a concern with either of these car seats. Each one has undergone rigorous testing.
The car seats are ProtectPlus engineered. It's a combination of advanced safety features that protect your little one from side, front, rear, and rollover crashes. The car seats are also tested for their performance in exterior interior car temperatures. The safety parameters Graco follows are a leading reason for the brand's popularity with parents.
Best in Safety: A Tie
Length of Use
Car seats are pricey, and you want to get the most use out of one. Replacing a car seat every few years can quickly add up. It's one of the reasons we like the 4Ever. It's a 4-in-1 car seat most parents can use for up to ten years.
For infants, it is rear-facing and supports babies from 4.4 lbs. up to 22.65 lbs. It then becomes a forward-facing car seat before transitioning into a high-back booster seat at 40 lbs. When your child reaches 100 lbs., it turns into a backless booster seat your child can use until reaching 120 lbs.
The SlimFit is a 3-in-1 car seat. Use the rear-facing position for infants and turn it forward for toddlers at 22.65 lbs. As a high back booster, it supports weights from 40 lbs up to 100 lbs. The only difference between the SlimFit and 4Ever is the SlimFit does not become a backless booster seat. It will be an additional purchase.
Longest Length of Use: Graco 4Ever
Ease of Use
During our tests, we discovered both car seats are a breeze to use. They come with Graco's proprietary Latch attachment that produces an audible clicking sound, so you know your child is securely belted in.
The integrated belt lock is compatible with most vehicles' seat belt systems. It makes installation quick and easy, something all parents look for in a car seat. The car seat also comes with a level indicator. You always know when the car seat is level with the seat. We like how Graco has taken out any of the guesswork when it comes to car seat installation.
The SlimFit is a little lighter in weight at 19.47 lbs., compared to the 4Ever at 23 lbs. Sometimes four pounds can make a difference when you are tired or in a hurry. The 4Ever is a little narrower than the SlimFit at 20 x 21.5 x 24 inches. The SlimFit measures 21.5 x 19.9 x 25.5 inches. However, the dual cup holders can rotate away, making the car seat 10% narrower. The space-saving design is great for parents with multiple children riding in the back seat.
Easiest to Use: Graco SlimFit
Comfort
When your child isn't comfortable, no one is happy. It can turn short and long car rides into a nightmare. Graco understands this. It's a reason they put care and thought into their designs.
We are pleasantly surprised at how comfortable these car seats are. Foam padding in the seat, back, and headrest keeps infants and toddlers comfortable, even when the road is rough. We also like the multiple reclining positions. There are four on the SlimFit, but the 4Ever comes with six reclining positions. Both car seats also boast a 10-position headrest. It provides added protection and comfort.
Best in Comfort: Graco 4Ever
---
Graco 4Ever 4 in 1 Car Seat
The 4Ever is a four-in-one car seat that grows with your child from an infant up to 120 lbs. We believe it may be the only car seat some parents need.
ProtectPlus Engineering keeps your child safe during an accident, even if it's a rollover.  The frame is also made from reinforced steel. The Latch system helps ensure secure and easy installation.
The 10-position adjustable headrest is a breeze to adjust, using the harness system. It's a no-thread system that adjusts the harness and headrest simultaneously.
Something we love is the rapid removal of the seat cover. Our tests indicate it only takes a minute to remove the cover without uninstalling the car seat. The seat cover is also machine washable for easy cleaning.
Pros
4-in-one car seat
6 reclining positions
Dual integrated cup holders
Easy installation
Belt storage compartment
Cons
The car seat does not detach from the base to become a carrier.
---
Graco SlimFit 3 in 1 Car Seat
With 4 reclining and 10 headrest positions, it's easy to keep your little one safe and comfortable on car trips. It is a three-in-one car seat rated for use up to 100 lbs. It can also support infants at 4 lbs in the rear-facing position.
Installation is a breeze with the push-button Latch system. The no-thread harness is simple to adjust. With a single motion, you can adjust both the headrest and harness.
Removable inserts ensure a comfortable and secure fit. The inserts are a great addition for newborns and infants.
Something we really like is the car seat's space-saving design. When you need extra room in the back seat, the cup holders rotate away giving you up to 10 percent more space.
Pros
3-in-1 car seat
Dual, fold-away cup holders
4-position recline
Removable, washable seat cover
Reinforced steel frame
Cons
The car seat may not always fully recline in some vehicles.
---
Conclusion
Comparing the Graco 4Ever vs the SlimFit highlights the car seats' similarities. Both are evenly rated in safety features, however, the 4Ever comes out ahead in comfort and length of use. (Discover the Best Price on Amazon Today) The fact that you can use the car seat for up to 10 years or 120 lbs. helps offset its higher price. If you don't need a car seat past 100 lbs. or are looking for one with a space-saving design, the SlimFit may be your best option.
Comparisons of Related Child Seats: