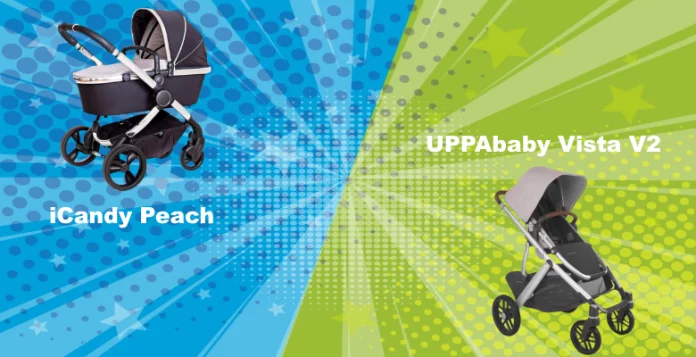 A baby stroller is a necessity. It makes it easy to take your baby for walks and bring them along for shopping trips to the mall.
Choosing the right stroller can be confusing, and often different models seem to have more similarities than differences.
The iCandy Peach vs the UPPAbaby Vista V2 is one example. Both are sturdy strollers with plenty of storage and a flexible design, but there are some differences between them.
The Vista V2 is easier to push and can accommodate up to three children (>>> Check on PishPoshBaby.com). The Peach comes at a higher price point but is also compatible with most car seat adaptors. Its attractive design also scores points with parents. If you still can't decide which stroller to choose, here's a closer look at what each one has to offer.
iCandy Peach vs UPPAbaby Vista V2 Side by Side:
iCandy Peach
UPPAbaby VISTA V2
Maximum child weight
55lbs
50lbs
Age range
Infant to toddler
Birth to toddler
Collapsed dimensions
27.5" X 20.5" X 9"
13.5" X 25.5" X 33"
Unfolded dimensions
34.5" X 14" X 9"
35.9" X 25.7" X 39.4"
Weight
27lbs
27lbs
Price

Find on Amazon

Pishposhbaby.com





BabyCubby.com





Find on Amazon
Safety Features
Safety is paramount in a baby stroller, and both models deliver. The strollers come with a sturdy chassis that can withstand rough trails without bending or breaking. They also boast locking brakes on the rear wheels, but the Vista V2 goes a step further. Brakes on the front wheels ensure the stroller stays put, even on hills.
Both strollers use a 5-point harness to keep your baby securely in the seat. The harnesses are adjustable to keep up with your growing baby, but the Peach may be a little more comfortable. The harness straps are lightly padded to prevent any rubbing or irritation against your child's sensitive skin.
Better Safety Features: UPPAbaby Vista V2
Wheel Quality
The wheels determine how easy the stroller is to push, and the Vista V2 comes out ahead. The Peach is great on smooth concrete, but it's not designed to go over nature trails. The Vista V2 comes with larger front wheels that can tackle bumpy paths without any problems. You won't struggle to move the stroller along.
Better Wheel Quality: UPPAbaby Vista V2
Compatibility
It's a pain transferring your baby from a car seat to a stroller, and both models come with adaptors. The adaptors let you attach the car or booster seat to the stroller, eliminating the need to wake up sleeping children. The Vista V2 is only compatible with the Mesa Travel System, while the Peach offers more flexibility. It is compatible with a variety of car seat adaptors making it easier for parents to find one that works for them.
Wider Compatibility: iCandy Peach
Ease of Use
You don't want a stroller that's hard to use. It can turn a fun outing into a frustrating experience. This isn't a problem with either model, and both open and fold down easily without any issues. The Peach is a little more compact. The rear wheels are removable for storage in tight spaces. It also only takes a couple of seconds to reattach them. The wheels easily snap into place.
The Vista V2 does not have removable wheels but you can store it standing up. Unlike the Peach, it doesn't need horizontal storage space. It can stand in a tight corner until you are ready for your next outing. The Vista V2 also boasts softer wheels making it a little easier to push over smooth and bumpy ground.
Easier to Use: UPPAbaby Vista V2
---
iCandy Peach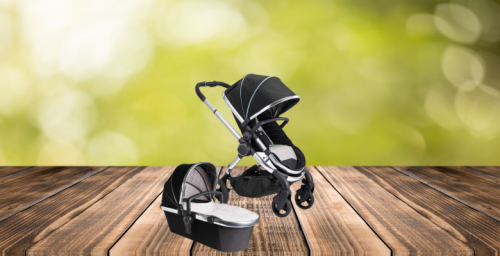 The iCandy Peach stroller boasts a sleek and comfortable design. The chrome handles, chassis, and ribs on the sun visor give the pram a stylish and edgy appearance parents will love.
To ensure your baby's comfort, the bassinet features a quilted lining. It's perfect for overnight trips when you can't bring a crib. The bassinet is a breeze to remove and snap back into place when you're ready to use the stroller the next day. The leatherette wrapped handle provides you with a comfortable non-slip grip.
The Peach is designed to grow with your baby. It can safely support weights up to 55lbs. Four reclining positions keep your child comfortable, and the retractable canopy effectively blocks bright sunlight. To keep your gear organized, and your hands free, there's a roomy basket underneath the seat.
It is a heavier model, weighing over 45lbs, but storage is a breeze. The rear wheels are removable, and the stroller folds down into a compact size. The wheels snap back into place when you're ready to use the Peach again.
Pros
Reversible facing seat
5-point safety harness
Detachable bassinet
Roomy basket
Locking rear wheels
Cons
The stroller is not designed for rougher terrain like nature trails and uneven sidewalks
---
UPPAbaby Vista V2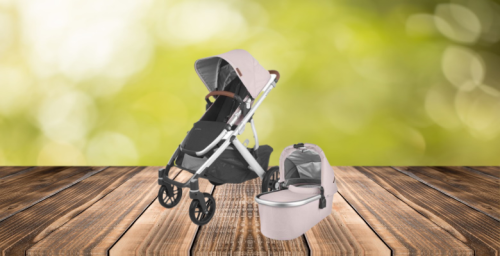 The Vista V2 is a flexible stroller that grows with your baby from 3 months up to 50lbs. It can even be configured to carry up to 3 children, making it ideal for families with multiple kids. It comes with a detachable bassinet and a full-size toddler's seat. There is also a rumble seat accessory with an extended sun canopy.
The lightweight aluminum chassis is sturdy enough to handle bumpy terrain, and the spring-action wheel suspension ensures the stroller moves smoothly without any strenuous pushing. You won't wear yourself out pushing the Vista V2, even with multiple kids.
A spacious basket gives you plenty of room to carry everything your baby needs for a day outside. The sun canopy expands and retracts as needed, and you can also unzip it when you're using the top seat as a bassinet. A 5-point harness keeps your child safely and comfortably restrained.
What sets the Vista V2 apart is its flexibility. It comes with a rumble seat, bassinet, and piggyback riding board. You have room for infants and toddlers to ride safely and comfortably.
Pros
6 reclining positions
Foldable
Large storage basket
5-point harness
Multiple configurations
Cons
The lack of a carrying handle makes the stroller hard to move when it is folded up
---
Conclusion
You won't go wrong with either the iCandy Peach or UPPAbaby Vista V2. The Peach is at a higher price, but it is compatible with most car seat adaptors. It also boasts a cool design and plenty of storage space.
The Vista V2 does come at a lower price and offers more flexibility (>>> Check on Amazon). If you have more than one small child or are planning on having more, it's a great option since you can configure the stroller to carry up to three kids.
When you are deciding between the two strollers, it's best to take a minute and consider what you need. Then you can make the right decision for you and your family.