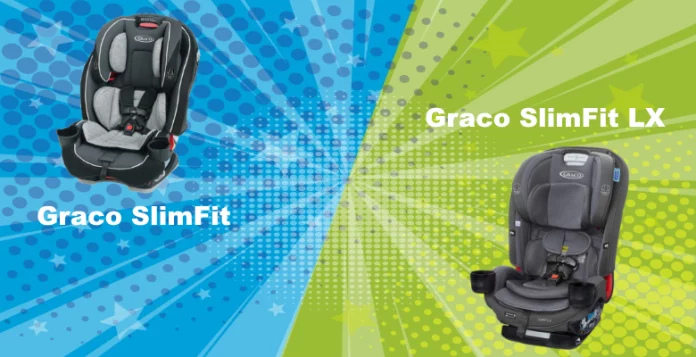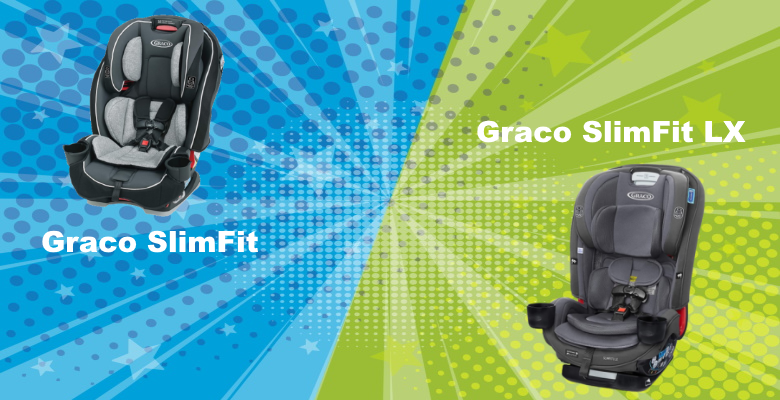 Graco's SlimFit line of car seats have a space-saving design that can be a lifesaver for parents and caretakers of multiple kids. They're compact enough that you can fit 3 seats across in a typical vehicle backseat, with a modular design that expands their usable life well beyond when kids will have aged out of most car seats.
The big question is, what's the difference between the Graco SlimFit vs SlimFit LX, and which one is the better choice for your family? Let's take a closer look at each of these car seats so you see what strengths they share, where they differ, and which one will serve your needs the best (>>> Check on Amazon).
Graco SlimFit vs TriRide Side by Side:
| | Graco SlimFit | Graco SlimFit LX |
| --- | --- | --- |
| | | |
| Child weight | 5-100 pounds | 5-100 pounds |
| Max child height | 57" | 57" |
| Dimensions | 19.9"W X 25.5"H X 21.5"D | 16.7"W X 24.5"H X 20.7"D |
| Weight | 19.5lbs | 19.3lbs |
| Price | Find on Amazon | Find on Amazon |
Seat Size
The Graco SlimFit lives up to its name. At less than 20 inches across, it's slim enough to fit in any vehicle, and you can fit 3 across in most car backseats. Ironically enough, however, the SlimFit XL is actually smaller in every dimension. Most importantly, it's about 3 inches narrower, which might not sound like much but adds up when you're using multiple seats at once. Because of this, you can fit 3 across even in compact cars with smaller backseats.
Smaller seat: Graco SlimFit XL
Installation Ease
Both the SlimFit and SlimFit XL use the LATCH system as their main method of installation, and it's equally easy to install either seat with this system. Where the SlimFit XL comes out ahead is for installations using the vehicle seatbelt, with a built-in belt lock-off beneath the seat cushions. While this can only be used for forward-facing modes, it's a handy option for those rare vehicles where the LATCH system isn't as effective.
Another small detail that's different between these models is that the cupholders on the XL are removable, where those on the SlimFit are only rotatable. For most users this is fairly inconsequential, but it can make a big difference in how well the seats fit side-by-side for those who are taking advantage of the three-across capability.
Easier to install: Graco SlimFit XL
Value
When it comes to safety, comfort, and customizability, the Graco SlimFit and SlimFit XL are evenly matched. Considering the SlimFit sells for a lower price (more than $100 cheaper, from some retailers), that means parents get more bang for their buck, especially those who have plenty of space to work with and don't need the slimmest car seat possible.
Better value: Graco SlimFit
---
Graco SlimFit
The 3-in-1 design of the Graco SlimFit is its most distinctive feature, and its main appeal for many parents. It can function as a rear-facing car seat, a forward-facing car seat, or a high-backed booster seat. That means it's a safe means of transportation for kids as small as 5 pounds, and can keep serving this function up until kids are around 100 pounds—basically until they're ready to ride in the car with just their seat belt.
Along with this modular design, the SlimFit headrest has 10 positions, with a 4-position recline for the seat back. Add in the no-rethread harness adjustment and it's easy to find the perfect position to keep your child secure and comfortable. Check related comparison: Graco SlimFit vs TriRide
The LATCH base of the Graco SlimFit makes it as easy to install in your vehicle as it is to adjust. Its push-button installation is fast and easy, and it makes an audible click once it's in place so you know it's secure. The dual cupholders are another convenient feature. Not only do they give kids access to snacks and drinks on the road, they also rotate outward for easier loading and unloading.
Of course, the most important feature in a car seat is safety, and you won't need to sacrifice that for convenience with the Graco SlimFit. Its steel-reinforced frame is designed to hold up through 10 years or more of daily use. The entire seat is ProtectPlus engineered, going through rigorous crash tests to ensure kids stay protected through front or side impacts or even rollovers.
Pros
Slim, lightweight design
3-in-1 capability
Multiple recine and headrest levels
Easy to install with latch system
High level of impact protection
Durable, high-quality construction
Cons
Not as slim as the LX
Cupholders can't be removed
---
Graco SlimFit LX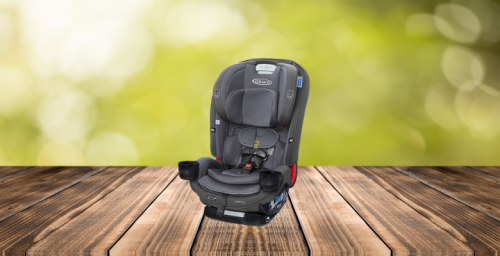 The Graco SlimFit LX shares a lot of features with the original SlimFit. It has the same variety of seat angle and headrest adjustment, with a similarly plush interior that will keep your kids comfy while they ride. It also has the same 3-in-1 capability, starting as a rear-facing harness for kids up to 40 pounds, then converting into a front-facing seat or a highback booster as your child grows.
The main advantage of the SlimFit LX is convenience. It's a few inches narrower, for starters, which means you can reliably fit 3 seats across in the back seat of even compact cars and smaller vehicles. The removable cuprests help here, too, giving parents more flexibility when they're aligning seats side-by-side than the rotating cuprests on the SlimFit.
There's also an integrated seat belt lock-off inside the SlimFit LX. This lets you easily use a vehicle seatbelt to secure the seat in front-facing mode, rather than the LATCH system. While the LATCH installation is easy and works in most vehicles, having this option expands the versatility of the SlimFit LX. A built-in storage pocket keeps the harness secure and out of the way when you're using the car seat belt instead in booster mode.
Something else we love about the SlimFit XL is how easy it is to keep it clean. The seat cover can be removed in under a minute without needing to uninstal the seat or take the harness off. It's made of a machine-washable and breathable mesh that strikes an ideal balance of child comfort and parent convenience.
Pros
Modular 3-in-1 design
Fits 3 across in any vehicle
Comfortable, easy to clean cushioning
Reinforced steel frame with EPS foam shell
Easy to install with either LATCH or car seatbelts
Removable dual cupholders
Cons
---
The Bottom Line: Graco SlimFit vs SlimFit LX
For most parents, the Graco SlimFit is the smarter choice. The fact that you can convert it to a booster seat after kids outgrow a car seat makes it a phenomenal value at the price, especially since it's durable enough to stand up to a decade of daily use. It's still much more compact than most car seats, too, and offers the same impact protection in crash tests as bulkier seats.
However, for a certain niche of parents or professional caretaker, the Graco SlimFit XL is worth the higher cost (>>> Find on Amazon). It's remarkably slim, with removable cupholders and a better seatbelt installation system, giving parents more flexibility to fit more seats into compact cars and other vehicles with limited space.
REFERENCES AND FURTHER READING: