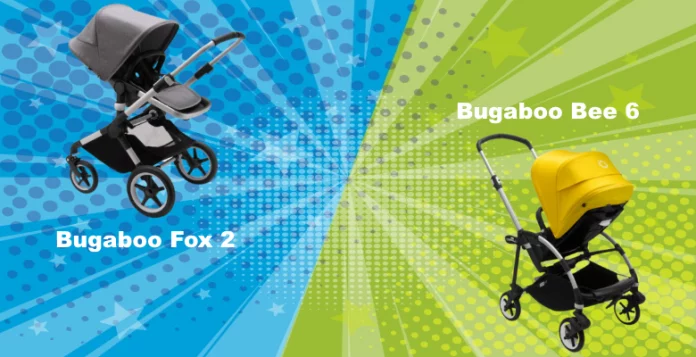 Over twenty years ago, Bugaboo revolutionized strollers making them durable, comfortable, and intuitively designed.
These strollers are popular with parents and kids, and there are several to choose from. Two are the Bugaboo Fox 2 and the Bee 6.  Both strollers are easy to maneuver and fold down into compact sizes. The Fox 2 works with your car seat and comes with a vented peek-a-boo window (>>> Check on Amazon). The Bee 6 is compact and lightweight and is also half the price of the Fox 2.
Still not sure if the Fox 2 is worth the expense, or if the Bee 6 comes with everything you need? It helps to take a closer look at each model.
Bugaboo Fox 2 vs Bee 6 Side by Side:
Safety Features
The first thing parents look for in a stroller is safety. Both Bugaboo strollers come with a 5-point adjustable harness. Rear-wheel brakes keep the strollers in place on hills and steps. You won't have any problems using either braking system, but the Fox 2 makes it easier to know when the brake is set. (the brake lever turns white). You can also lock the adjustable handle preventing accidental finger pinches.
A sturdy aluminum chassis and a robust suspension system provide a smooth ride for your baby over all types of terrain regardless of which stroller you bring home. Where the Bee 6 comes out ahead is with its rotating safety handles. Closed, the handles provide an additional barrier, keeping active babies and toddlers securely in the seat.
Best Safety Features: Bugaboo Bee 6
Maneuverability
You don't want a stroller that's hard to push or maneuver around corners and tight spaces. The Fox 2 comes with four-wheel suspension and puncture-proof rubber wheels. Large 7-inch rear tires allow you to easily make tight turns. The same applies to the Bee 6.
The Fox 2 is still easier to maneuver, thanks to its power steering comfort-grip handle. You can handle twists and turns with ease, and even guide the stroller with one hand. The built-in mechanism works similarly to the power steering system in your car. You won't have any problems controlling the Fox 2.
Easiest to Maneuver: Bugaboo Fox 2
Comfort and Adjustability
Your baby's comfort depends on how comfortable the seat is. Soft fabrics and plenty of cushioning are standard with Bugaboo strollers. They also have wrapped handles for your comfort. The Fox 2 is a little more comfortable for parents to push. Because it comes with a height-adjustable handle.
The seats on both strollers are adjustable, but the Fox 2 offers more to parents of newborns. The strollers are designed for infants and toddlers up to 50lbs, but the Fox 2 comes with a detachable bassinet. It is a complete travel system for your infant.
Best Comfort Features: Bugaboo Fox 2
---
Bugaboo Fox 2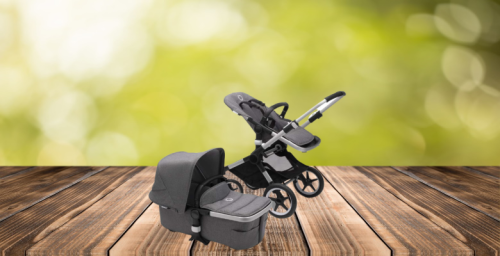 The Bugaboo Fox 2 may give you sticker shock, but it's not your average stroller. It is a complete travel system, perfect for busy parents constantly on the go. The bassinet detaches easily from the stroller so you can attach a car seat, so you don't have to wake your sleeping infant to go from the car to the stroller. The adaptors work with either the bassinet or car seat.
When your baby is old enough, use the standard stroller seat. A five-point harness keeps your baby safely in the stroller, and you will always know when the wheels are locked.
The stroller seat fully reclines and adjusts to several positions. It is also reversible, and the vented peek-a-boo window on the extendable sunshade lets you keep an eye on your sleeping baby.
Puncture-proof wheels ensure you can travel over any terrain, and the sturdy aluminum chassis and all-wheel suspension protect your baby from bumpy rides. You'll love how easy the stroller is to maneuver, along with its intuitive folding system. The stroller folds easily into one piece, or you can break it down into two for compact storage. Click here for our more in-depth Bugaboo Fox 2 review.
Pros
Included bassinet
Adjustable handle
Locking wheels
5-point harness
All-wheel suspension
Cons
The car seat adaptor is not included with the purchase of the stroller
---
Bugaboo Bee 6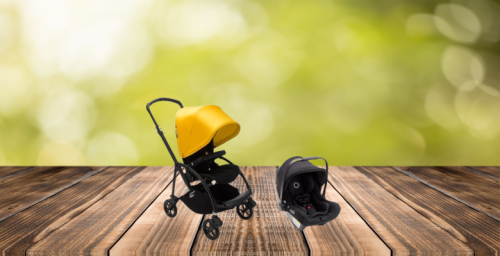 You may not faint at the price, but the Bee 6 is still not an inexpensive stroller. It is worth every penny when you are looking for a stroller designed for city life.
The Bee 6 is a lightweight stroller, around 21lbs that folds into a compact size for easy storage in small spaces. Large 7-inch rear wheels let you manage corners with ease, and they are also puncture-proof. You don't have to worry about picking up a nail when you are walking around the neighborhood. It also comes with independent suspension and shock absorption on the wheels.
If you don't mind paying extra for the adaptors, you can attach a car seat to the stroller. The bassinet is also extra, but the attached seat is designed for comfort. The seat covering is soft, lightweight, and breathable. You also have your choice of a variety of colors and styles. It is fully adjustable and incredibly comfortable for your baby. For our more in-depth review of this stroller, click here.
Pros
Large, locking rear wheels
Adjustable seat
Lightweight design
Compact storage
Independent suspension
Cons
The bassinet and adaptors are extra if you want to use the stroller for newborns
---
Conclusion
The Bugaboo Fox 2 vs the Bee 6 isn't an easy comparison. These strollers are designed with different uses in mind. The Fox 2 is designed for busy parents (>>> Find on Amazon). You get a complete travel system that is easy to use, maneuver, and store. It's a stroller that grows with your baby. It also comes at a high price point.
The Bee 6 is noticeably lower in price, but it is not a travel system. You have to pay out-of-pocket for the bassinet and adaptors, but the stroller is perfect for crowded city life. It is compact, maneuverable, and durable.
When choosing a stroller, thinking about what you need will make it easier to choose between these two models.
REFERENCES AND FURTHER READING: