A high-quality stroller keeps your child safe and comfortable while you're on the go, and is a must-have accessory for many parents. In this Bugaboo Fox 2 review, we'll look at a stroller that can seamlessly transition from city streets to park paths, and is both durable and versatile enough to grow with your child until they're ready to walk on their own. If you're in the market for a stroller, the Fox 2 is an excellent option to consider. Let's take a closer look at its features. (>>> Check on PishPoshBaby.com)
Bugaboo Fox 2 Review of Specifications:
| | Bugaboo Fox 2 |
| --- | --- |
| | |
| Maximum child weight | 21.8lbs |
| Age range | Newborn to toddler |
| Collapsed dimensions | 18.5"H X 23.6"W X 35.4"L |
| Unfolded dimensions | 42.5"H X 23.6"W X 40.9"L |
| Weight | 48.5lbs |
| Price | Find on Amazon |
Folding
Bugaboo has improved the folding mechanism of the Fox 2 over the previous model, making it even easier to collapse when it's not in use. You don't need to take off the wheels or other pieces to fold it up, either. Just press the folding buttons and it quickly condenses to a compact form that can stand on its own.
The aluminum frame of the Bugaboo Fox 2 keeps it lightweight without sacrificing durability. At about 22 pounds, it's easy for most parents to lift into a trunk or move around their home. When it's time to use it, setting it back up is as quick and easy of a process as folding it.
Maneuverability
The Fox 2 uses large, all-terrain wheels that can handle a variety of surfaces, from paved streets to gravel or dirt paths. They're puncture-proof, too, so you'll never have to worry about fixing flats or refilling tires.
Combined with these high-quality wheels is a 4-wheel plus central joint suspension system. This keeps the ride smooth on all terrains and makes it effortless to steer and push. You can keep control of the stroller even when pushing one-handed, and it turns as smoothly as it rolls.
Pros
Smooth ride with advanced wheels and suspension
Includes an infant bassinet for newborns
Reversible seat
Collapses into a single self-standing unit
Machine-washable sun canopy and included rain cover
Large under-seat storage
Cons
Adapter for car seats not included
High cost
Seats and Child Comfort
The Bugaboo Fox 2 comes with two seat options: an infant bassinet and a full-sized toddler seat. Both use soft interior fabrics and are well-padded, with reinforced stitching along the seams that give them durability to match their comfort. The smooth suspension helps here, too, keeping your baby from feeling bumps while they're riding.
You'll get both a sun canopy and a rain cover included with the Fox 2. Both are removable and extendable, and the canopy has mesh windows for better air flow in the seat. When extended, the canopy provides a good range of coverage over the seat, fully covering the bassinet and reaching roughly the knees of the toddler seat. The result is UPF 50+ protection against the sun's rays while you're out and about.
Car Seat Compatibility
The Fox 2 has wide car seat compatibility, and not just with models from Bugaboo. Other options include popular seats like the Chicco KeyFit, Cybex Aton, and Peg-Perego Primo Viaggio. The only caveat here is that you will need to buy an adapter, even for use with Bugaboo car seats like the Turtle.
Built-in Storage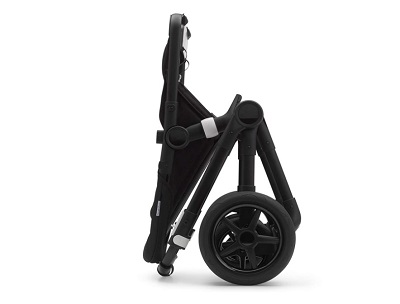 The under-seat storage area of the Bugaboo Fox 2 holds around 22 pounds, and is plenty roomy to fit your diaper bag, kid's toys, and other necessities. The mesh sides and wide opening make it easy to access the storage and quickly grab what you need, while the sturdy vinyl bottom means it'll last as long as the stroller.
Bugaboo Fox 2 Review In Summary
The all-terrain wheels, easy foldability, and sturdy, comfortable seat on the Fox 2 make it an exceptional choice for outdoor-loving parents. It can handle the terrain in a park or other natural space as easily as the sidewalks in urban environments, and its smooth steering means you can deftly and safely navigate obstacles. That being said, it's not exactly cheap, typically priced over $1,000 (plus the cost of the adapter if you want to use it with a car seat). This may put it outside the budget range for some parents, though its durability and versatility are ultimately worth the investment. (>>> Find on Amazon)
REFERENCES AND FURTHER READING