The innovative design of Diono Radian car seats has made them some of the most popular models with today's parents. These versatile, high-quality seats pack advanced safety features into a slim and stylish seat that's ready to go wherever you're traveling.
If you're a parent considering a Diono car seat, you're probably wondering: just what is the difference in the Diono Radian 3R vs 3RXT (>>> Find on Pishposhbaby)? We'll answer that question in this side-by-side review so you can decide which one fits your family the best! Let's take a closer look at the main differences between them.
Diono Radian 3R vs 3RXT Side by Side:
Diono Radian 3R
Diono Radian 3RXT
Child weight
5-120lbs
4-120lbs
Installation method
LATCH, seat belt
LATCH, seat belt
Dimensions
28.5"H X 17"W X 16"D
28.5"H X 17"W X 16"D
Impact protection layers
Steel core, shock-absorbing padding
6
Headrest positions
1
12
Weight
25.9lbs
30.6lbs
Price

Find on Amazon

Find on Amazon





Pishposhbaby.com





BabyCubby.com



Safety Features
The core of the Diono Radian 3R is made of automotive-grade steel for maximum durability and protection. The 5-point safety harness secures children comfortably in the seat, while the option of seat belt or LATCH installation keeps the car seat firmly in place while you're on the go. Its multiple configuration options ensure your child is in the optimal position for their age and development, with impact absorbing padding in the shell.
While the Radian 3R performs well in this regard, the Diono Radian 3RXT goes a step further. It adds 6 layers of side impact protection to the shell, as well as an anti-rebound bar at the feet that reduces rotation.
Better safety features: Diono Radian 3RXT
Child Comfort
The Diono Radian 3R can be used safely with babies as small as 5 pounds in its newborn rear-facing mode. Once your child outgrows the rear-facing configuration, you can turn it around and remove the harness as they grow, letting it function as a booster seat up to around age 10 (120 pounds).
The added features of the Diono Radian 3RXT enhance its comfort for kids of all ages. For newborns, the added newborn wedge and padding insert let you get a more natural angle and snugger fit. A taller adjustable headrest gives taller children more neck and head protection, with optional accessories like a steel-reinforced cupholder so everything your kid needs can be in easy reach.
More comfortable: Diono Radian 3RXT
Convenience and Storage
Both of these car seats are remarkably compact given their features, with an option of seatbelt or LATCH system installation that gives them good versatility across types of vehicles. Both also fold flat, helpful for stashing away when not in use or for longer trips by plane.
Here, it's the Diono Radian 3R that takes the slim lead. It's about 5 pounds lighter than the Radian 3RXT, with a simpler design on the top portion that makes it easier to fit into cramped areas.
More convenient design: Diono Radian 3R
---
Diono Radian 3R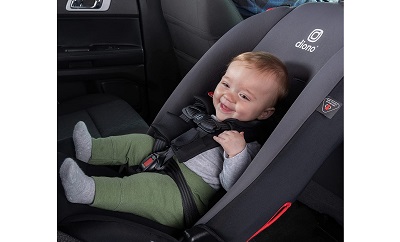 The Diono Radian 3R is a versatile car seat that can keep your child safe and comfortable from the day they're born until they're roughly 10 years old. As a rear-facing car seat, it supports babies up to 50 pounds, with a reclined seat back that reduces babies' head movement. The contoured interior uses a memory foam padding for maximum comfort and support, with an automotive-grade steel core for strength and a 5-point harness to keep your child secure.
Once your child outgrows the rear-facing seat, the Radian 3R offers similar protection in its forward-facing mode, with a shock-absorbing shell that reduces the forces that can affect your child if there's an accident. After your child reaches about 40 pounds, you can convert the Radian 3R into its booster seat mode, providing an extra layer of protection for kids up to around 120 pounds.
Along with providing great protection for kids, the Diono Radian 3R is convenient for parents. It's slimmer than most car seats, allowing for 3 to fit in most vehicle rear seats. When it's time to travel, the seat can be folded into a backpack-sized unit that meets airline regulations for overhead bins. Cleaning it is simple, too, with a cloth cover that's machine washable and easy to remove.
Pros
Booster seat mode supports kids up to 120 pounds
Front- or rear-facing installation options
Durable with reinforced steel core for safety
Slim fit design fits 3 across in most car rear seats
Meets FAA guidelines when folded
Removable, machine-washable cover
Cons
Fewer impact protection features
No newborn wedge or insert
---
Diono Radian 3RXT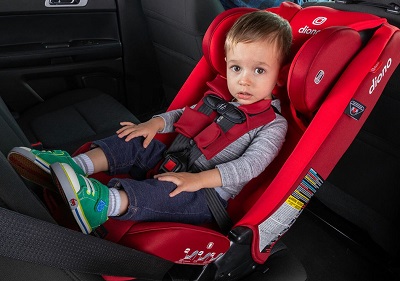 The Diono Radian 3RXT starts with the impressive design of the 3R and builds off of it. Like the 3R, it can be used as a rear-facing or front-facing car seat, then converted into a big kid booster seat and used until your child reaches about 120 pounds. It also matches the Radian 3R for convenience, with a slim design that fits 3 across and a completely flat fold for easy storage and airline travel.
Parents of newborns will especially love the added safety features of the Diono Radian 3RXT. It comes with a newborn wedge that allows newborns to lay flat comfortably, with a removable padding insert to give them a more secure fit. Children of all ages will benefit from the additional layers of side impact protection and steel anti-rebound bar, which reduces rebound rotation by 50% in the case of a collision. It can also be used in its rear-facing position for longer, up until around 50 pounds, and has a higher back with an adjustable headrest so it's comfortable for taller kids in all configurations.
The only downside to these extra features is that they do add a bit to both the seat's weight and the price tag compared to the 3R. It weighs just over 30 pounds, and typically costs about a hundred bucks more than the 3R. Having said that, though, considering its long usable lifespan it's still a smart buy and a good long-term value.
Pros
Usable from birth until age 10
Rear-facing up to 50 pounds
Newborn travel wedge gives small babies a more secure fit
Adjustable headrest and body support
Folds flat for airline travel
Fits 3 across in most vehicles
Anti-rebound bar and 6 layers of side impact protection
Cons
Heavier than most car seats
Higher cost
---
The Verdict: Diono Radian 3R vs 3RXT
When you're shopping for Diono Radian car seats, you really can't go wrong with whichever one you buy. For the ultimate in protection and comfort, the added features of the Radian 3RXT make it the better option (>>> Check on Amazon). On the other hand, the lighter and more affordable Radian 3R could be the better choice for some families, especially those who travel often by plane.
FURTHER READING: