Bugaboo's line of Donkey strollers keeps getting better. Each new model comes with unique innovations designed to make life easier for busy parents. The strollers are durable, easy to manage, and boast plenty of storage, but they also have differences.
Comparing the Bugaboo Donkey 3 vs 2, you'll notice both models can expand into a double stroller. It's great for parents with multiple children. Easy storage and multiple seat positions are also standard with the Donkey stroller series.
The Donkey 3 comes with a convenient peekaboo window, and its smaller wheels make it easier to navigate around corners (>>> Check on PishPoshBaby). It also gives the stroller a slimmer profile. Perfect for pushing the stroller down tight aisles. It also weighs a pound less than the Donkey 2. One pound may not seem like much until you start pushing the stroller.
Still not sure which Bugaboo stroller to choose? Sometimes, it helps to take a closer look at what each model has to offer.
Bugaboo Donkey 3 vs 2 Side by Side:
| | Bugaboo Donkey 3 | Bugaboo Donkey 2 |
| --- | --- | --- |
| | | |
| Maximum child weight | 50lbs | 50lbs |
| Age range | Infant to toddler | Birth to toddler |
| Collapsed dimensions | 20.4" X 23.6" X 36.6" | 36" X 23.5" X 9" |
| Unfolded dimensions | 29.5" X 23.6" X 35" | 33.9" x 23.6" x 33.9" |
| Weight | 27.6lbs | 29.3lbs |
| Price | Find on Amazon | Find on Amazon |
Safety Features
The strollers are tied when it comes to safety features. You won't be putting your child at risk, no matter which model you bring home. With that being said, the Bugaboo Donkey 3 is the winner of The Bump's best double stroller award for 2020. One of the deciding factors determining the winners is the stroller's safety features.
Both models have a five-point safety harness. It meets all industry safety regulations ensuring your active baby won't wiggle out of the stroller. Rear locking brakes prevent the strollers from rolling down hills or stairs. The sun canopy is treated with SPF 50+, so you can safely take your baby on long walks during the day.
Best Safety Features: Bugaboo Donkey 3
Storage Capacity
Whether you have an infant or a toddler, storage is key when you are looking for a stroller. Kids need a lot of gear at any age. It's also great when you have a place to store your belongings like a purse, groceries, and other shopping bags.
Both Bugaboo strollers have large storage baskets underneath the seat, along with side compartments. You can easily fit up to 22lbs in the baskets, but the Donkey 3 offers additional storage that includes zippered pockets to keep your keys, wallet, and other items safe.
Best Storage Capacity: Bugaboo Donkey 3
Maneuverability
Anyone that has ever fought to push a stroller or turn a corner knows how frustrating it can be. You won't have this problem with either Donkey stroller. Both are designed for easy maneuverability.
The advanced suspension makes it easy to go over dirt paths, cobblestone streets, and bumpy sidewalks. The wheels are foam-filled, so punctured tires aren't a problem. You can take these strollers almost anywhere.
Where the Bugaboo Donkey 3 stands out is with its slimmer wheels. It makes the stroller easier to maneuver around tight corners and cramped store aisles. Not only is the Donkey 3 lighter in weight, but it also has a smaller profile.
Easiest to Maneuver: Bugaboo Donkey 3
---
Bugaboo Donkey 3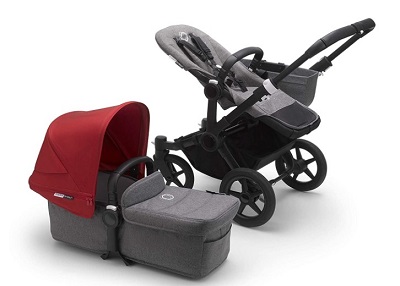 The Donkey 3 is an award-winning stroller for safety, comfort, value, and ease of use. The stroller is a breeze to assemble. Everything you need comes in the box, along with easy-to-read instructions. It's also just as easy to fold the stroller down to a compact size for storage.
You need a stroller that will grow with your baby from infancy to toddler. The Donkey 3 can support toddlers up to 48lbs without any problems. The included bassinet attaches easily to the frame. You can also use a car seat with the purchase of adapters. It's an inexpensive investment that you'll appreciate when you are transferring a sleeping infant from the car to the stroller.
When your child is ready, you can use the adjustable toddler seat. A five-point harness keeps active children securely seated. It also comes with a rotating safety bar to make it easier to get your child in and out. The seat is fully reclining and can be adjusted to various positions ensuring your child is always comfortable. You can also expand the stroller to accommodate two children with the purchase of a Duo Extension Set.
Pros
Easy to maneuver
Lightweight and durable design
Peekaboo window on the shade canopy
Slim design
Zippered storage pockets
Cons
The adapters are only compatible with a few car seats. It may not work with one you currently own
---
Bugaboo Donkey 2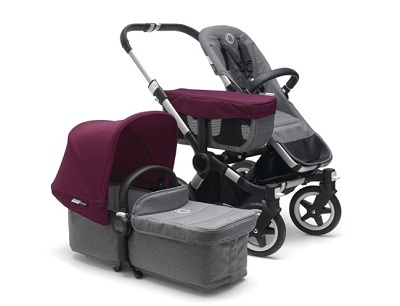 You get a safe and easy-to-use stroller with the Donkey 2 from Bugaboo. It meets all industry safety standards giving you peace of mind. It comes with a durable construction, 5-point safety harness, and rear locking wheels.
It's a full-size stroller, but don't worry it fits easily through doorways and down aisles. The foam-filled wheels glide with ease over rough sidewalks and bumpy trails. With a side compartment and a basket under the seat, you have plenty of storage space for everything your baby needs. Each one is capable of holding up to 22lbs.
You can use the Donkey 2 from infancy up to toddlers weighing 50lbs. The bassinet is included with the stroller. You can also use your car seat if it is compatible with the adapter straps. When your child is old enough, you can transition him to the toddler seat. It is fully reclining and comes with adjustable seating positions.
Pros
Grows with your child
Rear locking wheels
Adjustable toddler seat
Easy to maneuver
Durable construction
Cons
The stroller has a large footprint when folded and may not fit easily in all smaller model vehicles
---
Conclusion
Comparing the Bugaboo Donkey 3 vs 2, you will quickly notice the differences. The Donkey 3 is the updated version and comes with a few extras parents are asking for (>>> Find on Amazon). It has a slimmer profile, is a little easier to push, and comes with a peekaboo window the Donkey 2 is missing.
It does not mean the Bugaboo Donkey 2 is an outdated stroller. It boasts most of the features you find in the later version. It comes down to what you want in a stroller when you are making your final decision.