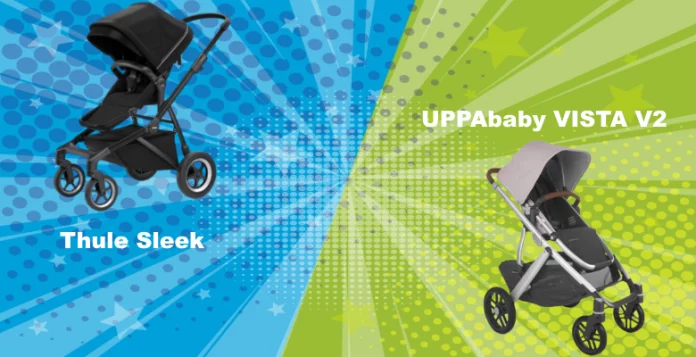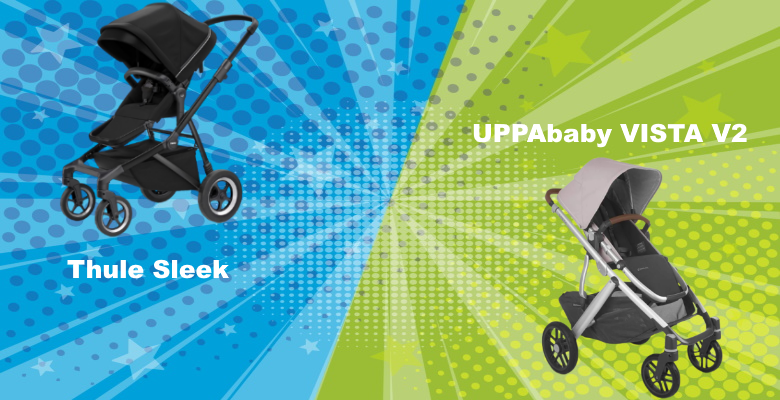 As a parent, it's easy to get overwhelmed by the variety of options when choosing a baby stroller. Do you want design versatility? Smooth maneuverability? All-terrain wheels? A stylish look? To help you decide, we've created a detailed comparison of two top contenders: Thule Sleek City vs. UPPAbaby VISTA V2.
Both models have similar functionality, versatility, and visual appeal. Coming out at roughly the same price point, they are among the highest-rated strollers on the market. Seriously, these have both been described as the Mercedes of baby strollers!
Sturdy frames, swiveling wheels with suspension, and luxurious fabrics make for a slick ride. When it comes to ease of use, versatility, quality, and storage, the Thule Sleek City and the UPPAbaby VISTA run neck and neck. Let's explore the nitty-gritty details to help you decide.
Thule Sleek City vs UPPAbaby VISTA V2 Side by Side:
Many factors went into our stroller reviews. We focused on what's most important to parents: versatility, quality, how easy it is to use and push, storage space, its weight and bulkiness, and how safe and comfortable your baby is. With those standards in mind, let's dive in.
---
Thule Sleek City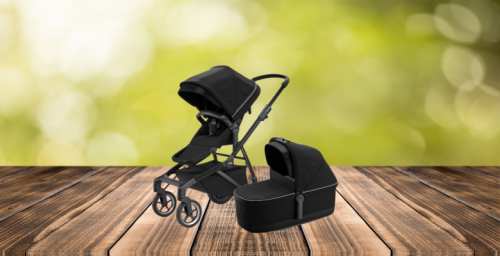 As a parent, you want your child to be comfortable and protected. But you also want a stroller that's easy to push, maneuver, and adjust. Luckily the Thule Sleek City can do all of that and more. Designed for children 6 months and older, this aluminum frame stroller with polyester and plastic accents comes in a variety of classy colors.
With large, no-puncture tires and 4-wheel suspension, you can drive this baby over rougher terrain without breaking a sweat. The Thule Sleek has a modular design and can be reconfigured into 13 different positions. Adjust the handlebar height for your comfort and turn the toddler seat to face either towards or away from you while strolling. Watch this detailed YouTube review to see how it works!
The stroller comes with an extendable ventilated canopy that provides your child with solid UV protection (UPF 50+). And if storage is important to you, the cargo basket is spacious and has an awesome zippable cover, so your items won't fall out. You also have the option of adding a second seat (adaptors sold separately) to accommodate two children.
Unfortunately, this model is moderately difficult to collapse. And while it isn't that heavy, it is somewhat bulky in the folded position. The chair itself isn't quite as spacious as the UPPAbaby VISTA V2 and can only handle a max weight of 33lbs. Since it isn't built for newborns, you must purchase their bassinet and car seat adaptors separately.
Pros
Ventilated canopy with UPF 50+ protection
Shock absorbing 4-wheel suspension
Fabric is high quality, and easy to wash
No-puncture foam-filled 11" rear tires
Really smooth and easy to maneuver
Can be reconfigured into 13 different positions
3 recline positions for your child
Adjustable handlebar heigh
The cargo basket has a zippable cover
Cons
Bassinet and car adaptor are sold separately
Lower weight capacity than VISTA
Fairly bulky even when folded
Smaller cargo basket than VISTA
Cannot remove the fabric piece for deeper washing
---
UPPAbaby VISTA V2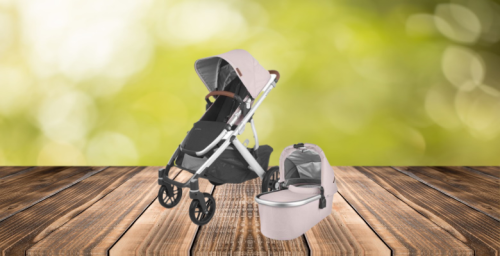 The UPPAbaby VISTA V2 is a beast—an expensive, dynamic beast. But don't let the price tag scare you off. The value you get for the money is immense. This stroller is built to last and includes some great additional features that other strollers don't.
Check out this comprehensive UPPAbaby VISTA V2 review
With more feminine color choices than the Thule, this aluminum frame stroller has leather accents and removable fabric pieces, making it easier to wash. While its design isn't modular like Thule's, it has more recline positions for your child. Its chair has more space for larger babies to sit comfortably, and its extendable canopy also offers UV protection (UPF 50+).
Just like the Thule Sleek City, the large wheels with suspension can handle rougher terrain. The swiveling wheels combined with adjustable handlebars and large cargo basket offer a very comfortable stroller experience for parents. Folding is a bit easier, and it's more compact when collapsed than the Thule.
We'd be remiss not to talk about the incredible included features that up the value. You'll get a bassinet, mesh bug cover and rain cover with your purchase. While Thule's stroller is only made for babies 6 months and up, the VISTA's bassinet makes it usable from birth. On top of that, the max weight capacity is 50lbs, so your child can use it for much longer. That's some bang for your buck.
What are the downsides? Well, you'll have to shell out more money for certain colors. Your reconfiguration capabilities aren't quite as numerous as the Thule Sleek. And while you're getting a lot of value from this stroller, there's no way around that expensive price tag.
Pros
Comes with a bassinet for infants
Includes a mesh bug cover and rain cover
Can accommodate up to 3 children
Much higher weight capacity than Thule Sleek
6 different recline positions
4-wheel suspension to handle rougher terrain
Adjustable handlebar height
Removable fabrics for washing
Cons
Some colors are more expensive
Costly to purchase
Fewer reconfiguration capabilities than Thule Sleek
Car seat adaptor, Piggyback ride-along board, and extra seat sold separately
---
The Final Verdict?
The Thule Sleek City and the UPPAbaby VISTA V2 are premium strollers that offer amazing quality, adaptability, and a lot of value for the price. They are both all-terrain, stylish, move smoothly, and can accommodate up to 2 or 3 children. You won't find them too heavy or bulky, either.
But which one rises to the top? The UPPAbaby VISTA V2 (>>> Check on PishPoshBaby.com).
It was a close call, but for the included bassinet alone, the VISTA's value and versatility takes the cake. You can start using it for your child from birth up until they hit the 50lb limit.
Utilizing the add-on Rumble Seat and Piggyback Ride-Along board, you can carry up to 3 children, unlike the Thule. Plus, who wouldn't want the option to buy a pink stroller? The UPPAbaby has you covered in a couple areas the Thule doesn't, but you can't go wrong with either choice.