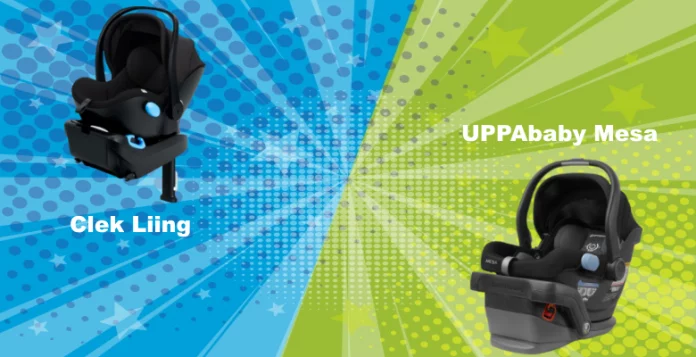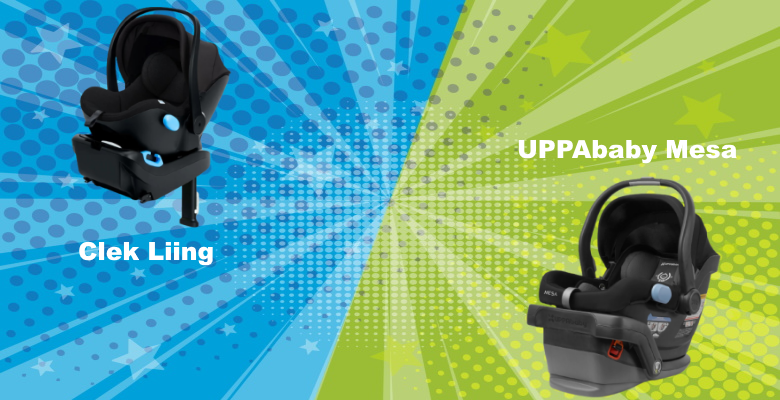 Your baby's health and safety are your primary concerns. You carefully choose everything your baby needs, including the car seat. While safety is paramount, comfort and functionality are other aspects to look for.
Comparing the Clek Liing vs the UPPAbaby Mesa, a few differences are immediately noticeable. The Liing is a forward and rear-facing infant car seat (>>> Check on Amazon.com), while the Mesa only faces the rear. The Mesa is a little easier to attach to compatible strollers. With an adaptor, the Liing works with more stroller models. It also boasts additional safety features missing from the Clek model.
There is a lot to consider when you are shopping for an infant car seat, and taking a closer look at each car seat's specifications will make it easier to make the best choice for your baby.
Clek Liing vs UPPAbaby Mesa Side by Side:
Safety Features
The purpose of a car seat is to keep your infant safe in a vehicle, and both models meet all government regulations. Side impact protection is standard with the car seats. Your baby's head will stay stationary if the vehicle is in a collision. The car seats also come with a securely locking harness.
The Liing takes safety a step further with its energy-absorbing metal load leg. It's adjustable, so the feature will continue to protect your baby as he or she grows.
Best Safety Features: Clek Liing
Comfort
Your baby will let you know when comfort is an issue, and the last thing you want is a crying infant on car rides. Whichever model you bring home, your baby will ride in comfort. The car seats come with plenty of padding designed to support and cradle your infant.
The Mesa car seat is a little more comfortable. Both come with retractable canopies that shield babies from bright sunlight. What sets the Mesa apart is the no-thread safety harness. It is less likely to rub against and irritate exposed skin.
Best in Comfort: UPPAbaby Mesa
Ease of Use and Functionality
Both car seats with seamlessly work with the Latch system, but the Liing also comes with a belt-tensioning system. You can still securely attach the car seat to the vehicle's seat belts. It is a handy feature to have when you have more than one car seat in the back.
Both are lightweight, under 30 lbs., and easily attach to your stroller. The Mesa is limited to three stroller brands without the purchase of adaptors, while the Liing is compatible with most major models. The Liing is also both a rear and front-facing car seat, unlike the Mesa.
Easiest to Use: Clek Liing
---
Clek Liing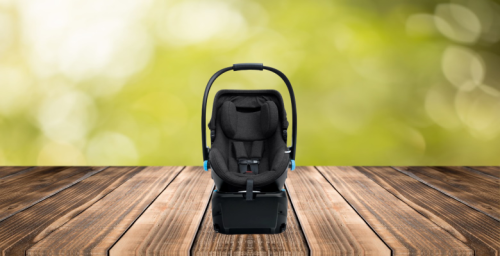 The Clek Liing car seat is designed for safety, comfort, and convenience. It works with or without a Latch system, and you don't need to purchase adaptors to use the car seat with your stroller. The base is a breeze to detach with a press of the button. It also snaps firmly back in place.
Parents with multiple kids will love the car seat's space-saving design. It fits easily in most back seats, with one or two car seats already securely belted in. When it comes to safety, the car seat comes with side impact protection. It also boasts an energy-absorbing design for added protection.
The car seat grows with your baby, up to 35lbs, and fits newborns with the included insert. The two-stage system provides plenty of head and neck support, along with a secure seating position. Your newborn will have all of the support and protection necessary for a safe and comfortable car ride.
Pros
Machine-washable fabric
Lightweight construction
Versatile
Front and rear-facing
Safety features
Cons
The quick-release button can become stuck, preventing the car seat to release from the base
---
UPPAbaby Mesa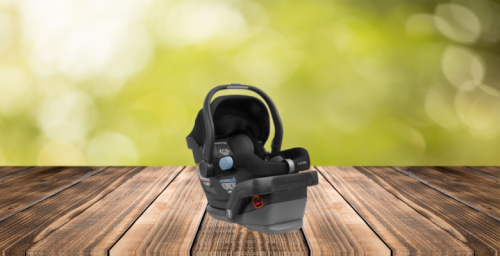 The UPPAbaby Mesa is a rear-facing car seat designed for infants and babies up to 35lbs. When you attach the Mesa to a stroller, it can either be world or parent-facing. The stroller is compatible with Cruz and Vista strollers, along with the MINU model. If you own another brand, you need to purchase adaptors.
A UPF 25+ canopy protects your baby from bright sunlight. It also conveniently folds back down when not needed. The adjustable headrest provides plenty of neck and head support, and the no-thread harness is comfortable while keeping your baby securely seated.
The car seat comes with the SmartSecure system, making it a breeze to use. With the click of a button, you can remove the car seat from the base. It is just as easy to reattach. Best of all, the seat fabric is machine washable for easy clean-ups.
Pros
Side-impact protection
Hideaway canopy
Washable seat covering
Adjustable headrest
No-thread safety harness
Cons
The car seat is not compatible with all strollers without an extra adaptor
---
Conclusion
Both the Clek Liing and the UPPAbaby Mesa provide the support and protection you need from a car seat. The Mesa is also priced a little lower, but it is lacking some of the compatibility you get with the Liing.
The Liing also offers a little more in safety features and is the winner when it comes to functionality (>>> Find on Amazon). While safety is paramount in a car seat, it's also nice when it also easy and convenient to use.
REFERENCES AND FURTHER READING: