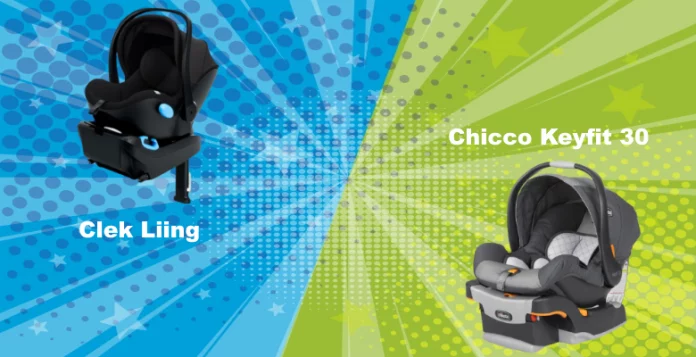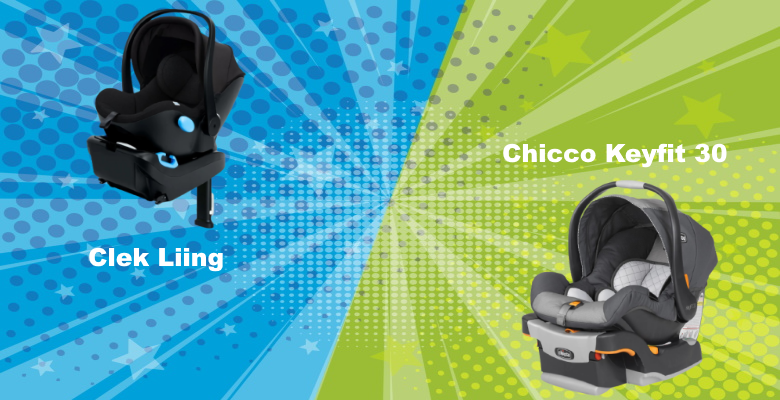 Parents look for three things in a car seat, safety, comfort, and convenience. Anything else is a bonus.
Comparing the Clek Liing vs the Chicco Keyfit, it's easy to see the two car seats come with parents' three must-have features, but you'll also see some differences. The Liing is a front and rear-facing car seat. It also has a higher weight capacity (>>> Check on PishPoshBaby.com), but the Keyfit 30 comes at a lower price point and is a little easier to install.
If you are still undecided which car seat is best for your family, it helps to take a closer look at each model.
Clek Liing vs Chicco Keyfit 30 Side by Side:
Safety
Both car seats come with a five-point harness to keep infants and toddlers securely in place. The Keyfit 30 comes with side-impact protect, but the Liing has a metal load leg. It reduces energy from collisions by up to 40 percent.
The Liing car seat is also free of chemicals in its fire-retardant coverings and is OEKO-TEX standard 100 certified.
Best Safety Features: Clek Liing
Comfort
You get plenty of cushioning in the seat and back with both models. The removable infant insert on the Keyfit 30 ensures a snug and comfortable fit for babies. You can also adjust the seating position for sleeping infants.
The Liing takes your baby's comfort a little further. It boasts a two-stage system that provides support for your infant's head and body. The seat also comes with seven adjustable positions ensuring your baby is comfortable during long and short rides.
Best in Comfort: Clek Liing
Ease of Installation
You won't struggle with either car seat. Both are lightweight and easy to install in any vehicle's back seat. The LATCH system is standard on both car seats, making it easier to install. The Latch system also ensures vehicle compatibility is never a problem.
The Keyfit 30 comes out ahead with its leveling function on the base and two-level indicators that let you know when the car seat is at the right angle.
Easiest to Install: Chicco Keyfit 30
Convenience
Convenience is something every parent looks for in a car seat, and the car seats deliver. They are compatible with all vehicle belting systems, but the Liing also comes with a removable base. You can still buckle the car seat, making it great for traveling by plane.
The Keyfit 30 is only compatible with Chicco strollers, while the Liing works with models using a Maxi-Cosi adaptor. Parents can also use the Liing longer, it supports up to 35lbs.
Most Convenient: Clek Liing
---
Clek Liing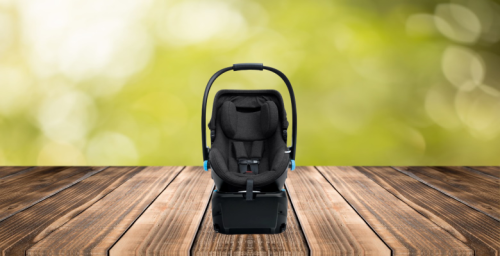 The Clek Liing is built for safety, comfort, and convenience. It comes with a foldable metal load leg that minimizes energy from collisions, along with the rigid-latch system on the base. The system works with the vehicle's seat belt or latch anchors giving you an easy and secure installation.
Parents of multiple kids will appreciate the Liing's space-saving design. It takes up less space in the back seat and gives front seat passengers extra legroom.
The car seat comes with seven adjustable positions, keeping your baby comfortable while awake or sleeping. With the purchase of adaptors, you can connect the Liing to most strollers. The base is a breeze to detach as necessary, and just as easy to install. The car seat will also grow with your baby from 4lbs up to 35lbs.
Pros
5-position harness
Removable base
SPF 100+ retractable canopy
7 reclining positions
Impact-absorbing metal load leg
Cons
The car seat can only be attached to strollers with the purchase of Maxi-Cosi adaptors
---
Chicco Keyfit 30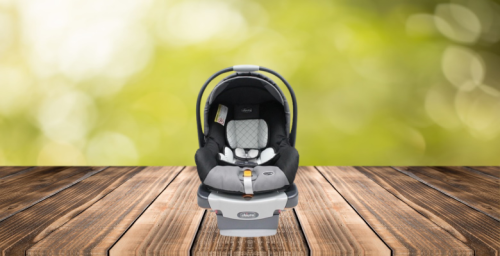 The Keyfit 30 is one of the top-rated car seats when it comes to easy installation. It boasts innovative features that include a leveling foot and two bubble level indicators, so you know when the seat is correctly fastened into the vehicle's belting system.
The car seat is part of Chicco's travel system. It is compatible with Chicco strollers without the purchase of adaptors. The same latching system makes it a breeze to install the Keyfit 30 onto the stroller.
Parents can use the car seat with babies from 4lbs up to 30lbs. The removable inserts for the head and body keep newborns snug. They are also easy to take when your baby is old enough.
Pros
Easy installation
Support for infants
5-point adjustable harness
Compatible with Chicco strollers
Lightweight design
Cons
The base release lever is in an awkward position in the back
---
Conclusion
Parents will feel safe placing their infants in either car seat, but there are differences. Comparing the Clek Liing vs the Chicco Keyfit 30, the Liing comes with a metal load leg for impact energy absorption. It's also a little more convenient to use (>>> Find on Amazon).
The Keyfit 30 is easier to install, and it is part of the Chicco Travel System. Whichever car seat you bring home, your baby will be safe and comfortable in the back seat.
REFERENCES AND FURTHER READING: