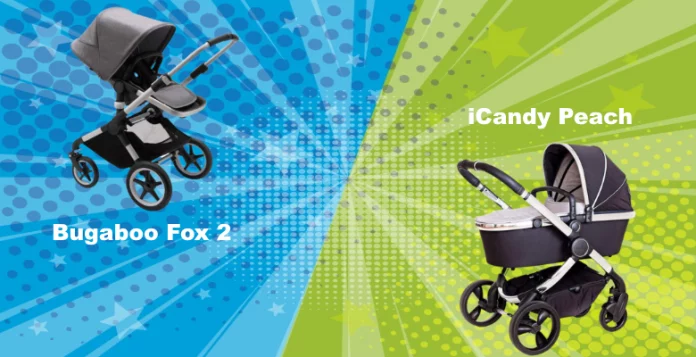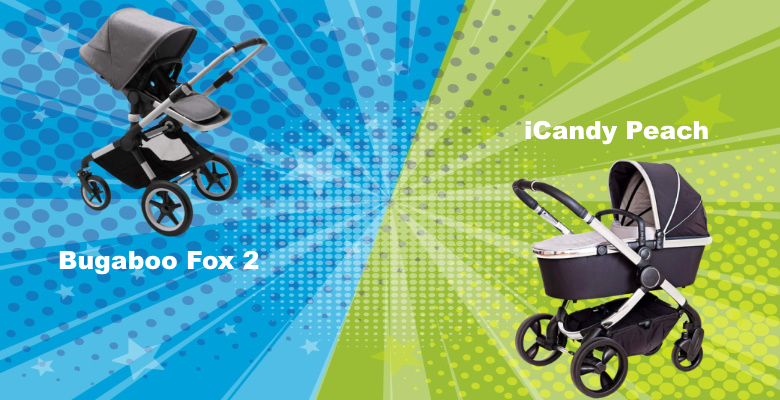 Taking your baby on walks is a great wholesome bonding activity. Having the right stroller can make the whole experience even better. So, how do you know which stroller is right for your growing family? Looking at the Bugaboo Fox 2 vs. the iCandy Peach strollers shows that strollers can vary in their size, glide, and just about every other feature.
Both the Bugaboo and iCandy strollers are used by parents all over the world and both have over a 4-star rating on Amazon and other popular review websites. Below are some of the important features to consider before purchasing either stroller, including ease of folding, how smooth the ride is, the built-in storage space, and comfort of both strollers. With these comparisons, you can better-decide which stroller is the perfect fit for you and your baby.
Bugaboo Fox 2 vs iCandy Peach Side by Side:
Bugaboo Fox 2
iCandy Peach
Maximum child weight
50lbs
55lbs
Age range
Birth to toddler
Infant to toddler
Collapsed dimensions
33.9" X 20.5" X 13.4"
27.5" X 20.5" X 9"
Unfolded dimensions
34.6" X 23.6" X 15.7"
34.5" X 14" X 9"
Weight
21.8lbs
27lbs
Price

Pishposhbaby.com





Find on Amazon

Find on Amazon
Folding
Both the stroller and the carrier sections of the Bugaboo are foldable. Firstly, remove the seat by pressing the white buttons that are on the left and right sides of the carrier. Once removed, you can lift the clasps on the handle and slide it inwards. Next, press the white buttons on either side of the frame and slide it back, which will push the frame down. For further compression, fold the carrier by sliding the supports at the end of the seat downward.
When looking up reviews for the iCandy Peach, one thing that stands out to users is the fact that it can be folded with only one hand. It stores mostly flat once it is folded and can be dismantled into two parts if need be. This would make folding a little tricker and you may need to use two hands to do this. The stroller also had an auto-fold lock. The bassinet portion of this stroller does not fold but can be removed.
Easier to fold: iCandy Peach
Smooth Riding
The Bugaboo Fox 2 saw some upgrades from its previous version. This stroller has all-terrain wheels, which makes traveling even on bumpy paths a little smoother. The suspension has also been improved, which helps to make for an easier ride. The stroller only weighs about 22lbs, which is lighter than many similar models. The push bar has built-in power steering, which makes it so parents can steer with one hand if need be. Even the bumpiest roads are no match for this stroller.
The wheels on the iCandy Peach do not disappoint either. Each wheel is equipped with its own improved suspension. The back wheels are considerably larger than the front wheels, which helps the stroller to manage well on all terrains. The brakes are also simple to use, as you only need a quick flick of the foot-pedal breaks to put the brakes in place or unequip them.
Smoother ride: Bugaboo Fox 2
Storage Space
The storage compartment on the Bugaboo stroller is at the very bottom of the stroller. It leans slightly to the front, which makes it easier to grab what you need quickly. It is made out of a lightweight but durable material. It can carry around 22lbs easily before starting to have problems. So long as the items fit in the storage space and weigh under the recommended amount, it should be easy to use.
The storage space at the bottom of the iCandy stroller is larger than the average bag space. As a bonus, there is a buckle that can be used to hold objects down. Parents can easily fit an average-sized diaper bag in this section. While the storage section does not lean much to either end, it is still easy to reach down and take objects in and out of it. Trying to keep your storage items to around 22lbs is a good idea when using this stroller as well.
Better built-in storage: iCandy Peach
Seat Comfiness
The Bugaboo stroller can be used for infants from birth to about 50lbs (usually around age three or four). As your child grows, the cart can change. Depending on where you purchase the stroller, it may come with both a bassinet for infants and a toddler seat. Both seats come with comfortable padding and soft buckles. There are five straps in total. This makes it harder for toddlers to wiggle around, which can be a pro or con depending on your parenting style. There are three positions that the seat can be shifted to in order to make the ride even more comfortable.
The iCandy stroller can also be used for newborns, but has a larger carrying capacity of around 55lbs, which means your child can enjoy using the stroller for even longer. One impressive part of this cart is that the panels are made out of a mesh material, which makes it more breathable. It also makes it easier for babies to see and hear their parents. The infant carrycot has a cozy pillowy soft lining. The covering has a zipper, so it can be used or not as needed. The harness itself is also padded near the bottom and on the shoulders.
More comfortable: iCandy Peach
---
Bugaboo Fox 2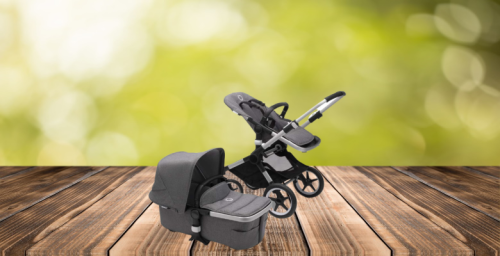 The Bugaboo Fox 2 is a super durable but lightweight stroller that most adults will not have a problem pushing. Its lightweight design is due to the fact that the frame is made out of aluminum and the fabric is made of breathable polyester. This model only comes in one color scheme (black and silver) but it looks modern and stylish at the same time.
The all-terrain wheels make the stroller easy to push just about anywhere, even on jogging paths. The stroller can also hold children that weigh up to 50lbs, which means your child could very well be school-aged before they outgrow the seat! The storage space can also hold a few more pounds of items, which is ideal for when you need to carry many items on the go.
Pros
Power steering
All-terrain wheels
Lightweight but durable
Folds with or without the basinet inside
Peekaboo window
Includes basinet and toddler seat
Cons
Tricky to assemble yourself
Expensive
---
iCandy Peach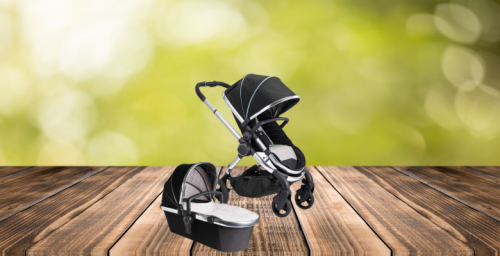 The iCandy Peach is an adorable stroller that comes in a variety of colors. Like the other stroller, this frame is also made of aluminum and the fabric is polyester. Even with these similarities, there are still some big differences. For example, the iCandy Peach can carry up to 55lbs and has more storage room than the Bugaboo.
This stroller is also great at being pushed just about anywhere. It may take a little more strength to move it on rougher terrains or uphill, as the stroller is a bit heavy. This heaviness is, in part, what allows it to carry heavier children and more items in the storage area.
This cart will take some initial assembling, but from there, it will be easy to fold. You can use the one-handed approach for a quick and easy fold. If you want the cart to become more compact, you can also fold it in two parts, but this will take more than one hand to do.
Pros
Can convert to a double pushchair
One-handed fold
Optional two-piece fold
Several color options
Swivel bumper bar
Cons
Heavy frame
Takes a while to put together
---
The Bottom Line
Both the Bugaboo Fox 2 and the iCandy Peach are great strollers. They are both made out of the same materials, can carry children around the same weight, and have similar prices. Both come with various accessories to further customize the baby stroller. The Bugaboo does have the bonus of being lighter and having better wheels, while the iCandy can carry heavier children and it easier to fold (>>> Check on Amazon). In the end, pick the stroller that best fits your family's needs. You cannot go wrong with either choice.