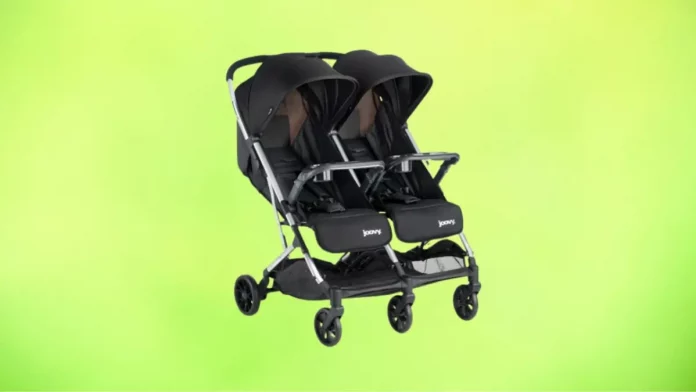 Whether you are the proud parents of twins or have two children close in age, dealing with two strollers is a hassle. Not only do you need another adult to push a stroller, but there's also the issue of storage space. Two strollers can take up a lot of room in a vehicle trunk or closet. The Kooper x2 seems to take care of these problems. It's a lightweight travel stroller with two seats.
However, we wanted to know if this dual stroller lives up to our expectations. Keep reading to see what we discovered in our Joovy Kooper x2 review (>>> Check on Amazon).
Joovy Kooper x2 Review of Specifications:
| | Joovy Kooper x2 |
| --- | --- |
| | |
| Maximum child weight | 50 lbs each seat |
| Age range | 3 months of age up until 45 pound |
| Unfolded dimensions | 31.7″L x 30.3″W x 41.3″H |
| Folded dimensions | 26″L x 30.3″W x 12.8″H |
| Weight | 28 lbs |
| Price | Find on Amazon |
Design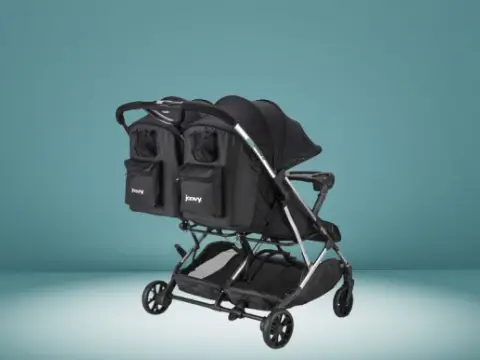 A stroller with two seats can seem intimidating. However, we are pleasantly surprised by the Kooper x2. The side-by-side seats prevent children from squabbling over who gets the front seat, and the stroller is still compact enough to fit down most aisles.
Both seats feature separate, multi-reclining positions. You can keep both children happy and comfortable with the press of a button. What we really like about the stroller are the wider than average seats. Not only does it provide maximum comfort, it also allows the stroller to grow with your children.
The stroller's frame is aluminum. It's sturdy enough to support weights up to around 100 lbs. or 45 kg. While also keeping the stroller's weight to 28 lbs. It is lightweight enough to easily carry and when folded it's a compact 31.69 x 30.31 x 41.34 inches. It's disappointing to know the travel stroller is a little large for some overhead airplane bins, but it fits easily into vehicle trunks.
Pros
Lightweight and durable design
Dual snack trays
Individual reclining seats
Easy to maneuver
Large storage basket and pockets for small items
Cons
While it is a travel stroller, it's a little too large to easily fit in some overhead bins
Safety
Safety is always key for parents. They want to rest assured their children are safe in the stroller. The Kooper x2 undergoes extensive manufacturer testing before the product hits the market. Five-point locking harnesses keep active toddlers safely in their seats.
When the stroller is stationary, use the linked wheel brake. It only takes one press to activate and it's just as easy to release.
Features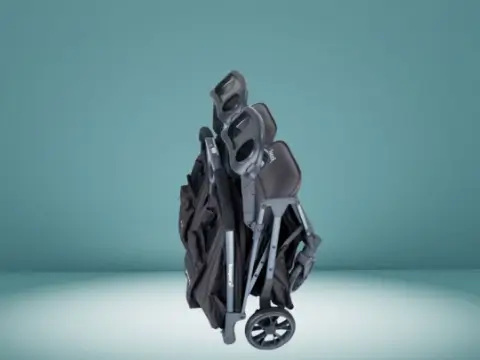 We find the features on the Kooper x2 exceeded some of our expectations. Each feature thinks about two children instead of one. The stroller has dual extendable sun canopies to protect little ones on bright, sunny days. It's also a nice feature when one child wants to nap and the other is wide awake. A peek-a-boo window in the back of the seats lets parents discretely check on sleeping toddlers.
Each seat also comes with a foldable tray. The trays have deep cup holders, a nice feature to have when you have two children in the stroller. The trays also swing open when your little ones are finished or ready to exit the stroller.
A large basket gives you plenty of storage space for necessary items. The stroller also comes with two zippered pockets on the back of the seats. Related review of another double stroller by Joovy, the Zoom X2.
Ease of Use
We know the stroller is lightweight, but it doesn't always mean it easy to use. The Kooper x2 features large wheels that can handle most surfaces, even when pushing with one hand.
A one step design makes the stroller easy to fold and it also unfolds with a single press of the button. Even the snack trays fold down with the stroller. It's a convenient feature we like. Busy parents do not have to keep track of the trays.
Consumer Impressions
Even though this is a pricey stroller, the majority of consumers believe it is worth the expense. It's like purchasing two strollers for the price of one. Consumers appreciate the included features like snack trays and parental storage pockets. It's lightweight construction and easy fold are other beneficial selling points. The only downside consumers mention is the stroller is designed isn't intended for use with infants. The minimum weight limit is around 10 lbs.
Conclusion
The Joovy Kooper x2 is a lightweight dual child stroller. It's easy to maneuver, even with two children. It is a little larger than single child travel strollers which can affect how it's stored on your travels. However, a slightly larger size is to be expected with a dual seat stroller. Induvial sun canopies and snack trays are nice features. We also like that the seats recline separately.
Overall, we find the Kooper x2 is worth taking a look at for parents with two toddlers (>>> Find on Amazon).