A modular single-to-double stroller is a convenient piece of gear to have on hand as your family grows, making it easy to go out for the day with the entire family. If you're comparing the Mockingbird vs UPPABaby Vista V2, the smooth steering, comfortable seats, and range of configurations of the UPPABaby make it the winner from a performance standpoint (>>> Check on Pishposhbaby). It's also about twice the price, however, and parents on a budget will appreciate the affordable cost of the Mockingbird. Let's take a closer look to see how they stack up side-by-side.
Mockingbird vs UPPABaby Vista V2 Side by Side:
Mockingbird Single to Double Stroller
UPPABaby Vista V2
Maximum child weight
90 lbs (45 lbs per seat)
50lbs per seat
Age range
6 months up to 50 lbs
Birth to toddler
Unfolded dimensions
25.5" X 33" X 40"
25.5" X 36" X 39.4"
Folded dimensions
25.5" X 18" X 34"
25.5" X 18.9" X 33"
Weight
26.5 lbs (35 lbs with two seats)
27 lbs
Price

Hellomockingbird.com





Find on Amazon





Pishposhbaby.com
Multi-Child Use
Either the Mockingbird or UPPABaby Vista V2 can be set up to accommodate 1-3 children, with 2 seat options for newborns through toddlers and an optional ride-along board. Both can also be used with car seats, expanding on the multi-child options. While both strollers have this capability, the UPPABaby Vista V2 functions better as a double stroller, with a sturdier feel and easier steering when both seats are in use.
Better for multi-child use: UPPABaby Vista V2
Wheels and Suspension
The foam-filled wheels of the Mockingbird are puncture-proof, with good tread for a smooth ride on paved surfaces and the ability to handle some rougher surfaces. Its front-wheel suspension keeps the ride fairly smooth and helps with steering, though it can still take a lot of effort to push, particularly when both seats are being used.
For parents who plan to take their stroller to parks and other non-paved areas, the all-wheel suspension and softer, large tires of the UPPABaby Vista V2 make it an excellent choice. It moves smoothly and is easy to push on a variety of terrains, even when you're pushing 2 or 3 kids along with the stroller.
Better wheels and suspension: UPPABaby Vista V2
Seat Comfort
The toddler seat included with the Mockingbird stroller has nice, plush padding on its interior. Along with this, it can be forward- or rear-facing and has multiple recline levels, with an extendable canopy that's well ventilated and offers UPF 50+ protection. Taller kids may find their head hits the canopy, however, and its per-seat weight limit is a bit lower, so it may not be as comfortable or functional for taller or bigger toddlers.
The interior padding of the UPPABaby Vista V2 matches that of the Mockingbird for softness and comfort. It's also a bit roomier, especially in the footrest area, with a high seat back. The canopy offers similar UPF 50+ protection and also has an adjustable height, allowing taller toddlers to have more head room. An included rain shield gives it all-weather use, too, giving babies of all ages a more comfortable overall ride.
Better seat comfort: UPPABaby Vista V2
Value
At an MSRP of around $1,000, the UPPABaby Vista V2 is an investment—and that's before you add a car seat, ride-along board, or other accessories. It is helpful that it comes with both the toddler seat and infant bassinet, meaning some parents won't need to buy a second seat. That said, however, the Mockingbird typically sells for less than half the price, and is still significantly more affordable than the UPPABaby if you purchase a second seat.
Better value: Mockingbird Single to Double Stroller
---
Mockingbird Single to Double Stroller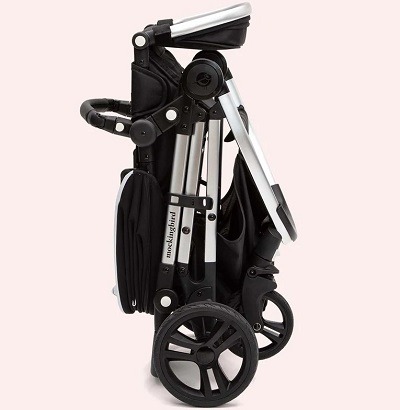 This Mockingbird stroller uses a modular design, with a plethora of seat configurations so parents can customize it to their family's needs. The included toddler seat can be used as a single-seat stroller for babies around 4-6 months up until they weigh 45 pounds. It can also be swapped out for a car seat or infant seat insert, or you can add a second seat to make it a double stroller. Both seats can be reversed or reclined, too, adding even more customization options for users. Mockingbird also sells a riding board you can add for an older toddler.
While growing families will appreciate the two-seat option, there is a downside to taking advantage of it. The Mockingbird stroller is difficult to push and steer with both seats filled, and feels much less stable than when it's used as a single stroller. The aluminum frame is sturdy and durable, with good-sized foam-filled wheels that resist punctures, so as a single stroller it can handle parks and paths. That said, when used as a double stroller, it's best to keep to flat, paved surfaces.
Another great feature of the Mockingbird stroller's frame is how easily it can be folded. You only need one hand to collapse it and can do so with the seat still attached. Once folded, it locks in place and is self-standing, helpful for both storage or transporting in a car or on public transportation.
Pros
Option of 1 or 2 seats plus ride-along board
Foam-filled, puncture-proof wheels
Comfortable reversing and reclining seats
Compatible with most major car seat brands
Can be folded with one hand
Great value
Cons
Hard to push as a double stroller
Canopy may be too close to seat for taller toddlers
---
UPPABaby Vista V2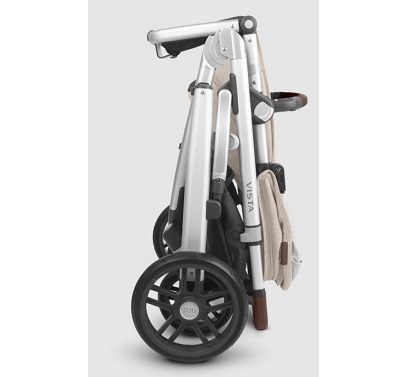 UPPABaby makes a number of modular stroller models, and the Vista V2 is an excellent choice for growing families. It comes with both a toddler seat and an infant bassinet, which can be used separately or together, or you can add a second toddler seat or bassinet for use with twins or other two-child setups. There's also an optional ride-along board that adds space for a third older toddler to jump on the back, and it's compatible with the UPPABaby MESA car seat, no adapter needed.
The wheel design of the UPPABaby Vista V2 is especially impressive. It has robust all-wheel suspension and large rear tires designed to keep the ride smooth even on grass or unpaved park paths. While it is a bit harder to push with two seats attached, it's still stable and easy to steer, and has a front-wheel lock with a visual indication that it's active for when you need to stop on a slope. When you need to transport or store it, it has a one-step fold and stands on its own once folded.
The toddler seat that comes with the UPPABaby Vista V2 is spacious, with a high seat back and deep footrest. It also has an extendable zip-out sun canopy with an adjustable height and no-rethread adjustment on the harness, so parents can easily customize the seat to keep kids safe and comfy as they grow.
Pros
Modular design for 1-3 kids
One-step standing fold
Well-padded reversible seats with multiple recline levels
Height-adjustable canopy
Smooth ride over uneven terrain
No-rethread 5-point harness
Cons
---
Mockingbird vs UPPABaby Vista V2: The Verdict
Choosing between the Mockingbird and UPPABaby Vista V2 depends on what you need out of your stroller. If money is no object, the Vista V2 is the better overall performer, especially when you're transporting two toddlers (>>> Find on Pishposhbaby). On the other hand, the Mockingbird is much kinder on your wallet, and will be an appealing option for parents on a budget.
REFERENCES AND FURTHER READING: