If you're looking for a sleek and stylish stroller that you can take anywhere, Nina and UPPABaby are two brands you'll want to know. Their high-quality, modern strollers give parents an ideal blend of maneuverability, convenience, and comfort. Looking at the Nuna Mixx Next vs UPPABaby Cruz V2, the UPPABaby comes out ahead by a hair (>>> Check on Pishposhbaby), but these are both fantastic strollers that can be a great fit for active parents. Let's take a closer look at the details.
Nuna Mixx Next vs UPPABaby Cruz V2 Side by Side:
Car Seat and Accessory Compatibility
The Nuna Mixx Next works with the Nuna PIPA line of infant car seats, and the brand also sells compatible infant bassinets for newborns. Its compatibility with other brands of car seat is limited, however, and there's no option for a second child to ride along.
The UPPABaby Cruz V2 is designed to be a full travel system, working seamlessly with the MESA car seat and the toddler ride along board, letting older toddlers jump on when they're too tired to walk. With an adapter, you can also use it with car seats from other popular brands, giving parents more options to choose from.
Better car seat and accessory compatibility: UPPABaby Cruz V2
Folding and Transportation
Folding the UPPABaby Cruz V2 has a one-step fold, and is a few pounds lighter than the Nuna Mixx Next as well as narrower and shorter once folded. They're fairly close in this regard, however, and the Nuna Mixx Next has a feature the Cruz V2 doesn't: it locks together once it's folded and has a trolly function. This makes it easier overall to move around when you're not using it.
Better folding and transportation: Nuna Mixx Next
On-Stroller Storage
There's a good amount of storage on the Nuna Mixx Next, with a large multi-compartment under-seat basket. You'll also get a few pockets, with a zippered pocket in the storage basket and a cell phone pocket on the seat back.
While the Mixx Next performs well here, the UPPABaby Cruz V2 has the size advantage. Its basket can hold up to 30 pounds, one of the highest capacities you'll find on a stroller. It also has storage pockets for smaller items within the basket, with an open design that lets you grab what you need without getting distracted from your kids.
Better on-stroller storage: UPPABaby Cruz V2
---
Nuna Mixx Next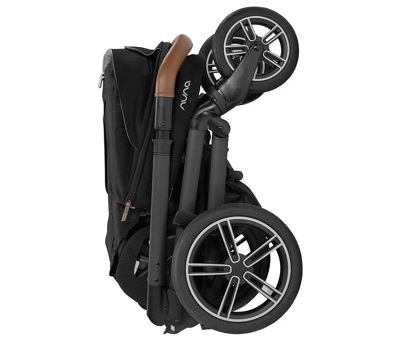 The Nuna Mixx Next is an ideal stroller for on-the-go parents. This starts with its smooth and maneuverable steering. It uses a Free Flex suspension on the rear wheels as well as a progressive front-wheel suspension. The wheels themselves are rubber and foam-filled, preventing flats or punctures. Together, this means it can handle uneven surfaces like grass without a problem, letting you go beyond the typical paved paths.
The toddler seat that's included with the Nuna Mixx Next gives kids up to 50 pounds a comfortable ride. It can be positioned front- or parent-facing and has multiple recline levels, from fully upright to truly flat for sleeping babies. The seat padding can be removed in the summer to give kids a more breathable and cooler ride. Add in the adjustable calf support and the integrated footrest, and you get an impressively customizable and comfortable seat.
The Nuna Mixx Next is convenient, too. It folds quickly into a single self-standing unit. While it is a bit on the heavy side for a single stroller, it's still light enough for most parents to lift easily into a trunk or storage area. We also appreciate that it includes a cell phone pocket on the back of the seat, along with a zippered pocket in the two-compartment under-seat storage area.
Pros
Smooth ride on a variety of terrains
Well-padded, all-weather seat
Reversible and reclining seat
Compatible with Nuna car seats and bassinet for newborns
One-piece compact fold
No-rethread 5-point quick releasing harness
Cons
Heavy for a single stroller
No multi-kid capacity
---
UPPABaby Cruz V2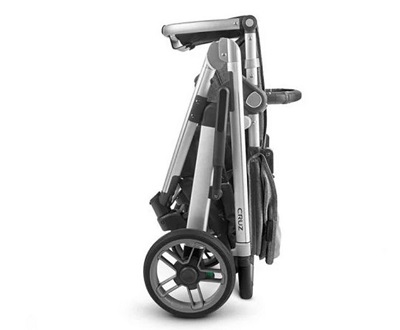 The roomy seat of the UPPABaby Cruz V2 is designed to keep your child just as safe and comfortable as a toddler as they are when they're just born. Its zip-out canopy provides UPF 50+ protection from the sun, and extends to give good coverage of the seat. The seat itself is well-padded, with a roomy leg area and adjustable footrest, and is reversible with a 180° recline, so it has all the comfort features you need in a stroller.
The UPPABaby Cruz V2 is also a great choice for using on uneven terrains. Its large rear wheels and dual-action suspension give it a smooth ride and easy maneuverability on grass, dirt paths, and other rough terrains. The front wheel locks are easy to activate, and give you a visual indication when they're on, a very helpful feature if you need to stop on a slope.
In terms of its dimensions, the overall frame of the UPPABaby Cruz V2 is about an inch narrower than the Nuna Mixx Next, and it's more compact and lighter overall, making it easy to transport and store. The on-stroller storage of the Cruz V2 is expansive, as well, capable of holding up to 30 pounds. Its open design is easy to access quickly, and has integrated pockets for keeping smaller items organized.
Pros
Large storage compartment with pockets
Smooth ride even on uneven terrain
Dual-action suspension
Compatible with Infant SnugSeat and MESA car seat
Large under-seat storage
Can add a second toddler area with the ride along board
Cons
Still a bit heavy for a single stroller
Doesn't lock once folded
---
In Summary: Nuna Mixx Next vs UPPABaby Cruz V2
Both the Nuna Mixx Next and UPPABaby Cruz V2 are easy to steer over an array of terrains, and will give your baby a smooth and comfortable ride. Between the two, the Cruz V2 is the winner by a slim margin (>>> Check on Pishposhbaby), thanks to its greater car seat compatibility, higher storage capacity, and narrower frame. That said, the easy folding and customizable seat of the Nuna Mixx Next are appealing features, too. Really, you can't go wrong whichever one you buy.
REFERENCES AND FURTHER READING: