The stylish look of the Cybex Balios S Lux certainly lives up to the "lux" in its name. With its comfortable leather handle, premium seat fabrics, and sleek overall design, it's certainly an eye-catching stroller. It's just as impressive from a practical standpoint, with a smooth steering system and comfortable, fully-adjustable seat. Let's take a closer look with this Cybex Balios S Lux review so you can see why it's such a popular stroller. (>>> Check on PishPoshBaby.com)
Cybex Balios S Lux Review of Specifications:
Cybex Bailos S Lux
Maximum child weight
55lbs
Age range
6 months-toddler
Collapsed dimensions (LxWxH)
16.1" X 23.6" X 29.5"
Unfolded dimensions (LxWxH)
35.4" X 23.8" X 43.3"
Weight
24lbs
Price

BabyCubby.com





Pishposhbaby.com





Find on Amazon
Steering and Maneuverability
The wheels on the Cybex Balios S Lux are large and solid with an all-terrain tread. Since they're not inflated, there's no risk of them going flat or needing to be replaced if you run over something sharp like a rock or nail. All four wheels use a spring-based suspension system that keeps the ride just as smooth on surfaces like gravel, grass, or unpaved dirt paths as it is on city streets.
The smart handle design of the Balios S Lux helps here, too. Its telescoping adjustment system can be raised or lowered with a single button push, letting parents of all heights grip the handle comfortably. On smooth surfaces, most parents can steer the stroller and maintain control one-handed thanks to this combination of features.
Child Comfort
The included seat with the Cybex Balios S Lux can be used with babies as young as 6 months, up until they reach 55 pounds. Both the seat back and the leg rest have multiple recline positions, from fully upright to nearly flat, and both are easy to adjust on the fly. It's also reversible, with a mesh window on the canopy so you can still keep an eye on your kid when the seat's in the forward-facing position.
The canopy on the Balios S Lux is especially impressive. It's noticeably larger than those on most strollers, extending to cover most babies all the way to their feet, with an additional flip-out visor to give extra UV protection.
The only caveat here is that, out of the box, the Cybex Balios S Lux doesn't come with an infant option. It comes with the adapters to attach any Cybex infant seat, extending its use down to newborns, but you'll need to buy this separately.
Pros
Adjustable, reversible seat with one-hand recline
Puncture-proof all-terrain wheels
Smooth ride thanks to all-wheel suspension
High-quality, durable materials and build
One-hand fold collapses it to a self-standing unit
UPF 50+ canopy with mesh ventilation windows
Compatible with any Cybex-brand car seat
Cons
Not suitable for babies younger than 6 months out of the box
Low under-seat storage weight limit
Folding and Storage
The Cybex Balios S Lux is as easy to fold up as it is to adjust. It has a one-piece, one-hand fold, going from fully open to a compact, self-standing unit in two steps. It's also relatively lightweight considering its durability, weighing 24 pounds, good news for moving it around the house or loading it into your trunk.
As far as the under-seat storage of the Balios S Lux, it's sufficient for most if not especially roomy. It's easy to access, and has high sides that prevent things from falling out, but it's on the smaller side and can only hold about 11 pounds.
Travel System Compatibility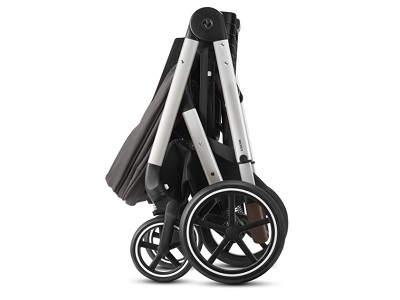 One of the great things about Cybex gear is its cross-compatibility with other products in their line. Along with options for infants like the newborn cocoon or Cot S bassinet, there's a wide range of Cybex car seats that fit securely onto the Balios S Lux. That said, seats made by other brands like Maxi-Cosi often aren't a secure fit, even with additional adapters, so it's not the best choice if you want a stroller that offers multi-brand compatibility.
Cybex Balios S Lux Review: The Bottom Line
You might think something with "lux" in the name would be expensive. Fortunately, while the Cybex Balios S Lux isn't exactly cheap, it's an excellent value for the quality, and costs less than most heavy-duty strollers. It's an excellent choice for parents who want convenience, versatility, and durability—and it doesn't hurt that it's very easy on the eyes. (>>> Find on Amazon)