Bugaboo strives to create stylish products that fit families' busy lifestyles, and the Bee 5 seems to live up to the company's mission. It is a sleek, full-size stroller that's ready for travel and it can handle urban environments with ease. The stroller also comes with a few features that help keep parents and babies comfortable on long and short strolls.
In this Bugaboo Bee 5 review, we'll take a closer look at the stroller to see if it lives up to its advertising. (>>> Check on Amazon)
Bugaboo Bee 5 Review of Specifications:
| | Bugaboo Bee 5 |
| --- | --- |
| | |
| Maximum child weight | 37.5 lbs |
| Age range | Birth - 37.5 lbs |
| Unfolded dimensions | 38" x 21.1" x 34.1" |
| Folded dimensions | 35.4" x 18.3" x 12.6" |
| Weight | 19.6 lbs |
| Price | Find on Amazon |
Safety Features
The Bee 5 is put through rigorous safety tests to ensure its quality. It comes with a durable frame that can support up to 37lbs and a five-point locking harness. You don't have to worry about your baby wiggling out of the seat.
Locking front wheels keep the stroller parked in place. The locking mechanism flips easily into place but be careful with open-toe shoes. The mechanism flips upwards and can bruise your toes.
Comfort
The plush seat covering keeps your baby comfortable, and it's also machine washable. The seat easily reclines for naptime, and it's also reversible. You can interact with your baby or have the seat facing frontwards so your child can enjoy the view. The seat is also a little larger for older babies' comfort.
A retractable canopy shades your baby's eyes, and the stroller also keeps parents comfy with the adjustable handle. It slides easily up and down, locking in at the perfect height for your frame. The faux leather wrap gives you a comfortable grip while also adding a stylish touch.
Pros
Easy to fold for travel and storage
Locking front swivel wheels
Five-point adjustable harness
Washable seat covers
Retractable sun canopy
Cons
The storage basket is roomy, but it can only support up to 8.8lbs
Maneuverability
Even though the Bee 5 is a full-size stroller, it still has a relatively lightweight design. It weighs a little over 20lbs, and is light enough to easily push with one hand. All-wheel suspension lets you tackle rough and smooth terrain while protecting your baby from bumpy rides.
The front swivel wheels make turning corners a breeze, and their smaller size is ideal for rolling over flat surfaces.
Compatibility
The Bee 5 is not a modular stroller. It does not turn into a travel system. But it is a great urban stroller for infants and children weighing under 40lbs. Start with a car seat. The stroller is compatible with several popular brands, including Maxi-Cosi and Chicco.
Car seat adaptors are an added purchase, but it's worth the expense for parents wanting to use the stroller from birth. When your baby is old enough, remove the adaptors and transition to the reclining seat.
Ease of Setup
Get ready to spend some time setting the stroller up. The stroller does not come preassembled, but instructions are written in multiple languages. Along with written instructions, the guide also comes with graphics to make it easy to assemble the various parts.
Consumer Impressions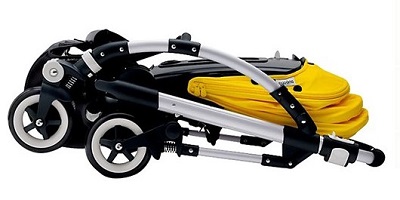 Consumers do not have a lot of complaints about the Bee 5. They find it's a durable stroller that is easy to maneuver in urban areas. They do mention the small wheels are not equipped to roll smoothly over rough terrain. Consumers also wish the storage basket could support heavier weights. Customers appreciate how easy the stroller is to fold down, and they also like the reversible seat.
Conclusion
The Bugaboo Bee 5 is a great stroller for city dwellers (>>> Find on Amazon). It comes with everything you expect in a full-size stroller, including easy maneuverability. It's lightweight enough for easy handling, and it also makes traveling a breeze. The stroller collapses down to a compact size with the press of a button. It does have a few drawbacks, primarily the wheel size and lack of robust storage, but overall the Bee 5 is a good option for busy parents.