A convertible crib from Babyletto is a great long-term investment for new parents, growing with your child so they can use it longer. Comparing the Babyletto Gelato vs. Hudson, they offer similar convenience and versatility, and both are rigorously tested for safety. Choosing between them really comes down to your personal style and what kind of long-term convertibility you're looking for. Let's take a closer look at the most significant differences. (>>> Check on Amazon)
Babyletto Gelato vs Hudson Side by Side:
Convertibility
The conversion kit included with the Babyletto Hudson gives parents three options. It starts as a full crib, or you can replace a side with a toddler rail for a toddler bed. Finally, remove the rail to make it a day bed.
The Babyletto Gelato has the same three options out of the box. It goes a step further, though, converting into a full-sized bed with the additional twin/full-size kit, giving you even more options for how to use the crib as your child grows.
More conversion options: Babyletto Gelato
Color Options
The Babyletto Gelato comes in two colors: white with natural feet, or natural wood with white feet. Both have a clean, modern look that will fit with the décor in most nurseries.
If you're looking for more color options, the Babyletto Hudson has you covered. Along with all-white and all-natural options, it comes in black, espresso (brown), and gray, as well as two-toned versions like gray with white spindles, espresso with white spindles, and white with natural spindles.
More color choices: Babyletto Hudson
Value
The Babyletto Gelato sells for about fifty bucks less than then Babyletto Hudson, and you'll get the same 3-in-1 convertibility straight out of the box. Purchasing the full-size conversion kit pushes the total price of the 4-in-1 Gelato slightly higher, but you'll get an extra furniture option in the bargain, so even with this additional purchase parents get more for their money with the Gelato.
Better value: Babyletto Gelato
---
Babyletto Gelato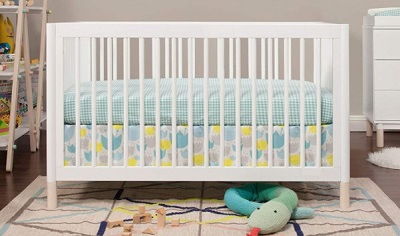 The Babyletto Gelato starts with sustainably harvested pine, which is then painted using a multi-step process with non-toxic stains and paints. The result is a sturdy crib that's completely safe for your child, tested for more than 10,000 chemicals and VOCs as part of its Greenguard Gold certification. Its hidden hardware means no sharp screws or exposed bolts, enhancing its safety along with giving it a sleek look.
One of the great things about Babyletto cribs is that they can grow with your child, and the Gelato offers even more options than others. The included conversion kit lets you change it from a crib to a toddler bed by swapping one side for a rail, and you can also make it into a day bed by removing the rail. It also can be converted into a full-sized bed, though to do so you'll need to buy an additional conversion kit.
The legs on the Babyletto Gelato are shorter than on many cribs, and this is good news for both kids and parents. It makes it easy for toddlers to get in and out on their own once it's converted to a bed. For parents, it means less straining and reaching when you're loading or unloading your child. The 4 mattress height options help here, too, especially for shorter parents who may struggle to reach the mattress on taller cribs.
Pros
4-in-1 convertible design
Made of sustainably sourced wood
4 adjustable mattress positions
Low 35" profile
Greenguard Gold Certified free of harmful chemicals
Cons
Full-sized conversion kit sold separately
Few color choices
---
Babyletto Hudson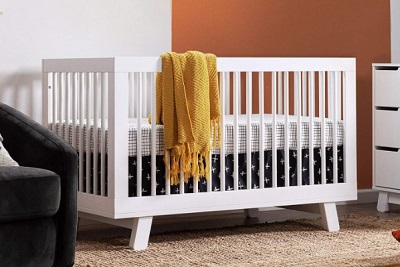 The Babyletto Hudson has a lot in common with the Gelato. It's made from the same sustainable pine and uses the same non-toxic multi-stage staining and painting process, so it won't impact the air quality in your nursery and is safe for babies to explore with their mouths. While there are a few visible screw heads, they're recessed into the rail, and most of the hardware is hidden once the crib's assembled.
You'll also get a similarly low profile from the Babyletto Hudson. It uses angled supports set a few inches in from the edge of the crib, which gives it excellent stability and a bit of a more modern look than the Gelato. Multiple mattress height options mean parents of any height can comfortably and safely put in or retrieve their baby.
The included conversion kit gives the Hudson 3-in-1 capability, changing from a crib to a toddler bed to a day bed with no need to buy extra parts or tools. While it's relatively easy to assemble and convert, most do find it's a two-person job, so single parents may want to have a friend come over and help. For our more in-depth review of the Babyletto Hudson, click here.
Pros
3-in-1 convertibility with included kit
Low height ideal for shorter parents
Adjustable mattress height
Non-toxic painting process (Greenguard Gold tested and certified)
Rounded spindles and angled feet give it modern look
Cons
No full-sized bed conversion option
Requires two people to assemble
---
Babyletto Gelato vs Hudson: What's the Verdict?
Both the Babyletto Gelato and Hudson do an exceptional job keeping babies safe and comfy, from their earliest months until they're ready to sleep in a standard bed. Choosing the right one for you comes down to what you need from a convertible bed. The Gelato offers more conversion options, and is a better overall value for the price (>>> Find on Amazon). That said, the different foot design and expanded color options of the Hudson will be a better aesthetic fit for some spaces, and is a great choice for parents who don't need the full-size bed conversion.
REFERENCES AND FURTHER READING: