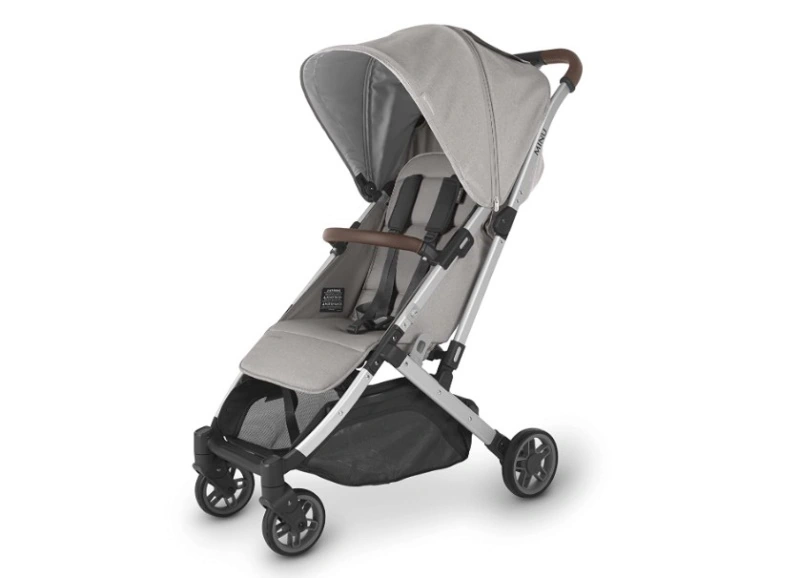 UPPAbaby is one of the top names in baby gear, and with good reason. Their line of strollers has a model perfect for every type of family. The Minu V2 is one of the lighter and more compact strollers in UPPAbaby's line, with a stylish but functional design that modern parents will love.
Curious whether this is the ideal stroller for you? Check out the full details in this UPPAbaby Minu V2 review to see where it excels and decide if it's a good fit for your family and lifestyle (>>> Check on Pishposhbaby).
UPPAbaby MINU V2 Review of Specifications:
UPPAbaby MINU V2
Maximum child weight
50lbs
Age range
3 months – toddler
Unfolded dimensions
35.5"L X 20.25"W X 41"H
Folded dimensions
12"L X 20.25"W X 23"H
Weight
16.9lbs
Price

Pishposhbaby.com





BabyCubby.com





Find on Amazon





Steering and Maneuverability
In urban environments and on paved surfaces, the UPPAbaby Minu V2 moves smoothly and easily. Its lightweight design is one factor here. Most parents can push and stop it with one hand, and its spring-action suspension keeps the ride relatively smooth. The fairly narrow profile, meanwhile, is a plus when you're going down crowded sidewalks or narrow store aisles.
While it performs well on smooth surfaces, we don't recommend the Minu V2 for rough terrains. The wheels are relatively small and don't have much in the way of tread, making it much more difficult to steer on uneven terrains than strollers with larger, more rugged wheels.
Size and Folding
We've already mentioned that the Minu V2 is sleek and compact when in use, and it has a similarly space-saving design when it's collapsed. Just press the lever on the handle and the stroller collapses quickly into a one-piece, self-standing unit that's easy to carry from place to place.
At just over 16 pounds, the Minu is light enough for most parents to lift easily, even into spots like overhead bins or shelves, and has a convenient handle on the base and a built-in shoulder strap for carrying it while it's folded. This makes it an ideal choice for travelers, public transportation users, and parents who live in apartments or other places where space is at a premium. We've picked this stroller among the best strollers for NYC.
Pros
Made of durable, premium materials
Lightweight and compact design
No-rethread harness is easy to adjust
Multiple recline levels and leg rest adjustment
Compatible with bassinet accessory or MESA Infant car seat
Large under-seat storage
Cons
Difficult to push and steer on uneven terrain
No from-birth option out of the box
Child Comfort and Age Range
Out of the box, the UPPAbaby Minu V2 can be used with babies as young as around 3 months, or once they're old enough to sit up on their own. It is compatible with the UPPAbaby infant bassinet accessory, and can also be used with the brand's MESA car seat with an adapter, but you'll need to buy these separately to use the stroller with newborns or young infants.
The toddler seat that comes with the Minu V2 has a weight capacity of up to 50 pounds, so you can use it until your child is ready to walk on their own. It's fully-adjustable, as well, with multiple recline positions from upright to fully reclined. The leg rest is also adjustable, and the 5-point harness uses a no-rethread adjustment so you can easily get a snug, comfortable fit as your child grows.
We also appreciate how roomy the seat of the Minu V2 is. The interior padding is soft and plush while still being easy to clean. The extendable sun canopy helps here, too, providing UPF 50+ sun protection while you're on the go. The vented peekaboo window on top ensures the seat stays well-ventilated, as well as letting parents check in on their child while they're sleeping.
Under-seat Storage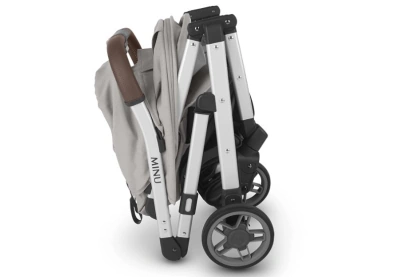 The Minu V2 has a large and easy to access basket under the seat. Its opening is well-designed, letting parents get to things quickly when they need to without the risk of items falling or bouncing out. It can hold up to about 20 pounds, too, plenty for your diaper bag, toys, and other necessary gear.
UPPAbaby MINU V2 Review: The Conclusion
With a price under $500, the Minu V2 is one of the more affordable options in the UPPAbaby catalog. That low cost also makes it more reasonable to buy a bassinet or infant car seat—even with that price added, it's still more affordable than most strollers from the brand. It still uses the same durable, high-quality materials you'll find on UPPAbaby's other strollers, making the Minu V2 an excellent value. Its light weight, narrow profile, and fast folding are its main strengths, and make it an ideal choice for use in cities or during travel (>>> Find on Amazon).