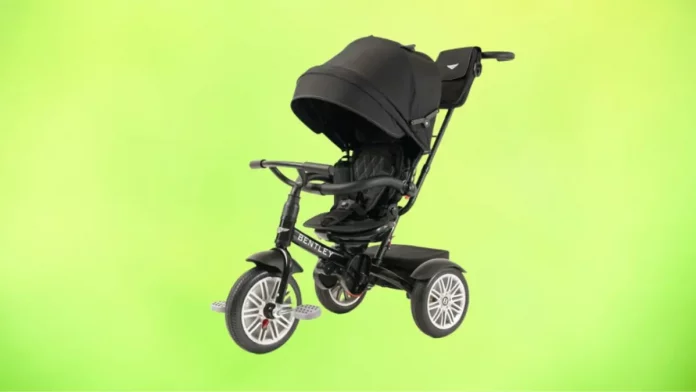 Do you dream of riding around town in a Bentley, but the luxury vehicle is out of your budget? How about spoiling your toddler with a push trike from the automaker? Officially designed and licensed by the UK-based motor company, the toddler tricycle is a sophisticated mix of style and performance.
Like their automobiles, the push tricycle comes at a higher price point when compared to some similar models. So, does the brand name justify the price? We'll take a look at the toddler tricycle's design, build, and features in this Bentley Kids Trike review to see if it's worth the hype (>>> Check on Amazon).
Bentley Kids Trike Review of Specifications:
| | Bentley Kids Trike |
| --- | --- |
| | |
| Maximum child weight | 55lbs |
| Age range | 10 months - 5 years |
| Collapsed dimensions (LxWxH) | No data |
| Unfolded dimensions (LxWxH) | 27.5 x 22 x 12.1 inches |
| Weight | 35.3lbs |
| Price | Find on Amazon |
Design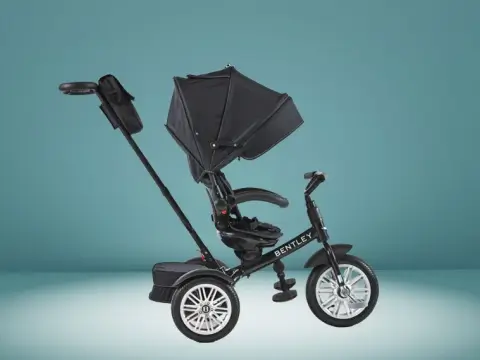 Everyone will know your toddler is riding around in a Bentley. The push trike comes with the Bentley emblem on the front. The chrome badge is similar to the ones found on the Continental GT. Even the rubber wheels feature the Bentley logo.
The stylish design continues to the padded seats. The cross-stitching improves durability and comfort, and gives the kid's trike a sleek look you won't find on other models.
The toddler trike's design includes six stages. It will grow with your little one from six months up to five years. Stage 1 keeps parents in control, and you can have the seat facing forward or backward. Remove the footrests in the second stage and let your child start practicing using the pedals. As your toddler grows, you can remove the parental restraints, including the backrest, turning it into a functioning tricycle.
Pros
Sleek and sophisticated design
Durable, air-filled rubber wheels
Large sun/rain canopy
Roomy storage basket
Cup holder for toddlers
Cons
The push trike's non-folding design and solid weight make it impractical for traveling
Ease of Use
It doesn't matter how sophisticated and stylish a toddler trike looks if it's a pain to use. The air-filled rubber wheels can tackle almost any terrain, providing your toddler with a smooth and comfortable ride. The free wheel function ensures parents can handle tight corners with ease. It also allows older children to easily control the trike without parental assistance. When it's time to let toddlers experience some freedom, the leather-wrapped retractable handle is a breeze to remove.
Something we did notice is the trike's weight. It's a hefty 35.3 lbs. It's also a little larger than some other models at 27.5 x 22 x 12.12 inches. It's not a push trike designed for travel. It's something to consider if you want to take the push trike on vacation.
Comfort
When your toddler isn't comfortable it affects everyone. Thankfully, it's not an issue with the Bentley toddler tricycle. Along with padding on the seat and backrest, the trike also comes with a footrest for additional support.
The seat back adjusts to multiple positions, keeping your little one comfortable whether sleeping or awake. The seat is also reversible. It's a nice feature to have, especially with younger children. You can easily maintain eye contact on your walks. The toddler tricycle also comes with a large, retractable sun canopy. Waterproof and with a 50 SPF rating, the canopy protects little ones in sunny and rainy conditions.
Features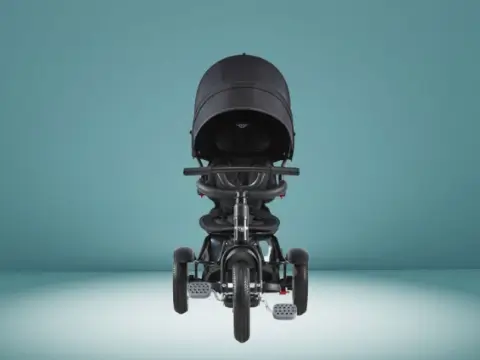 For the price we expect the push trike to come with innovative features and we are not disappointed. A peek-a-boo window in the seat back allows parents to keep an eye on their toddlers. Rear brakes improve the trike's safety performance, along with the five-point adjustable harness.
Non-slip pedals help prevent accidents and give toddlers added confidence as they learn how to ride the trike without assistance. The toddler trike also has a detachable safety bar. It's a nice feature to have for younger children.
Consumer Impressions
Consumers agree it is a pricey model, but they also appreciate the toddler trike's stylish and functional design. They like how easy it is to go from parental to toddler controls, along with the included features. Some parents wish the toddler mode came with wheel brakes to improve safety. Since it is not a foldable push stroller, some parents note difficulty getting it in and out of smaller vehicles.
Conclusion
Our Bentley Kids Trike review highlights its pros and cons (>>> Find on Amazon). Its higher price reflects the brand and it's not in every parent's budget. The push trike does come with plenty of features we like. It includes an all-weather canopy, a durable and comfortable design, and multiple stages to keep up with growing toddlers. Most parents can plan on using the push trike for around five years. It helps offset the higher-than-average price. If you want to spoil your little one and have a little status on walks around town, it's worth your time to take a look at this push tricycle from Bentley.